Rediscovering Luxman's Legendary CL35 Tube Preamp

If you like vintage audio gear, you're going to love New Jersey-based
Skyfi Audio
's latest acquisition: The third and best iteration of Luxman's legendary CL35 MKIII tube preamp (circa 1978).
They've dubbed it "new old stock" because it's never been used! Remarkably, this audio time capsule has been sitting in a box covered in the original plastic and supported by the original Styrofoam for more than 40 years.
In addition to being in "perfect cosmetic and working condition," the preamp includes the original packing slip from LUX Audio of America, a brochure, a technical document from Japan (in Japanese), and the owner's manual.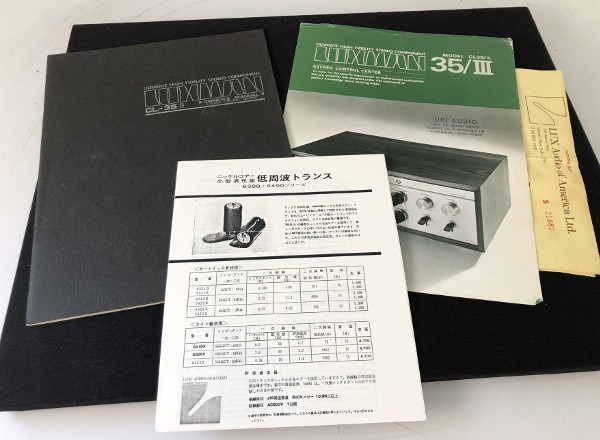 The CL35 is from the era when a lot of quality audio gear was made in Japan and, as the presenter says in the official unboxing video, "You don't come across these things in good condition and certainly very rarely come across a brand new specimen." Rubber input protectors are still in place!
An elegant champagne finish with an engraved/embossed logo is featured on the CL35's aluminum front panel and the top and sides of its cabinet are finished in a beautiful wood veneer.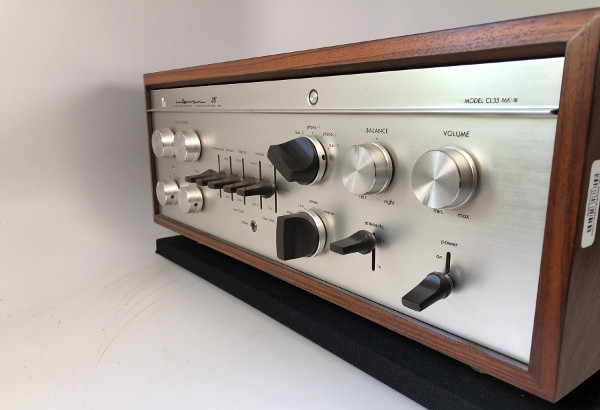 From left to right, there are controls for bass and treble, each with its own frequency selector (150, 300, or 600 Hz for bass and 1.5K, 3K, or 6K for treble), five switches — tone control defeat, low cut (25 and 60 Hz), high cut (7K and 12K), tape monitor, and tape dubbing — an input selector knob, a headphone output, an output selector knob (with settings for mono-L, mono-R, L+R, stereo, and reverse), a balance knob, an attenuate switch (in case you have a sensitive amp), a detented volume knob, and the power switch.
Rear-panel accoutrements (left to right) include three aux inputs (two with dedicated level controls) two phono inputs (one with adjustable input impedance and one that accepts an optional transformer via the two large receptacles at far left), a turntable ground post, two quarter-inch microphone inputs, monitor/record connections for two tape decks (plus a multi-prong DIN tape connector), two sets of parallel outputs with a level control, a 1-amp fuse, and four power outlets (three switched, one unswitched).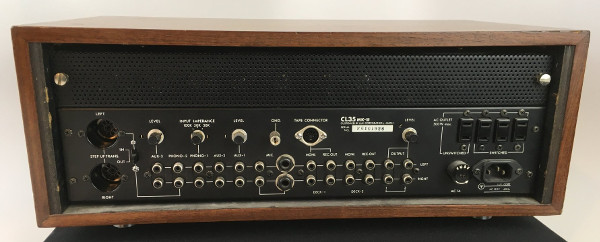 At the top of the back panel is a mesh cover that conceals seven tubes (six 12AX7s and one 12AU7) and low-frequency trim and headphone-level controls.
Click here to see the preamp's original service manual, including factory specs.
The price of admission for this ultra-rare find: $6,999. If that's a little too rich for your blood, Skyfi has another CL35 MKIII in stock that can be yours for $3,999. There's no box or paperwork but its physical condition is rated 9.5 on a scale of 1 to 10 and its physical condition is rated a full 10. Not too shabby.
For more information, visit skyfiaudio.com.