Another Side of KLH: The Model Nineteen
I stopped by my local record shop
Revilla Grooves and Gear
to see what vintage treasures shop owner Darren Revilla had on display. I headed straight for the back room, past rows of neatly organized vinyl albums and the demo room to check out Revilla's gear stash. As I scanned the shelves my eye was drawn to a turntable and matching speakers up on the top shelf, all finished in beautiful walnut veneer. The woven cream-colored speaker grilles screamed '60s but there were no logos and the cabinets were much smaller than highly-sought-after classics such as the
AR-3/3a
from Acoustic Research or the Model Five, recently
resurrected and modernized by the new KLH
.
Lifting the turntable's Plexiglas dustcover revealed an understated KLH logo on the control panel next to the turntable with the words Cambridge Massachusetts inscribed below and Model Nineteen along the bottom. Though audio legend Henry Kloss is best known for the table radios and two- and three-way acoustic-suspension speakers he designed in the mid-20th century, the KLH co-founder (the "K" in KLH) recognized the value of keeping hi-fi simple for a record buying public that was growing fast as it transitioned from single-speaker monophonic sound to two-channel stereo during the late '50s and into the '60s.
His solution: provide a turn-key system option in the form of a compact hi-fi system comprising two speakers and a console with a turntable, FM tuner, and solid-state power amplifier.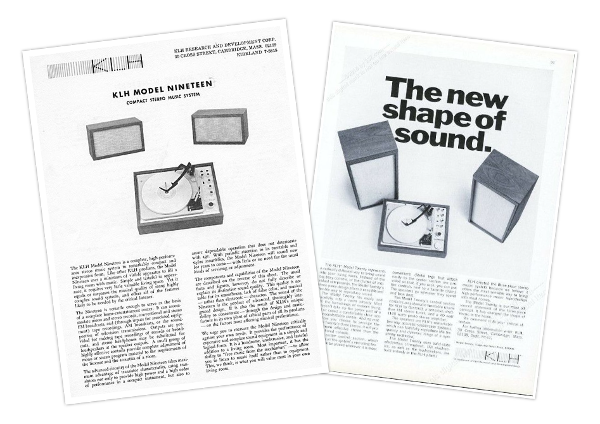 The Model Nineteen Compact Stereo Music System is one of a several music systems Kloss developed during his tenure at KLH, all with classy walnut-veneer wood cabinets and a modified Garrard phonograph/record changer. It sold for $300, making it a high-end purchase in 1965. But his first system effort, introduced in the early '60s, was a different sort of animal. The Model Eleven Portable Stereophonic Phonograph was a complete turntable-based music system housed in a Samsonite suitcase with detachable speakers that sold for $200.
Michael Riggs, home-audio expert and one-time editor of High Fidelity magazine, included the Eleven in his 2008 article, 50 Greatest A/V Innovations: "It was basically a high-quality transistorized audio system in a suitcase, with a record changer, a built-in amplifier, and detachable stereo speakers. And it sounded as good as or better than plenty of home systems of the time." KLH quickly followed up with the Model Eleven W, a shelf version of the system that replaced the Samsonite plastic with walnut cabinetry. (Watch David Goncalves demonstrate the system in this YouTube video.)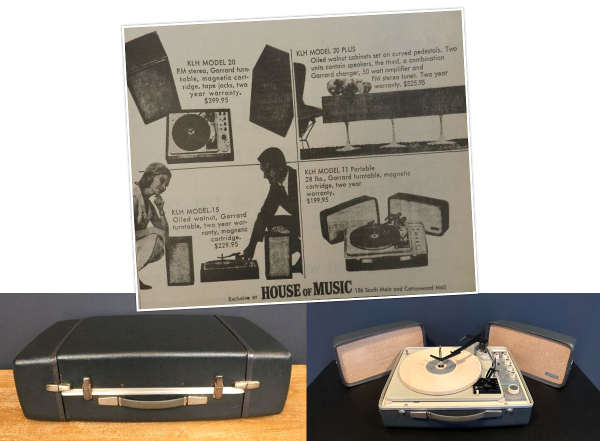 Many of the KLH music systems that followed the Model Eleven W — including the Model Nineteen — expanded the system's utility with the addition of Kloss' highly regarded FM tuner; later systems also featured upgraded two-way speakers — some with a tuner, some without. Among them was the standout Model Twenty Plus (shown in the opening photo of this article), a top-of-the-line model featuring retro-modern aluminum pedestals that support a pair of horizontally oriented speakers and a matching walnut-encased control center with a flip-up lid. The look is quite striking and takes on the appearance of an elongated console system when the three units are pushed together. The system sold for $525 (well over four grand in today's dollars) so it was a high-end purchase.
Clean and Simple
Simplicity in design and operation are the hallmarks of the KLH Model Nineteen, which represents one of KLH's earliest shelf system efforts. The speakers are a simple front-ported design featuring two 4-inch full-range drivers in a cabinet 14 inches tall, 8 inches wide, and 8 inches deep. The drivers are wired in parallel and attach to the control unit via RCA cables; there is no crossover in the speaker (filtering is handled in the amplifier). That the speakers are a ported design is unusual, considering Kloss worked with Edgar Villchur to develop the world's first sealed, acoustic-suspension speaker while at Acoustic Research, the company he co-founded with Villchur in 1954. But Kloss had his reasons for using this design and driver configuration, one of which was likely the desire to keep cost down.
Setting up and operating the Nineteen is super easy. Connect the speakers to the turntable/control unit, plug in the AC power cord, and turn the input dial to the source you want to listen to — phono, FM, or aux(iliary). The aluminum control panel has six dials plus a stereo pair of auxiliary RCA inputs, a mono/stereo switch, and two indicator lights — one for FM tuning and one for power. From top to bottom, the dials are for source selection, treble, bass, balance, volume, and FM tuning (more on that in a moment).
The phonograph/changer offers a choice between manual and automatic control and includes 16-, 33-, 45-, and 78-rpm speeds. (The rare 16 rpm option is for a long-forgotten half-speed vinyl format, which never really caught on due to poor sound quality and a lack of standardization; records were produced in 7-, 9-, 10-, and 12-inch diameters, some with a large hole like on a 45-rpm single.) The words "Precision Crafted by Garrard for KLH" are inscribed in the area around the spindle to make clear that this is no off-the-shelf turntable but one built to KLH specs, which included a low-mass tonearm fitted with a Pickering V-15/AT-2 cartridge, a fine-tolerance motor pulley designed to reduce rumble, and a constant-speed synchronous motor.
Forget About AM, We Got FM
By the early '60s, KLH had established itself as a builder of fine sounding speakers, having introduced a number of speakers — including the highly collectible Model Five and Model Six acoustic-suspension speakers and the Model Nine electrostatic speaker — but the brand was also known for its Model Eight FM radio, an outstanding tube-based radio/amp plus speaker combo that could pull in and hold on to radio signals. So when the company began including radios in its music systems around 1965 it made perfect sense. Automakers had started offering AM/FM radios in 1963, signaling that the clearly superior FM radio system was well on its way to becoming a must-have feature for hi-fi buyers — at home and in their cars.
The tuner in the Model Nineteen and subsequent systems — such as the more refined Model Twenty, which included a pair of larger acoustic-suspension speakers — features another Kloss hallmark: a large vernier dial, designed for precise FM tuning. As if to flaunt the superiority of FM, there is no AM radio, though some later KLH systems included AM, which was still the dominant from of radio in those days.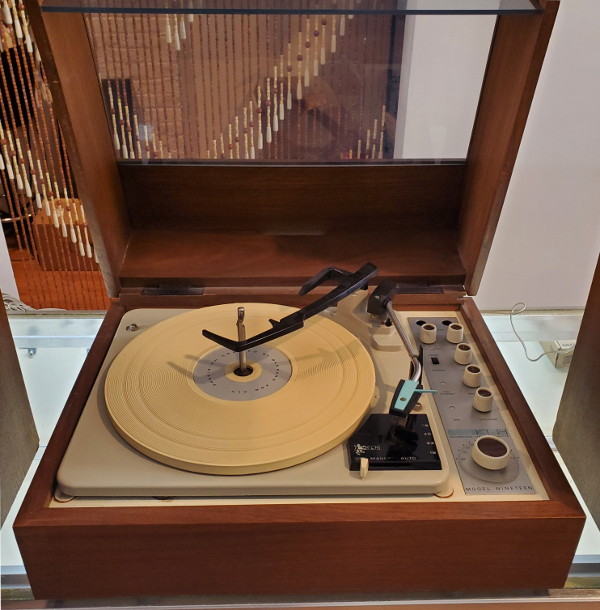 The Model Nineteen sold for $300 in 1965, which translates into around $2,700 in 2022 dollars, so it's hard to imagine the system making its way into many college dorm rooms, even though it's perfectly suited for that. Rather, the compact and unassuming Model Nineteen became the main hi-fi system for buyers who chose it over the much larger and more expensive, all-in-one cabinet consoles that were popular at the time. It undoubtedly also found its way into many a dad's den.
Fire it Up
The crew at Revilla Grooves and Gear were kind enough to move the Model Nineteen from its high perch so I could take pictures and do a quick demo. The system was built in 1965 appears to be all-original and is in excellent shape overall, though the phonograph's auto mechanism isn't fully functional (it works fine manually). The tuner works fine, pulling in a handful of local stations without an antenna with good sound quality. I played several tracks from Donald Fagen's wonderful debut solo album, The Nightfly," Mike Finnigan's soulful self-titled 1976 album, and McCartney III, the not-what-you-would-expect album Paul recorded in 2020 during pandemic lockdown.
I found myself making good use of the bass and treble controls to tweak the sound on the fly (and dial back the prodigious bass on McCartney tracks like "Deep Down" and "Find My Way") and was impressed by how loud the system could play without distorting. The overall sound was surprisingly decent for a 57-year-old audio setup. Revilla has priced this audio time machine at the eminently reasonable price of $250 — a nice discount of $50 off its original price. For more on Revilla Grooves and Gear, click here.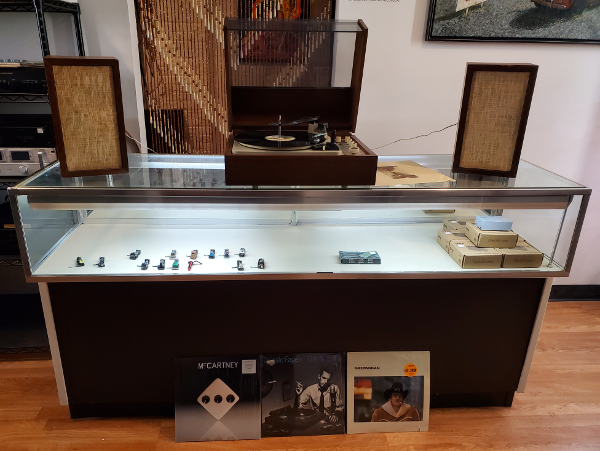 Related:
Henry Kloss, Hi-Fi Design Titan, Dead at 72
The KLH Model Nine Rides Again