The Sansui 9090DB: A Receiver for the Ages
Remember Sansui? The largely forgotten hi-fi brand loomed large during the 1970s, a time when home entertainment meant a TV with a screen that topped out at 25 inches and a "stereo" with a turntable, AM/FM receiver, and two speakers — simple by today's standards but indispensable and ubiquitous back in the day. Everyone listened to music on the radio at home and in the car, and the vinyl LP was the format of choice over the what-were-they-thinking 8-track tape format that would be largely displaced by cassettes by the end of the decade.
Tokyo-based Sansui built a name for itself as a leading supplier of solid-state receivers at a time when Japanese brands — Pioneer, Kenwood, Onkyo, and Technics among them — were the go-to names. Vying for attention and street cred among the hi-fi cognoscenti, Sansui introduced the 9090DB in the Bicentennial year 1976, hailing it as "one of the most technologically advanced receivers on the market" in the sales brochure. A bold proclamation, indeed, but this receiver had to be special as it would go up against models like Pioneer's top-of-the-line SX-1250.
With a list price of $900 (the same as Pioneer's SX-1250), the flagship 9090DB was far from cheap — the average annual income in 1976 was around $16,000 and you could buy a new car for three or four grand — but it was (and is) a formidable piece of audio gear in stature and performance. Key features include a (now obsolete) Dolby noise reduction circuit for decoding "Dolbyized" FM broadcasts and making tapes encoded with Dolby NR, three tone controls (midrange, bass, and treble) with selectable roll-off frequencies, five inputs, two pre-outs, two tape loops, a moving-magnet phono stage, switched and unswitched AC outlets, and three pairs of speaker outputs that can be selected individually or in A+B or A+C pairs.
All of this '70s tech is housed in a attractive wood cabinet (top and sides) 21 inches across, 16 inches deep, and 7 inches tall with a classic front panel encompassing an expansive radio tuning display (typical of the era) with separate tuning and signal-strength meters, left- and right-channel power meters, two headphone jacks, a microphone input, and 23 silver knobs, buttons, and switches, including controls for recording with mic-mixing. Unlike the cheesy thin-metal-over-plastic knobs found on many receivers, especially those from the 1980s, the Sansui knobs have a high metal content, which makes them nice and solid to touch and turn.
The 9090DB weighs in at 52 pounds with its power section accounting for most of its heft and occupying much of its 330-square-inch footprint. The amplifier boasts a full complementary output topology with eight output transistors and a RMS power rating of 125 watts/channel into 8 ohms from 20Hz to 20kHz with no more than 0.1% total harmonic distortion (THD); overall frequency response is spec'd at 10Hz to 30kHz ±1dB.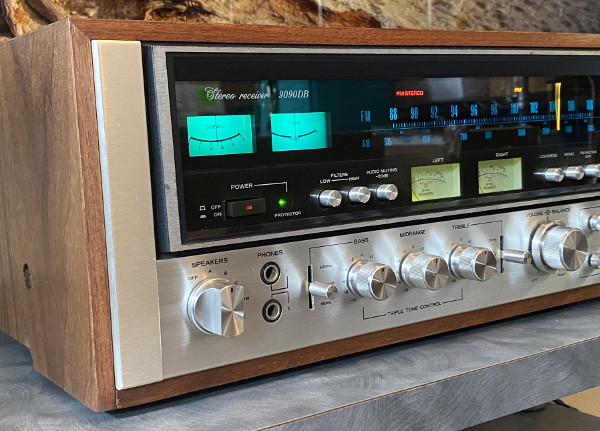 Regarded as one of the best receivers of the 1970s, the 9090DB is highly sought after to this day and commands prices ranging from a few hundred dollars to two or three thousand, depending on condition and the level of restoration. At the top end of that spectrum is a pristine specimen owned and meticulously restored by Ben Hase, service/restoration technician for New Jersey's SkyFi Audio — a joint venture with New York City's Stereo Exchange that deals in vintage and esoteric audio gear — and owner of hi-fi restoration specialist Novalux Stereophonic.
Restoring a Classic
"Every once in a while I get low on projects and put out a want ad for non-working vintage stereo equipment," Hase says. "I acquired this unit along with a lower end Marantz and Pioneer receiver from a local gentleman as a result of one of those ads. When I received the unit, it was cosmetically in very rough condition and would not come out of protection." Hase knew he had many hours of work ahead of him — more than 40 hours as it turned out — but relished the challenge of resurrecting a classic. "The unit was very dirty from years of constant use but after a thorough cleaning I knew I had a gem."
Bringing the 9090DB back to its former glory required a top-to-bottom restoration, which involved deconstructing and reconstructing the receiver, repairing or replacing key components, and then testing everything to verify optimal operation. Among the many updates, Hase replaced all of the electrolytic capacitors and fusible resistors — which amounts to dozens of components — did a full bulb-to-LED conversion, resoldered connection points, and aligned the AM/FM tuner. "Replacing the fusible resistors in the driver card that feeds the final output stage is the number one thing that needs to be done if you're restoring a 9090DB," he informs.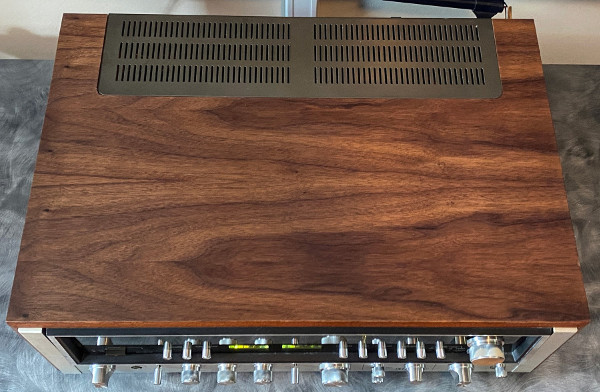 In addition to thoroughly cleaning and polishing the receiver, Hase applied new walnut veneer to its top and side panels, even going the extra mile to "waterfall the grain pattern over the edges to give it a more uniform look," and finished the cabinet with Danish oil. As you can see from the photos, the result is a beautiful natural wood look.
When all was said and done, Hase had not only made the old classic new again, but upgraded it with modern parts to ensure reliable performance well into the future. The receiver is listed on SkyFi Audio for the princely sum of $3,699, which is actually quite a bit less than the $4,300 you get when you convert 1976 dollars into 2021 dollars.
"The costliest aspect of this restoration was most definitely the labor," Hase explains. "The 9090DB is a particularly high-hour restoration due to the necessity of [painstakingly] removing and 'repinning' the Dolby NR board. Every signal from the preamp flows through this board so even if the Dolby features are not being used, it can still cause problems. Addressing this board is a must in any 9090DB restoration and involves inserting a piece of wire into each via and reflowing with fresh solder."
The amount of time Hase spent on this restoration far exceeded a more typical 20 to 30 hours because "there were issues with the FM tuner and driver board that added many hours of troubleshooting to the project. The cabinet was also in worse shape than most. In many cases the cabinets just need minor touch ups."
Post-restoration testing confirmed that the 9090DB delivers more than 150 watts/channel before clipping into an 8-ohm load at 1kHz, easily surpassing its 125 wpc rating. Hase's testing regimen also revealed an excellent tuner, which is hard to find in today's mainstream audio gear. "Once aligned, it had no problems pulling in stations with great stereo separation."
Click here to see a complete rundown of the restoration.
Visit our Vintage Gear section for more hi-fi nostalgia.