Long Live the JBL 4412 Studio Monitor!
If you're a fan of classic rock or lived through and cherish the incomparable musical treasures from that era, a good many of your favorite tracks were probably mixed on JBL studio monitors. One of audio's oldest and most-respected brands, JBL was founded 93 years ago as the Lansing Manufacturing Company to build cone drivers that replaced the gooseneck horns in radio consoles. It was 1927 — the year
The Jazz Singer
became the first feature-length film with a soundtrack, marking the beginning of the end of the silent film era. By the early 1930s, "talkies" had transformed Hollywood and Lansing was supplying drivers for a new horn-based speaker system Metro-Goldwyn-Mayer Studios (MGM) had developed to improve the quality of sound in movie theaters across the country.
Lansing went on to produce the Iconic, a smaller cinema speaker with an exposed horn atop a gigantic cabinet housing a 15-inch woofer — the forerunner of Altec's famous Voice of the Theatre, which founder James B. Lansing also had a hand in developing. Renamed James B. Lansing Sound and ultimately shortened to JBL, the brand became synonymous with professional sound — first in movie theaters and, by the 1970s, in recording studios as well.
In other words, JBL was built on pro sound, which brings us to the story of the 4412 studio monitor, a mid-'80s evolution of the 4300 Series monitor that became a staple in recording studios, following the late-60's success of the 4310 and 4311, the model on which the legendary L-100 consumer speaker is based. The 4412 is known for its rugged build quality, high power handling, and articulate sound so you can imagine how stoked New Jersey-based SkyFi Audio was when they got the call that a major New York City broadcast studio was moving and looking to unload a dozen (!) pairs of JBL 4412 and 4408 studio monitors, the latter being a smaller, two-way version of the 4412.
"Cool things have a way of finding us," observed owner Fernando Zorrilla, who calls the unexpected treasure trove of speakers "survivors" because of their impeccable condition. "The cabinets are like new — some of the crossover panels still have the original protective film on them!" Of course, the reason the speakers are in such good shape is because they spent their working lives suspended from the ceiling, avoiding the wear and tear you get with speakers that have been used, abused, and bought-and-sold over the years.
Apart from the lure of being a JBL studio monitor, the 4412 (not to be confused with the lesser quality 4412A) also happens to be one of the first speakers to use the titanium dome tweeter JBL developed in 1982. Titanium was chosen over other metals for its ability to deliver natural sounding highs and remains a popular choice among speaker designers to this day. According to the official history page on jblpro.com, "JBL's titanium diamond diaphragm structure combines the ruggedness of phenolic and composite-type diaphragms with the outstanding frequency response of fragile aluminum and exotic metal diaphragms."
In a 1999 post on audioreview.com, one proud owner described the 4412's sound as "highly detailed and accurate…with crisp highs, a perfect midrange, and enough bass punch to rattle windows. I mean, come on, they're professional studio monitors."
In the case of the 4412, the 1-inch titanium tweeter is mated with a 5-inch felted paper-cone midrange driver, and 12-inch cone woofer (coated with a dampening material JBL named Aquaplas) in a relatively compact yet super sturdy, 47-pound cabinet 23.5 inches wide, 14 inches tall, and 11 inches deep; the face of the cabinet is laid out for horizontal use with prominent dials for adjusting high- and mid-frequency levels above the oval port. Its little brother, the 4408 (shown below), is a two-way design with a single high-frequency level control that combines the same titanium tweeter with an 8-inch felted-cone woofer in a cabinet measuring 17 x 12 x 11.5 inches.
Both models sport a high-quality real-wood veneer Zorrilla describes as "gorgeous" and free of blemishes and fading or discoloration — a byproduct of studio life. SkyFi's rates the physical condition of the 4412 and 4408 as an "8" on a scale of 10, with 10 being perfect.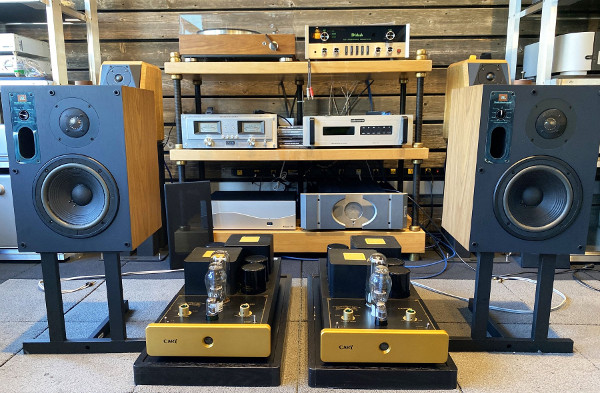 In addition to being able to play very loud without breaking a sweat, both models boast efficiency levels that approach that of horn speakers with the 4412 spec'd at 90 dB SPL (sound-pressure level) and the 4408 at 89 dB SPL (both measured at the standard distance of 1 meter with a 1-watt input).
Despite being in exceptionally good shape, the speakers were not perfect when they arrived at SkyFi's warehouse. Like all speakers from that era, the "surround" ring between the woofer cone and its "basket" (frame) is made of a foam that deteriorates over time and eventually turns to dust. Determined to stay true to JBL's original design, SkyFi replaces the woofer surrounds with a modern, UV-stabilized foam.
"They didn't know how to make foam back in the day," Zorrilla observes, "but now they do. Rather than compromise the sound by using a different material like polypropylene, we use a special foam that has evolved over 30 years — so it's going to last." The work is done by Millersound, a Lansdale, PA-based company specializing in speaker re-foaming and re-coning. As for the 4412's 5-inch midrange driver, Zorrilla says they're essentially bullet-proof and "don't ever need replacing."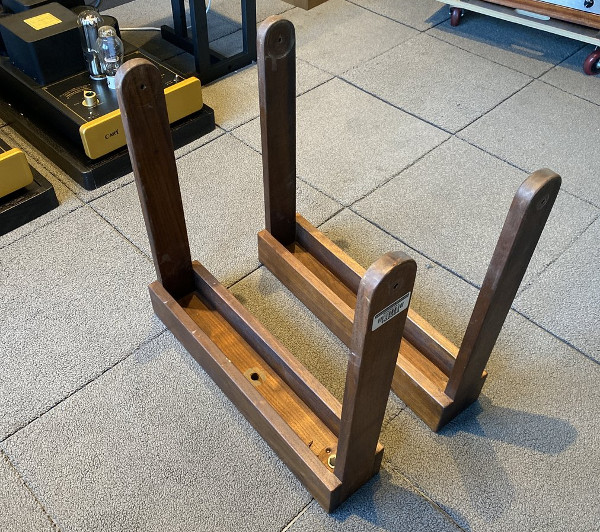 Before being listed for sale, SkyFi conducts a series of lab and listening tests on each speaker to confirm it's in "perfect working order" and worthy of the top rating of "10." If you're wondering what these amazing vintage specimens can be had for, Zorilla has priced the 4412 at $1,799/pair and the 4408s at $999/pair.
What makes these speakers so special and sought-after?
"The JBL brand, first of all, and the fact that the 4412 is a studio monitor meant to be listened to horizontally," Zorrilla explains. "You look at the writing on the crossover and it's evident that this speaker was designed for use as a studio monitor." That's not to say the 4412's can't be used vertically — they most certainly can. But you'll have to cock your head to read the writing on the crossover panel. A small price to pay for vintage JBL sound.