McIntosh MAC-1900: The Original High End Stereo Receiver
Mainstream audio came into its own in the 1960s-70s. At the heart of every "stereo" was an indispensable predecessor to the modern day AVR — the receiver. Simple by today's standards, the receiver of 40 years ago combined two channels of solid-state power (Class AB amplifiers with outputs for additional speakers), a preamp section with switching for a turntable and tape deck or two, and an AM/FM tuner in an impressive looking component, often with wood (or faux wood) side panels and a gleaming silver or gold faceplate featuring a prominent tuner display and a row of knobs, switches, and buttons.
The "marriage of audio and video" would come much later and over a period of many years gradually expand the capabilities of the receiver into what we know today as the A/V receiver, a super sophisticated control center that would have been unimaginable to a kid sitting in his room or college dorm listening to Dark Side of the Moon in 1973.
A number of big-name brands dominated the scene — Pioneer, Kenwood, Fisher, Onkyo, Sansui to name a few and the likes of Marantz and Harman Kardon at the higher end of the scale. And then there was McIntosh. Though the legendary brand is best known for separates — especially power amplifiers, the first of which were introduced way back in 1949 — VP/co-founder Gordon Gow knew a growing market when he saw one but had trouble convincing his partner Frank McIntosh to make the move.
As the head of sales, Gow pushed for McIntosh to come out with a receiver in the '60s but "Mr. McIntosh said no," relates Ken Zelin, historian and director of U.S. sales training at McIntosh. "Receivers involved some degree of compromise, so year after year, he overruled Gordon."
Finally, the owners came up with a solution they both could live with.
"They would build a receiver in the McIntosh factory but not call it a McIntosh," Zelin reveals. "They formed a division called MAC Audio Company to market the receiver. It was built in the McIntosh Lab factory and sold through McIntosh Lab dealers but if you look at the receiver and its manual, both say MAC instead of McIntosh. That way people knew not to expect it to be 100% as good as McIntosh separate components."
The MAC-1900 was introduced in the early '70s and remained in the company's line through 1978 but it wasn't the company's first receiver. That hard-fought honor was reserved for the 30-watts-per-channel MAC-1500 that sold for $499 in 1965. It was replaced by the MAC-1700 receiver a couple years later, which upped power output to 40 watts and filled the receiver slot until the MAC-1900 came along.
"The MAC-1500 combined some transistors and many tubes," Zelin says. "It sold quite well. Next came the MAC-1700, which was all solid-state except for a tube FM tuner. It was a big hit."
Then came the MAC-1900, upping with ante with an all solid-state modular design that put out 55 watts a side (into 4 and 8 ohms). It initially sold for $799 before the price was bumped to $949 ($5,500 in today's dollars). Despite the price, "it sold like hotcakes," Zelin recalls. "It was the first piece of McIntosh (oops...MAC) gear I ever sold. It did everything well and was modular. Each board could be unplugged for easy servicing. They sold many thousands of them — probably close to 10,000."
The MAC-1900 was also the last receiver to bear the MAC moniker.
"Mr. McIntosh retired and Gordon Gow put the McIntosh Lab name on its late '70s successor, the MAC4100. I'm sure Mr. McIntosh was not happy! It was a tremendous success" and it remained in the line through the mid-'80s at a price that was twice that of the MAC-1900.
Longtime audio professional/enthusiast Steve Feinstein, who I met when he worked for Boston Acoustics back in the '90s, called the MAC-1900 "arguably the first 'high-end' receiver of the modern equipment era" in an article he wrote several years ago. No question.
This stature helps explain the receiver's value in today's collector's market. A quick internet search reveals a handful of MAC-1900s ranging in price from $700 to $1,599 for a "near-mint" specimen recently acquired by New Jersey's SkyFi Audio, a joint venture with New York City's Stereo Exchange that deals in vintage and esoteric audio gear.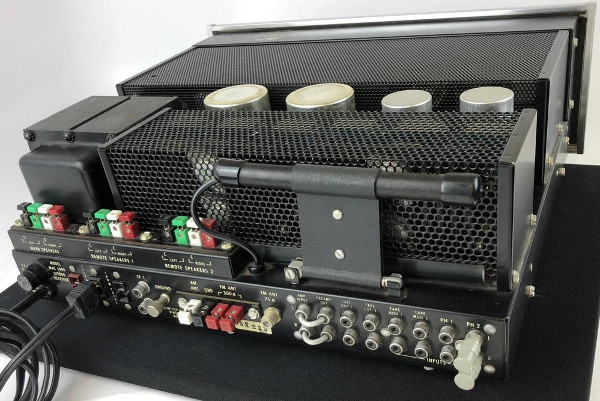 Remarkably, the MAC-1900 shown here was the prized possession of a Jersey-based an audio enthusiast who owned it for almost 50 years (!) and reluctantly decided it was time to let it go. "He was downsizing and moving to a little condo and started rethinking all his stuff," explains SkyFi owner Fernando Zorrilla.
The story goes something like this: He saved up his money when he was a young guy and splurged on the 1900 but never got rid of it because it was so reliable. Eventually he upgraded to separates but rather than sell the beloved receiver, made it the heart of a second system he continued using right up until he sold it to SkyFi.
"He owned it practically his whole life so he loved this thing," Zorrilla says. "He was emotionally tied to it and determined to sell it to someone specializing in vintage gear, not just a flipper. Sometimes people get attached to things and actually care where it's going."
Zorrilla describes the new acquisition as one of the best preserved versions of MAC-1900 he has ever seen.
"The finish quality, paint, glass, and chrome pieces are all superb," he observes, noting that the owner took exceptional care of it and had it serviced a number of times over the years. On a scale of 1 to 10, Zorrilla rates its working condition a 10 and its physical condition a 9. Why not a 10? The top score is reserved for vintage gear that has never been used — like the 1966 Marantz 10B tuner he landed a couple months ago. It was found in a sealed box with the original shipping label.
For a closer look at the MAC-1900, including a full list of specs and a PDF copy of the original owner's manual, visit skyfiaudio.com.
Related:
Classic Fisher Tube Amp Makes Rare Appearance
When You Find a Pristine Piece of Audio History
Click here for more Sound & Vision posts on vintage gear.