Classic Fisher Tube Amp Makes Rare Appearance
The Fisher SA-1000 tube amplifier is a sight to behold with its stately gold faceplate and signature tube cage. The amp also happens to be a legendary piece of audio gear that dates back to the early days of hi-fi.
"It's a big collector piece," explains Fernando Zorrilla owner of New Jersey-based SkyFi Audio, a joint venture with New York City's Stereo Exchange that deals in vintage and esoteric audio gear. "The SA-1000 competed with the Harman Kardon Citation and McIntosh MC275. At the time it was a big powerful tube amplifier — it probably weighs 80-90 pounds."
The Fisher Radio Corp., founded in 1945 by amateur violinist and patron of the arts Avery Fisher, was a pioneer in high-fidelity audio along with the likes of McIntosh, Harman Kardon, Marantz, and H.H. Scott. And like those fabled brands, Fisher was born out of a passion to advance that state of music reproduction for fellow enthusiasts and, eventually, the public at large.
"This was my hobby," Fisher said in a 1976 Rolling Stone interview. Before Fisher Radio, he began building radio consoles while working his day job as a book designer, which led to the birth of the short-lived Philharmonic Radio Company. "I started putting these things together for friends and before I knew it, it looked like it could be a supplemental income. I still didn't dream it would become a full-time occupation..."
Fisher was forced to sell the company during World War II at a time when companies were mobilized to help the military effort. He agreed to stay on as president but the new owners shifted focus to table radios. "I had no interest in that…so when the war was over I resigned and, taking certain key people with me, started Fisher Radio."
One of Fisher's many notable achievements, the SA-1000 was introduced in 1963 as a 58 watts/channel step-up to the 24 watts/channel SA-100.
Here's how Fisher described the amp in its 1963 catalogue: "A new, fresh approach to the art of music reproduction and a concentrated 'no-compromise' design effort by world-famous Fisher Engineering Laboratories — these are the ingredients that have created the Fisher SA-1000. With 150 watts IHF [single 75-watt channel driven at 0.5% THD] and 130 watts R.M.S. Power [single 65.5-watt channel driven at clipping or 0.15% THD], this instrument possesses ample reserve capacity for all applications, including use in the largest auditoriums and theatres." (The 58 watt spec is both channels driven at 0.11% THD.)
The SA-1000 draws on a complement of nine tubes — four 8417's and pairs of ECC83's (a.k.a. 12AX7) and ELL80's around a single ECC808 preamp tube ensconced in a metal canister. The front panel is sparsely appointed with only three knobs and a bias meter. Left of center is a five-position bias-meter selector while the two knobs to the right provide six input-attenuation settings for either channel.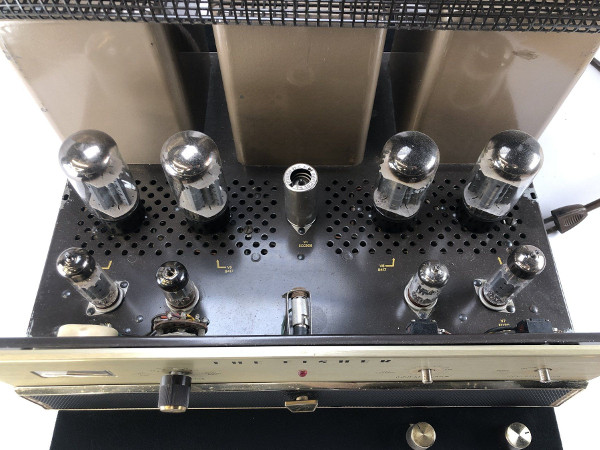 "They're usually pretty rough when they come in, especially the paint on the transformers," Zorrilla says. "They've typically lived through generations of use having passed from grandpa to the dad to the son so they're usually pretty beat up and oftentimes missing either a whole knob or the gold cap from the knob, which is hard to find. The glue that held those caps in place would fail."
Remarkably, this is the second SA-1000 SkyFi has come into possession of in about as many months. The first one sold quickly. "It came to us with a matching preamp from a gentlemen in Montreal who'd had them his whole life. He tried to pack them and sent us pictures two or three times and every time we said, "No, you can't send them like that." So one day he drove down and dropped it off at our showroom [in Glen Rock, NJ.] For the record, that's a 5 to 6 hour trip one way.
There's no story attached to the current specimen, but Zorrilla confirms that the amplifier is original with no upgrades or modifications and currently works, though he recommends an electrical restoration to ensure reliability over time. It's also in good condition for a piece of gear that's almost 60 years old, with clean wiring and a faceplate and tube cage that are free of dents and scratches.
SkyFi's "as-is" price is $4,999 — just a tad more than the $329.50 it sold for back in 1963. A full-blown restoration with an electronics and cosmetic overhaul could add another $2,500, depending on the components used, or the buyer could opt to restore either the electronics or the cosmetics for about half that.
An electronics restoration includes replacing and biasing all tubes, upgrading all capacitors in the signal path, lubricating or replacing all potentiometers (pots), installing a power-on delay (which helps extend the life of all components), testing and replacing resistors that are out of spec or show signs of aging, replacing diode rectifiers in the power supply, and installing a MegaSurge inRush current limiter for softer, safer starting.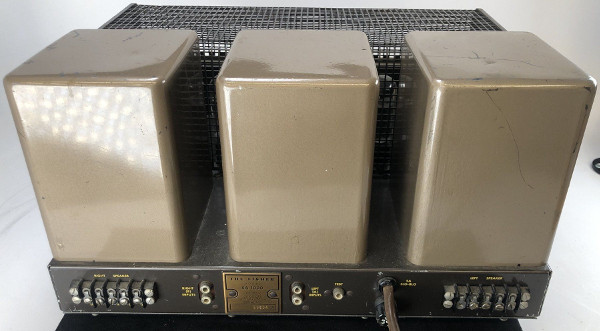 When SkyFi does a cosmetic restoration, the entire component is disassembled and the transfomers, chassis, and tube cage are prepped, primed, painted with period colors and then clear-coated. Brass parts are polished and buffed, knobs are polished (or replaced if necessary), and all writing and numbering is re-stenciled.
"Vintage electronics are weird in that sense where there's no hard set rule on what makes it more valuable — whether it has original paint or brand new paint," Zorrilla observes. "It's really person by person so we will often will leave it up to the customer. They'll be like, 'Oh, I want to buy this. Go ahead and give it a full re-spraying and make it look brand new — I don't really care whether it's the original paint or not.'"
Click here for the original schematic for the SA-1000. A 1963 ad in High Fidelity magazine for the K-1000 StrataKit version of the SA-1000 is here.
The SA-1000 appears in Fisher's 1963 catalog, which is available for download at hifiengine.com.
For more on the Fisher SA-1000, visit skyfiaudio.com.
Related/Further Reading:
1976: A Conversation with Avery Fisher
A Remembrance of CES Past by GoldenEar Technology founder Sandy Gross