Rare B&W Speakers Anchor Skyfi's System of the Week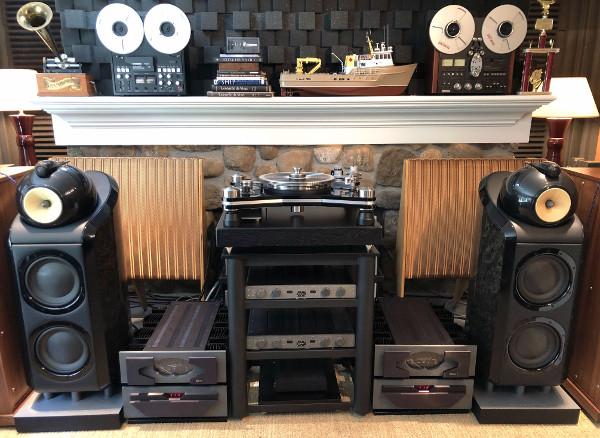 The super-rare Nautilus Signature 800 Edition of B&W's iconic 800 Series speaker is the star of the show in a "System of the Week" recently featured by New Jersey-based vintage audio specialist
Skyfi Audio
.
Introduced in the early 2000's, the Signature 800 is a limited-edition iteration of the Nautilus 800 Series speaker B&W rolled out in 1998. Its side panels are finished in exotic tiger-maple veneer and the baffle and top panel of the main cabinet (which houses two 10-inch Kevlar-reinforced-paper woofers) are covered in fine leather from Connolly Leather Limited, a British company that once supplied Rolls-Royce, Aston Martin, and other luxury automakers.
The speaker sits on a cast aluminum plinth that supports a bottom panel angled to provide a pathway for bass from its down-firing port and is capped by a tube-loaded 1-inch metal dome tweeter and 6-inch woven Kevlar midrange driver, each housed in its own rounded enclosure. Original specs include a rated sensitivity of 91 dB and a –2 dB low-frequency limit of 37 Hz. In case you didn't know, B&W 800 Series speakers have been the speakers of choice at London's legendary Abbey Road Studios since the early 1980s. More information on this distinctive speaker is available here.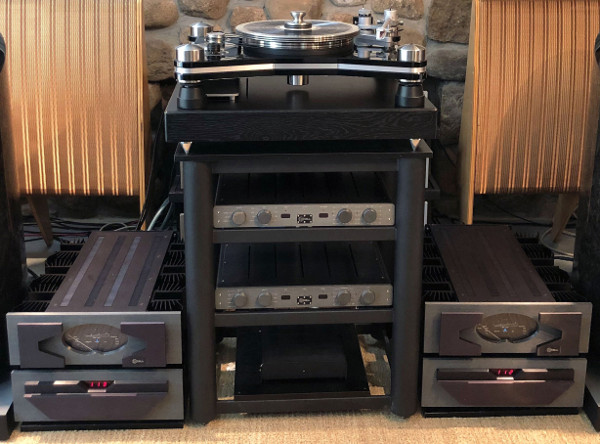 Electronics in this killer setup are the province of Krell: A pair of Audio Standard double-decker monoblock amplifiers fronted by a KBL preamp/KPA phono preamp combo Skyfi has listed for $6,499. The audio gurus at Skyfi are still evaluating the monoblocks and deciding whether to list them for sale — or keep them for themselves.
The icing on this high-end cake is a recently acquired HR-X turntable from VPI Industries, fitted with a Lyra cartridge and finished in gloss silver and black with an exposed drive mechanism.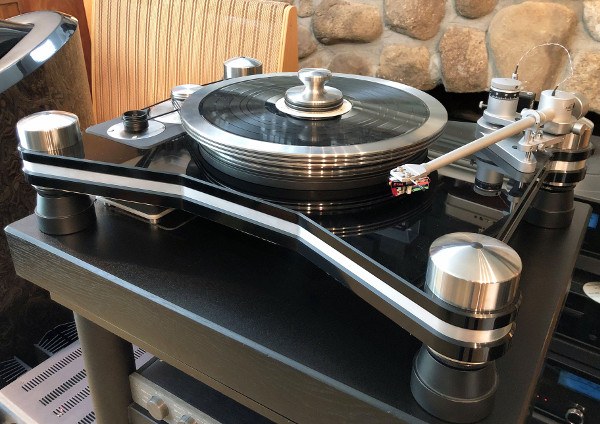 For more information on the gear in this system, visit Skyfiaudio.com.