Fluance Ai40 Powered Bookshelf Speakers Review
PRICE
$200
AT A GLANCE
Plus
Impressive sound and build quality for price
Good looks
Easy to set up
Minus
Limited connection options
Analog input can be noisy
THE VERDICT
The Fluance Ai40 delivers great sound and easy setup at a stunningly low price.
The Fluance Ai40 is a good-looking and reasonably compact powered speaker system that's equally at home on the desktop and in the living room. With aptX Bluetooth and stereo RCA inputs and not much else, it's easy to set up for streaming and vinyl or CD playback. At $200, the Ai40 is also a notably affordable given the performance level it provides.
I'm regularly asked by non-audiophile friends and acquaintances to recommend an inexpensive all-in-one audio system they can use for streaming music from their phones. Emphasis on inexpensive. And while all-in-one speakers have advantages—specifically, convenience—a powered speaker pair like Fluance's A140 provides a higher-performance alternative by spreading the sound out for a proper stereo image. The Ai40 is also priced at a level that lets it compete with many of the better Bluetooth and Chromecast all-in-one speakers on the market.
Gently rounded edges on the Ai40's grille-free cabinets give it a graceful, living-room-friendly look. I especially liked my Lucky Bamboo model, which sported a natural wood finish and a white MDF baffle. The 2-way acoustic suspension design features a 5-inch woven glass fiber woofer and a 1-in silk soft dome tweeter. The system's 2 x 35-watt class-D amplifier is contained in the right speaker, with high-quality gold-plated speaker binding posts used to distribute power to the passive left speaker via an included 8-foot length of speaker cable.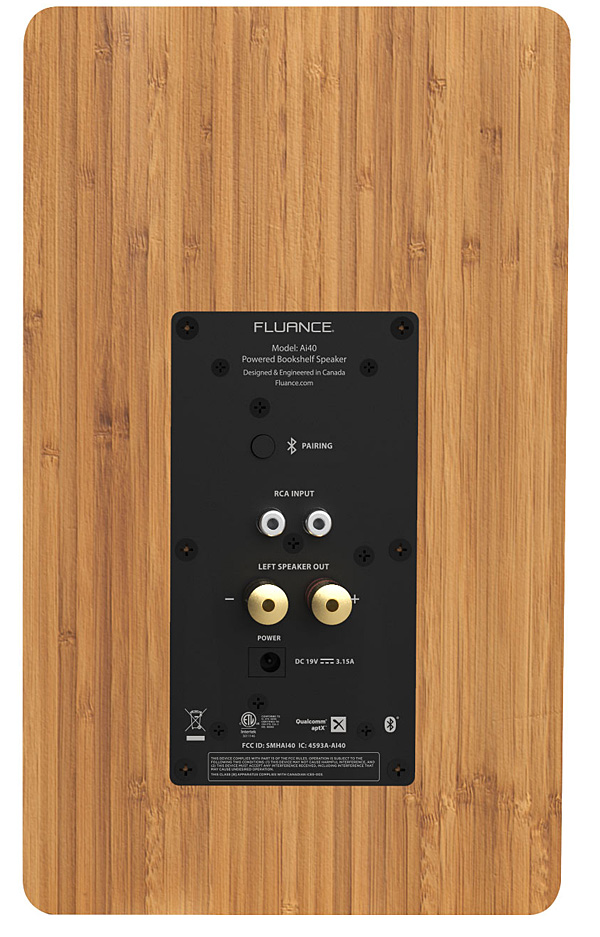 The right speaker's front panel features an IR window to accept commands from the included remote control plus a multipurpose knob to adjust volume, power on/off, and switch inputs—something you do by pressing it repeatedly. Around back there's a button for pairing with a Bluetooth device, a gold-plated stereo RCA input, and a small Canadian flag that lets you know just where these speakers came from. (That last item reminded me of my days trekking around Europe, where Canadians sewed the Maple Leaf on their backpacks so they wouldn't be mistaken for Americans.)
With only two connection options—aptX Bluetooth and analog Stereo RCA—setting up the Ai40 was a snap. For desktop listening, I plugged an AudioQuest DragonFly Black DAC into my Mac's USB port and used the included 3.5mm to stereo RCA cable to connect to the right speaker. For the living room portion of my listening, I used the same setup, but also tapped my iPhone for a standard Bluetooth link—standard because my absurdly expensive new iPhone doesn't support aptX Bluetooth.
After a brief break-in period (Fluance suggests 10 hours), I streamed a few Tidal HiFi selections at my desk and was quickly impressed with the Ai40's smooth, spacious sound. An electronic music track, Nils Frahm's "Sunson," was delivered with a wide, seamless soundstage and a decent amount of depth. I also found the speaker's tonal balance on this and other tracks to be mostly neutral with a just a touch of mellowness that helped for nearfield listening.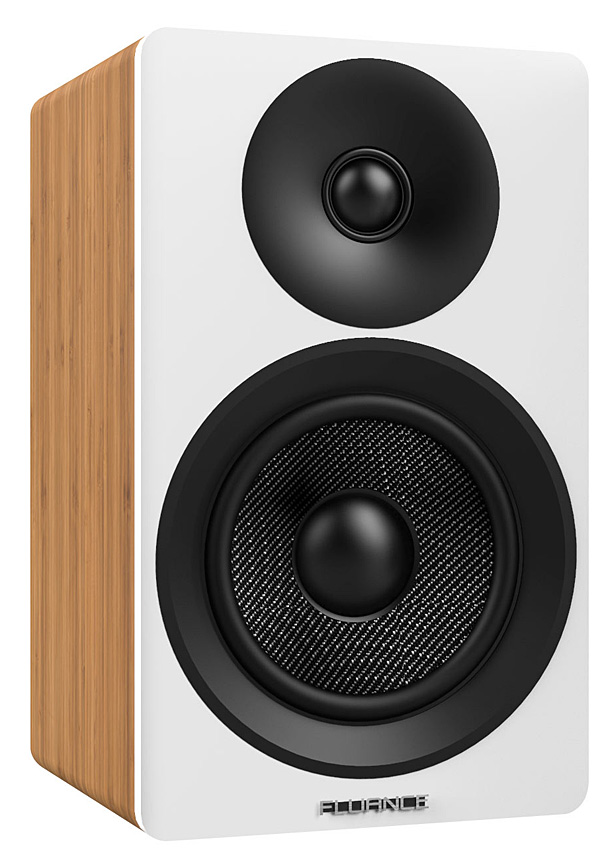 Moving the speakers to my living room, I remained impressed—this time by the Ai40's ability to deliver decent SPLs in a relatively large space. Vocals on the Americana-influenced track "Holy Low" by New Zealand singer Nadia Reid came across as clear and unforced, even when I pushed the system's maximum volume level. Listening to Guitarist Bill Frisell's instrumental duet with bassist Thomas Morgan, "Small Town," both low end extension and definition were extremely good for a $200 pair of speakers. Although I missed some of the treble bite of Frisell's fender guitar on this track, a single hit of the treble button on the Ai40's remote mostly restored it. Last up: Satie's Gnossiennes – 1. Lent played by pianist Hélène Grimaud. The little Ai40 system rendered an authentic sense of concert hall ambience, with generous natural reverb and clear tracking of the nuances of Grimaud's performance as it shifted from languid to aggressive.
One user complaint about the Ai40s I'd spotted online concerned a high level of noise on the analog input (but not Bluetooth). During my tests, I found that noise wasn't an issue unless I had the speaker's volume control pushed past a comfortable listening level. For my setup, however, I had both the Tidal app volume control and my computer's sound output set to maximum, and then used the Ai40's remote control to set volume, which is how I'd recommend the system be configured for computer-based listening.
The Fluance Ai40 looks and sounds great for a $200 powered speaker package. Seriously—I'm surprised that the company is able to deliver such impressive build quality and performance at this price. The next time I'm asked about an easy, inexpensive sound system—emphasis on inexpensive—I'll know what to recommend.