Andover Spinbase Turntable Speaker System Review
PRICE
$299
AT A GLANCE
Plus
Very good performance
Exceptional ease of use
Accommodates typical turntables
Minus
No remote control
THE VERDICT
The Spinbase is a fulfilling high-performance alternative to an entry-level component-based stereo system.
At first glance, almost everything about the Andover Spinbase turntable speaker system seems wrong. Why? Audiophiles go to great lengths to make sure their turntable, a delicate vibration sensor, is isolated from external sources of mechanical vibration. But with the Spinbase, you plunk your turntable on top of the worst offender in a system—the speaker. That's a bit like asking a ballerina to do a pirouette while being tackled by the Green Bay Packers' offensive line.
Such thinking would miss the entire point of the Spinbase, which is not intended to be an audiophile solution, but rather an all-in-one powered speaker/turntable platform that allows for vinyl playback where a full rig won't work due to space, budget, or domestic acceptability reasons. I initially thought the Spinbase would be a glorified step-up from a Crosley suitcase record player, but it turned out to be way better.
Andover is pretty coy about what lurks inside the Spinbase. Available in matte black or white, it has a stylish look, with just a single volume knob on the front that doubles as a power switch. The platform's width and depth are a perfect match for most typical turntables, while its height is about 3.5 inches. The front and sides are covered with a metal mesh grill, while the top, bottom, and rear panels are made from surprisingly thick-feeling MDF. Support comes from three dome-shaped rubber feet that can't be adjusted for leveling, although some turntables do provide that feature.
Andover calls its vibration control technology IsoGroove Feedback Elimination, and it proved to be remarkably effective. Even when playing the Spinbase at a loud volume, its top surface remained well-damped and vibration-free. The Spinbase has an 18 watt-per-channel class-D amplifier, with two 1.5 x 4-inch oblong woofers on the sides and two 0.75-inch soft dome tweeters up front. (When you listen to it, most of the sound seems to come from the sides.)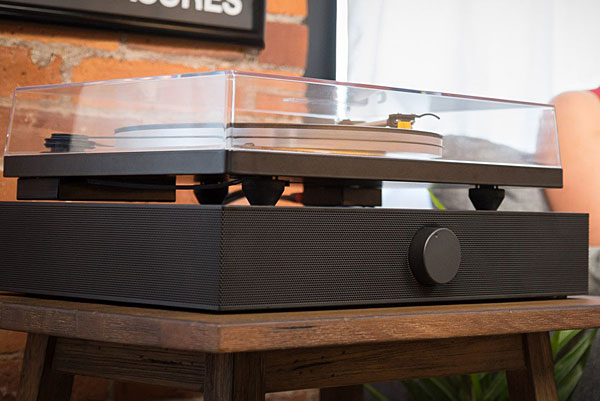 Setup
It's hard to imagine an audio component simpler to set up and operate than the Spinbase. The back panel has two stereo RCA inputs, one for a turntable with a moving magnet phono cartridge, and the other one switchable between a line-level and a phono input for low cost record players with a ceramic cartridge. The only other back panel features are bass and treble controls and a mini-jack headphone output for private listening. A Bluetooth wireless input rounds out the connection options.
Continuing with the simplicity theme, Andover's designers went to great lengths to make operation of the Spinbase foolproof. There are no indicator lights or a remote control, and since it's always in pairing mode, pairing a phone requires nothing more than selecting the Spinbase from its Bluetooth device list. Even crazier is that despite having three inputs, there is no input selector switch of any kind. All three are active all the time, so if you play a connected Bluetooth device and a turntable simultaneously, you'll hear both of them playing through the speakers! One downside to this arrangement is that you need to make sure any unused input jacks have the supplied shorting plugs installed or you might run into a noise problem.
Performance
I tried the Spinbase with a typical pair of turntables: Technics SL-1200 Mk2 and Rega Planar 3. The Technics is a DJ-focused deck with excellent built-in isolation, so it had no problem, but I also found that the less well-isolated Rega worked fine. With both, I could turn the volume up to room-filling levels without any obvious sonic downsides.
The first thing I noticed when firing up the Spinbase was just how open and free from boxiness its sonic image was. I'm not sure what DSP tricks are being used, but the image was expansive without sounding unfocused or out-of-phase. Playing "Nowhere to Run" from Pete Townshend and Ronnie Lane's Rough Mix album, I heard a natural, relaxed sound that was engaging and tuneful. And though it's certainly not going to rival the visceral experience you get from big speakers, the bass I heard was tight and clear. I found that the Spinbase sounded most neutral in my room with its treble knob boosted a tad and the bass cut back a bit, but those adjustments should vary depending on room size and placement. With record after record, I found the Spinbase to be a great way to enjoy music without getting preoccupied with audiophile minutiae.
Conclusion
I was prepared to be underwhelmed by the Spinbase, but its performance neutralized my skepticism and exceeded my expectations. While it's never going to replace a high-end stereo rig, the Spinbase is perfect for a small dorm room or office and it can provide a fulfilling stepping-stone to bigger systems down the road.