GoldenEar Technology BRX Bookshelf Speakers Review
PRICE
$1,599/pair
AT A GLANCE
Plus
Detailed, dynamic sound
Powerful bass for a bookshelf
Compact form factor
Minus
Requires careful setup and placement for best performance
THE VERDICT
GoldenEar Tech's compact, passive BRX proves that the company known for powered towers can also make a better bookshelf speaker.
At some point when I reviewed GoldenEar Technology's Triton Reference tower in early 2017, it hit me that the company may have backed itself into a marketing corner with its new offering. After all, how do you push the performance envelope further after developing a "Reference" speaker? The company's agenda, as it turned out, was to scale its $8,500 flagship down in order to deliver variations on the Reference experience. To that end, GoldenEar quickly followed up with the Triton One.R ($6,000/pair), a smaller and less pricey tower that to my ears didn't compromise on performance in any substantive way. Now, the company has introduced the BRX ($1,599/pair), a passive bookshelf entry in the Reference lineup. Since a key component of both the Reference and the One.R is a built-in powered subwoofer section that enables the speaker to deliver true full-range sound, I was eager to see—and hear—how the company had navigated the challenge of getting Reference-level performance from a compact, passive package.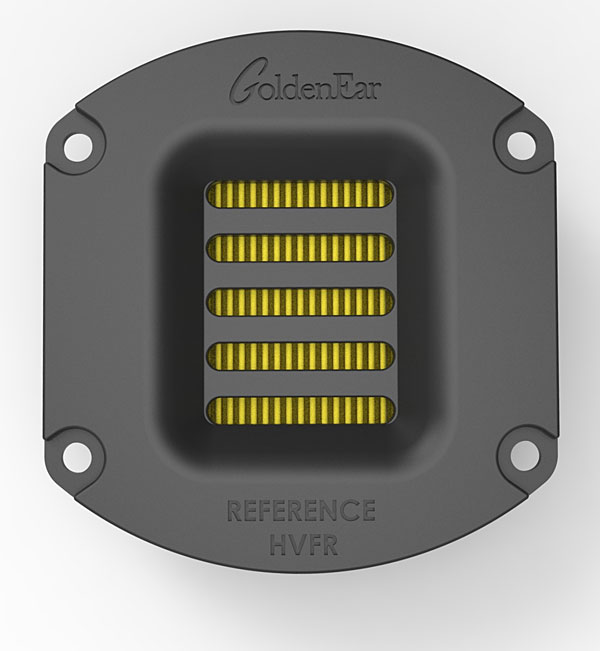 The first part of that puzzle makes perfect sense: use components similar to those found in the Triton Reference and One.R towers. The BRX's 8 x 12 x 12.25 in (WxHxD) cabinet houses a 6-inch mid/bass driver that's basically the same as the one used in the Triton Reference, and so is its HFVR (High-Velocity Folded Ribbon) tweeter. Bass output is augmented by a pair of 6.5-inch passive radiators (GoldenEar Tech calls them "planar infrasonic radiators") deployed on either side of the cabinet in the same "inertially balanced" configuration found throughout the company's full range of tower speakers and standalone subwoofers. (According to GoldenEar, the use of passive radiators covering approximately twice the area of the active bass driver allows them to lower the tuning of the sealed cabinet's output and increase bass extension.)
Along with using similar components, the BRX features the same cosmetics as the company's flagship towers, with a piano black lacquer cabinet that tapers in gradually from back to front and sports a slight curvature at the front and back. The design is much more elegant than GoldenEar's earlier bookshelf models, which had a somewhat chunky look. High-quality gold-plated five-way connectors are located around the speaker's back, and rubber feet are attached to its bottom surface to reduce vibration when placed on a shelf or stand. Removable black metal mesh speaker grilles that attach magnetically to the BRX's front baffle are also included. When used in a home theater configuration, the company's SuperCenter Reference ($1,650) would be an obvious match for the BRX, though they also offer more affordable center speaker options.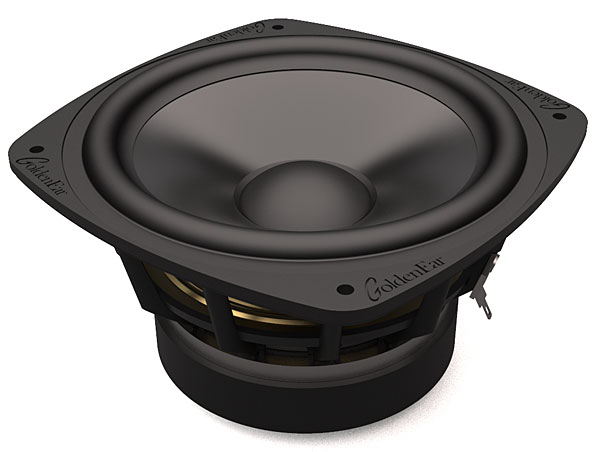 While component selection and cosmetics are key parts of the BRX story, other work went into making the company's new bookshelf speaker merit Reference status. When I discussed those fine points with GoldenEar founder Sandy Gross, he indicated that the BRX was carefully voiced to match the flagship tower models, and that specific attention was focused on bass performance to ensure its low-end would sound extended without the artificial boost deliberately built into some bookshelf speakers to compensate for their size. Beyond that, "special sauce" touches include a balanced crossover topology that arrays components equally on either side of the drivers, and internal wiring featuring a unique twisted arrangement which Gross says yields audible benefits.
Setup
To set up the BRX bookshelf speakers, I placed them on stands approximately 9.5 feet apart and one foot out from the back wall of my 16 x 20 x 9-foot listening room. Instead of positioning them on my regular 24-inch-high speaker stands, I unboxed a pair of Sanus Foundations SF30 stands that GoldenEar sent specifically for me to use in my review. The 30-inch-high stands allowed for the HFVR tweeters to be precisely aligned at ear-level when seated on my couch—something I found to be crucial when positioning the BRX pair for best performance. Following Sandy's recommendations, I also toed the speakers in approximately 30 degrees to ensure a wide sweet spot and precise imaging.