Klipsch The Fives Powered Speaker System Review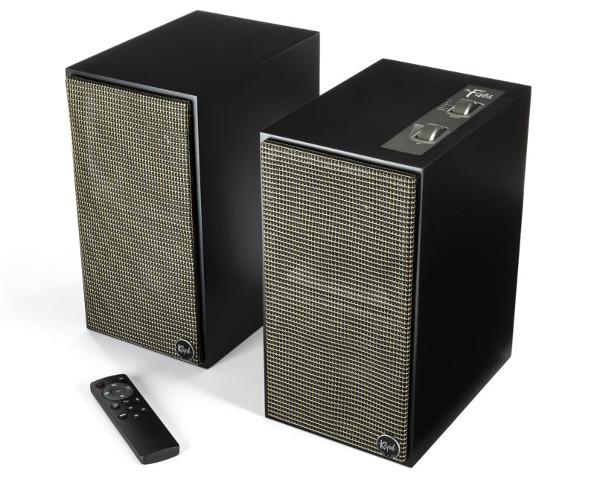 PRICE
$799
AT A GLANCE
Plus
Versatile
Easy to set up
Solid construction
Good sound with powerful bass

Minus
No tone controls

THE VERDICT
The Fives accommodate a variety of audio setups without the need for an outboard amp or receiver and deliver pleasing sound with rich, powerful bass.
I'm all about simplicity so I welcomed The Fives with open arms. A follow-up to The Sixes Klipsch introduced a couple years ago, the new speakers are smaller and take connectivity to the next level with the addition of an ARC (audio return channel)-enabled HDMI port. If I had to pick one word to describe this system, it would be versatile.
The Fives can accommodate just about any audio setup. Jack in your source — or grab your phone and open your favorite music app — hit play, and you're off. No need to deal with an outboard power amp or receiver and the system is equipped with an arsenal of connections that go well beyond that handy that HDMI input, which makes supercharging TV sound a one-cable affair. Prefer (or need) an optical hookup? No problem, it's there along with support for Bluetooth streaming, a USB port for computer hookups, an analog minijack input, and a set of analog RCA inputs with a twist: They can be switched between line-level and phono, which taps into a built-in preamp for turntable hookups. Klipsch also includes a line-level subwoofer output, which I suspect most people will ignore because the Fives are quite capable in the bass department right out of the box.
You can operate the speakers using a supplied remote control or two rotary dials — one for volume, the other for source selection — on top of the right speaker, which houses power amplifiers that deliver 2 x 60 watts to a pair of 4.5-inch woofers (one per enclosure) and 2 x 20 watts to a pair of 1-inch titanium tweeters, each loaded in Klipsch's signature Tractrix horn.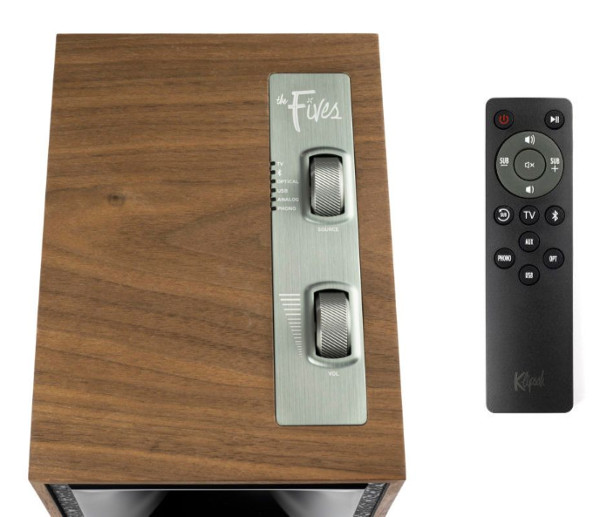 Build quality is beyond reproach with a nice walnut-veneer finish and woven cloth grilles that attach magnetically, which makes them a cinch to remove. The Fives are also offered in an attractive matte-black finish with matching tweed grilles.
Ready, Set…Go
Setting up The Fives is as easy as it gets thanks to the assortment of connections and onboard power. I did my listening in two locations: an 11 x 13-foot guest bedroom with the speakers set up just over 4 feet apart on a dresser and a 12 x 25-foot living room with the speakers resting atop my everyday speakers, 4 feet off the floor and about 9 feet apart, toed in toward the sweet spot.
I started my musical adventure in the smaller room, running through a wide selection of music to get a feel for the sound. Moving from my pop/rock mainstay to orchestral music and acoustic folk and jazz, I fired up Tidal, played a few CDs and hi-res files (the system supports resolutions up to 192 kHz/24 bits), before spinning some vinyl.