Klipsch The Sixes Powered Speaker System Review
PRICE
$799
AT A GLANCE
Plus
Solid build quality
Handsome fit and finish
Easy setup
Good overall sound quality with bountiful bass
Minus
No Wi-Fi streaming
No tone controls
Disappointing phono preamp
THE VERDICT
Klipsch's beautifully crafted Sixes deliver fine sound with the bonus of onboard power, but vinyl playback is shortchanged by its pedestrian phono preamp.
I've been talking about pulling my old turntable out of mothballs since I moved to my current home, oh…20 years ago. Which is why I jumped at the chance when asked if I had any interest in auditioning The Sixes, the latest entry in Klipsch's Heritage Wireless series and big brother to The Three, the superb all-in-one wireless music system we reviewed in May. I know what you're thinking: What does reviewing speakers have to do with setting up a turntable? Bear with me.
The impeccably crafted Sixes look like speakers your father (or grandfather) might have owned in the 1960s or '70s, with one key difference: They're self-powered. (Not that powered or "active" speakers didn't exist back in the day, but they were rare.) The gold-colored band running along the bottom of the right speaker, with its toggle switch and glistening control knobs, is a dead giveaway that an amplifier resides within. Those controls and the jack panel around back also explain why the right speaker weighs almost a couple of pounds more than the left one.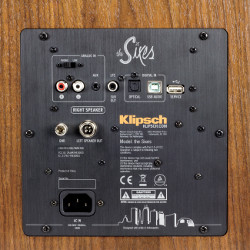 The beauty of a powered speaker system is mostly simplicity. With 2 x 100 watts of power onboard the Klipsch, all you have to do is add a source component, and you're good to go; there's no need for an outboard amplifier or receiver (although you will have to locate the amp-equipped speaker near a power outlet or bring power to it). But there are technical virtues, too. Before the audio signal hits the amps, it's filtered by an electronic (or active) crossover network, which is more power efficient and flexible than the passive networks found in non-powered speakers. A powered model also enables designers to match the amp to the drivers — in this case, a 6.5-inch woofer and a Tractrix horn-loaded 1-inch titanium tweeter, housed in a vented enclosure.
The Sixes are finished in an attractive natural walnut veneer, with chunky grilles covered in nubby fabric that attach magnetically for easy removal. And as lifestyle speakers go, they're a bit imposing, each standing almost 17 inches tall x 8.6 wide x 11 deep. You might think speakers this size could be mounted on stands, but that's not the case here: Instead of a flat bottom with screw inserts for securing the speaker to a stand, the base of each speaker has a hollow wood riser that elevates the cabinet about an inch and tilts the top backwards ever so slightly.
Now, back to those glistening knobs. One controls volume, and the other is a source selector that toggles through five input options: Bluetooth, Aux (for analog hookups via a 3.5mm minijack), USB, Digital (via an optical connector), and — ta da! — Phono (via a switchable set of RCA jacks that double as a second line input). Making it easy to connect a turntable strikes me as a great idea, especially given the vinyl renaissance of late. Klipsch includes a simple remote control, as well as a cable for each hookup scenario, except phono. The remote covers all the bases, with buttons for each source mode, mute, and LED (to turn off the indicator light) plus a toggle ring that controls system volume and subwoofer level (if one is connected to the speaker's sub out).
I have to admit, I was a little disappointed when I realized The Sixes don't natively support streaming over Wi-Fi — a feature offered in the Three. Having the capability to network with other Wi-Fi-enabled speakers in a multiroom setup and access music services such as Pandora and Tidal would be a welcome addition.
Arrival of The Sixes gave me a much-needed kick in the vinyl pants. No more excuses: It was time to dig out my Philips turntable and revisit my long-neglected record collection. One small problem: I couldn't find the doggone thing. I spent hours scouring the storage shelves in my basement, where I was certain I'd put the table way back when. Where it ended up remains a mystery. Was it accidentally thrown out during a hasty spring cleaning? (Hard to imagine.) Did I move it to the attic? (An all-around terrible idea, so I doubt it. I looked there anyway.) Did my son "borrow" it? Hmmm… (I'll have to report back on that.)
Fortunately, the folks at Klipsch were kind enough to loan me a Klipsch Debut Carbon turntable, introduced a year and a half ago in collaboration with the phono wizards at Pro-Ject Audio Systems (but not available in the U.S.). The belt-drive table has a beautiful walnut base and includes a pre-installed Ortofon 2M Red cartridge. Perfect.
Simple Setup
System setup is dead simple: You run a thick braided cable with four-pin locking-collar connectors on either end between the speakers, plug in your source component of choice, and flip the power switch. I set up The Sixes in an 11 x 12-foot room on either end of a 30-inch dresser and created a classic stereo triangle with my chair positioned about 6 feet from the speakers, which were about 4 feet apart. After breaking them in for a week or so, I began my formal evaluation using the simplest of music sources: my iPad and phone connected wirelessly via Bluetooth.
Within seconds of selecting "Klipsch The Sixes" from the Bluetooth menu — first the phone and then the iPad — I was immersed in an impromptu tribute to the late Walter Becker, courtesy of my Steely Dan channel on Pandora. I hit play, and the cool jazz groove of "FM (No Static at All)" from 1985's compilation A Decade of Steely Dan filled the room. Donald Fagen's piano and vocals were front and center, punctuated by Becker's tasty guitar licks, eventually yielding to saxophonist Pete Christlieb's riveting solos — all crisp and clear with solid bass. Not bad for Bluetooth. I like to think the song's Grammy Award-winning production had something to do with that.