Klipsch The Sixes Powered Speaker System Review Page 2
I lingered for a full set of Steely Dan, including the wonderfully quirky "Kid Charlemagne" from 1976's
The Royal Scam
, which sounded appropriately funky yet lacking the sparkle I heard on "FM." The bass was fat and the fluid tone of the signature guitar solos (by Larry Carlton, in this case) sounded just right, though Fagen's vocals were a tad recessed.
Satisfied that Bluetooth was working about as well as I'd expect — and at a distance of more than 30 feet — I connected my laptop to The Sixes via USB and settled in for a little hi-res listening. Starting with a few revealing jazz cuts from 2xHD's excellent Audiophile Hi-Res System Test, downloaded in 192-kilohertz/24-bit WAV format, I was instantly captivated by the sax on the live recording of "Jeep's Blues" (1977's Jazz at the Pawnshop) — reedy and in your face, with lots of air around it, just like you'd expect it to sound if you were sitting up front in a small club. Canadian jazz singer Holly Cole's voice on "Larger Than Life" (2007's Holly Cole) was lush and present, though the soundstage produced by her quartet's in-studio performance didn't stretch much beyond the outer edges of the speakers.
To liven things up, I cued up Supertramp's Carl Verheyen channeling Stevie Ray Vaughan in "Lone Star" from AIX Records' iTrax-Sprint Ultra HD-Audio Sampler, downloaded in 96/24 FLAC format. His Stratocaster was appropriately twangy and the drum buildup positively huge on a soundstage that, this time, did extend nicely beyond the speakers, though without the full depth that can be heard on this track on better systems.
I listened to a wide variety of music over an extended period and eventually circled back to a straight-off-the-master 44.1/16 recording of "Running Sideways" from Micah Sheveloff's 2013 EP Things I Know for a final gut check. I was not disappointed. The ethereal harmonies opening the track enveloped me, giving way to crisp snare, piano, and vocals, later joined by a subtle acoustic guitar and even subtler electric guitar accents — each element nicely defined in its own space.
On the whole, The Sixes were reasonably well balanced, though a tad dark-sounding to my ear — not a bad thing, in my book — and a bit boomy with some music.
Rediscovering Vinyl
I was brimming with enthusiasm as I prepared for my vinyl rendezvous, digging through boxes of carefully stored albums that hadn't been opened in more than two decades. Cutting short a process that easily could have lasted hours, I selected an eclectic stack of LPs and headed upstairs. Among them was Sheffield Lab's 1980 direct-disc recording Growing Up in Hollywood Town, featuring singer/songwriter Amanda McBroom and pianist/composer Lincoln Mayorga, the Rolling Stones' Some Girls (1978), Robbie Robertson's self-titled 1987 debut, Robin Trower Live (1976) — I couldn't resist — and Donald Fagen's The Nightfly (1982). I was stoked.
Rekindling the feeling I had when I bought my first real stereo system, I reacquainted myself with the joys of using a manual tonearm as I moved from album to album playing choice cuts while poring over liner notes (sadly missed in the digital age). But something didn't seem right, and it was audible on every track I listened to. The sound was consistently veiled, as if someone had turned a treble control way down. Cymbals didn't sparkle, instruments were dull, and vocals — including McBroom's exquisite singing on "Hooray for Hollywood/Growing Up in Hollywood Town" — lacked dimension. The vibraphone, in particular, was devoid of the vibrant metallic sound for which that instrument is known. In a word, the music seemed muffled.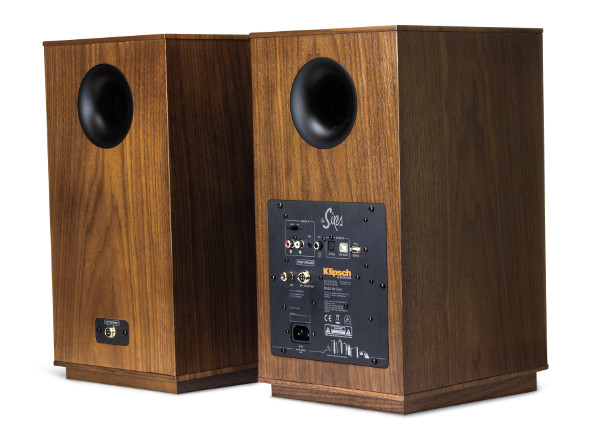 Suspect No. 1 was the phono preamp built into The Sixes, so I asked my vinyl-loving colleagues to suggest an outboard preamp, stressing that it had to be cheap and good. Without hesitation, contributing technical editor Steve Guttenberg recommended the $129 Schiit Mani. When I explained my situation to the good folks at Schiit Audio, they were gracious enough to ship me one to try out. When the Mani arrived a few days later, I inserted the little box between the turntable and speaker using a spare set of RCA cables and got down to business. "Installation" took all of 30 seconds, which meant I would be able to quickly swap out cables and slide the Phono/Line selector switch as needed for back-to-back comparisons.
Reverting to The Sixes' onboard preamp, I cued up "Beast of Burden" from Some Girls, a powerful, wonderfully recorded track that also happens to be one of my favorite Stones songs. Charlie Watts' prominent snare was reduced to a dull thud, and Mick Jagger's inimitable voice was muted. Then I switched in the Schiit, and — boom — the Stones came alive. The drums were crisp and the guitar interplay sweet and trebly, just as they should be. The difference was stark: I could actually hear the hi-hat, and Jagger's trademark mumble was now rich and full. I closed my eyes as Keith Richards and Ron Wood traded riffs, each guitar wonderfully quirky and distinct. I spent the rest of the afternoon with the outboard phono preamp switched in, enjoying all of those wonderful records I hadn't listened to in years.
Conclusion The Sixes are a fine-sounding set of speakers with the substantial bonus of built-in power and the lure of being able to connect directly to a turntable. But if vinyl figures into your plan, you'll want to spring for an outboard phono preamp to enjoy the speakers at their best. And as much as I appreciate the simplicity of a receiver-less setup, I did miss having tone controls on board as well as the ability to summon popular music services via Wi-Fi. Still, if these caveats don't deter you and you're looking for an easy-to-set-up, retro-styled stereo system with overall good sound, give The Sixes a listen.