Kanto TUK Powered Bookshelf Speakers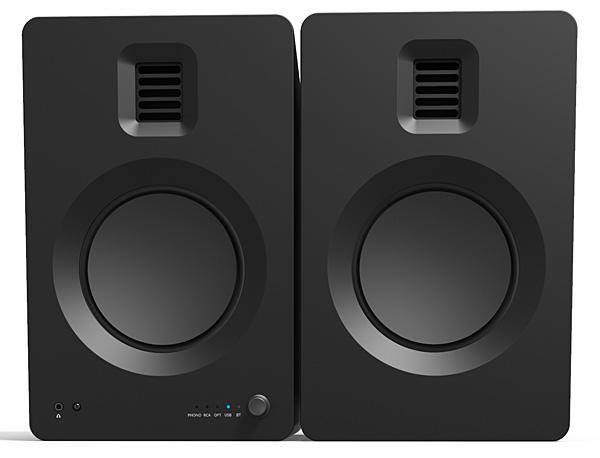 PRICE
$799/pair
AT A GLANCE
Plus
Remarkable bass extension and output
All-in-one solution including phono input
Noteworthy treble clarity and definition
Minus
Soundstage depth less dramatic than some designs
Tiny input labeling
THE VERDICT
With analog, digital, wireless Bluetooth, turntable, and USB computer connections, Kanto's great-sounding TUK powered bookshelf speaker is ready to rock right out of the box.
Kanto is a Canadian firm barely a decade old that specializes in powered loudspeakers. The company has established substantial cred for its active desktop and bookshelf speaker lines, both of which deliver high value and widely noted performance. Now, with a new model called TUK, the company is moving up-range in market-segment, size, and price. Also, utility: TUK is an all-in-one powered-speaker solution, with a phono-preamp, an asynchronous USB DAC, a headphone amp, preamp controls, a subwoofer crossover, and amplification all built right in. Ultimately, this means that, with access to streamed music services plus a turntable and vinyl collection, the TUK's modest $799 price can be the cost of admission to some pretty serious sound.
Readers may recall that I am a proponent of active speakers, which provide engineering advan- tages through matching amplifiers, drivers, and cabinets. They also eliminate the always troublesome passive crossover network and zap the need for a whole 'nuther chassis (amp or receiver) plus speaker cables. Kanto's TUK only leverages some of these benefits, however. Like many entry-level active designs, it crams all the electronics and physical controls into one speaker (which can function as either left or right), linking to the passive unit on the other side via conventional speaker wire (a 15-foot banana-plug length is supplied). This, of course, means that a single amplifier channel serves each speaker, with passive crossover circuits performing the filtering of lows woofer-ward and highs tweet-side, thus eliminating any possible advantages of active crossovers and bi-amplification.
Features And Setup
The TUK uses a 5.25-inch aluminum-cone woofer and small pleated ribbon tweeter of the Air Motion Transformer type, a driver class that has recently returned to vogue in speakers both high- end and otherwise. The active speaker's front baffle presents a single small control knob to manage power-on and input-select via push-in, and volume adjustment via rotation. It also features a minijack headphone output, a color-changing power LED, and a line of five tiny blue LEDs to indicate the selected input—though the adjacent labeling is so tiny as to make these mostly decorative. The speaker's smooth, dustcap-less woofer cones (another current vogue) and slotted tweeter apertures, along with unblemished, matte-white finish (black is also available) combine for a decidedly space-age look and feel. I loved it.
Around back, the system's passive unit features just a pair of multiway speaker connectors and a rear-facing port. While there are no mounting slots or sockets on the back, a thread that's compatible with universal mounting systems is located on the bottom. The active TUK adds quite a bit: USB type-B and optical digital inputs, line- and phono-level RCA-jack inputs, and a mono sub output. There's also a charge-only USB type-A port to power your iWhatever or equivalent, and a grounded IEC power-cord socket with attendant master-power rocker. The TUK also offers Bluetooth wireless connectivity using the higher-resolution aptX HD codec. On-board amplifier power is rated as "130 Watts total RMS," which I assume to mean 65 watts per channel.
Nothing more was required to set the TUK system up other than plunking the speakers down on my weighted stands, connecting the pair with speaker cable, and running a set of analog interconnects from my preamp/processor's front-left/right outputs and a long USB cable from my iMac to the asynchronous USB DAC input. The supplied remote, a nicely designed black-and-white handset, provides sequential input-select, volume and mute, and bass and treble controls (more on these to follow), along with buttons to mute the sub output, dim the active-unit LEDs, and pair/ re-pair Bluetooth connections. There are also basic play/pause/ skip transport controls for use with Bluetooth or USB-connected sources.
Listening
As usual, I left the Kanto pair to a week or so of newscast, baseball, and casual TV-sound duties to cover any break-in questions. But to anyone who sets up a TUK pair for the first time, here's what I predict your first impressions will be: Wow, bass! And wow, clarity! Tackling that second impression first, the TUKs immediately struck me as distinctly, well— not "bright" per se, but almost preternaturally clear, distinct, and defined on everything in the treble regions. (This was
so pronounced that I immediately noticed it, at first, on TV announcers.) For example, on a track like Wilco's "Kamera" from Whiskey Tango Foxtrot, all the busy guitar pick-attack, percussion, and buzzy synth elements projected very noticeably. In a level-matched comparison with my two very similarly balanced references (one passive, one active), this elevated level of treble definition, or clarity, forwardness— whatever you want to call it—was obvious. Neither sounded "wrong," nor "colored," but the differences were substantial. Without rigorous measurement I concluded— or to put it more honestly, guessed—that the TUK's AMT-type tweeter perhaps does not exhibit the slight down-sloping response over its upper range as do most dome tweeters, which can often be as modest as 1 or 2dB/octave. The resultant almost hyper-clear presentation doesn't shout at you, but it's distinctly audible to an attentive listener, and downright obvious under comparisons.