Bowers & Wilkins 607 S2 Anniversary Edition Loudspeaker
PRICE
$700/pair
AT A GLANCE
Plus
Good bass extension
Excellent midrange balance and accuracy
Pluggable port yields flexible placement and performance
Impressive fit and finish
Minus
Slightly bright sound with some recordings
THE VERDICT
This anniversary edition Bowers & Wilkins compact bookshelf combines good looks with intelligently balanced sound.
There are quite literally hundreds of small, two-way loudspeakers you can buy priced from under $100 to well north of $10,000 per pair. To this throng British stalwart Bowers & Wilkins now adds the 607 S2 Anniversary Edition (the anniversary commemorated is the company's launch of its first 600 Series designs 25 years ago). Whether or not the world desperately needs another small two-way may be up for debate, but B&W's authority to add one is not: the ranks of fine small speakers marching forth from the south coast of the UK over the past half-century has been illustrious.
The 607 S2, then, is the latest of a familiar pattern: 5-inch woofer, 1-inch tweeter, vented enclosure; the simplest expression of the loudspeaker-designer's art. Or science. The woofer in the new model uses proprietary "Continuum" woven material, a feature migrated down from the company's flagship 800 Series Diamond models that's said to improve upon the yellow Kevlar cones that were long a brand hallmark for stiffness and internal damping. The aluminum-dome tweeter exploits the company's "decoupled-dome" topology, said to push the first breakup mode to some 38 kHz, well beyond the highest audible octave.
Unboxed, the 607 S2 exudes attention to detail. The cabinetry is first-rate (our samples were light-oak vinyl woodgrain; all-black and all-white are also available), with sharp corners and a gorgeous satin white baffle into which the drivers are elegantly set. Around back are the bridged bi-wiring terminals de rigeur for higher-end speakers these days and the company's trademark dimpled port aperture, said to reduce turbulence noise. In short, the 607 S2 is a nicely made little speaker that's very nicely finished, and very nice to look at.
Setup & Listening
I've had innumerable small two-ways in my system over the years, so setup was merely a matter of plunking the 607 S2s onto my 26-inch main stands, already located in an optimal geography about three feet out from the front wall, and inserting the banana plugs of my cables. There I left them for the 10 days or so of casual music and TV sound I assign to cover any break-in concerns. (For the record, what little science exists suggests that a minute or less of high-level pink noise will loosen driver suspensions and "cook" voice-coils to their long-term states.)
Suitable time having passed, I settled in for the serious listening, and my initial impressions were all positive. The little 607 S2s made a lot of bass for their size, and their overall tonal balance was close to spot-on my notion of accurate with no obvious colorations, vocal sibilances, or top-octaves fizz or splash. They also formed an agreeably solid and detailed stereo image. Longer-term listening reinforced these impressions, with my notes repeatedly referring to fine midrange detail and "depth," and solid, musical output to well below 50 Hz—pretty impressive for so bantam a design. A track from Diana Krall's From This Moment On, "Come Dance With Me" (24-bit/96kHz FLAC, Qobuz), evidenced plenty of weight and pitch-definition to the bass, and honest thud and impact to the kick-drum accents, as well as nice shimmer from the horns. Krall's rich, naturalistic alto also sounded clear, articulate, and immediate.
Pulling focus tighter still, I turned to comparisons with my long-term reference, an active design a good bit larger and about thrice as costly as the 607 S2s. This made for interesting listening. The two matched unexpectedly closely through all but the lowest octave—the little B&Ws could not quite match my powered (and DSP EQ'd) monitors' solidity on the lowest bass notes. That, and the fact that Krall's voice was slightly but noticeably more forward, with subtly greater breathiness and attack to her vocals; hi-hat "ping" had a bit more sparkle, too. All of this suggests a slight advantage through the two-plus kHz range, at least as compared with my everydays, which I know to be very smooth and honest, but slightly (and agreeably, to me) down-tilting over the top-most octaves. None of these differences amounted to coloration—the 607 S2s remained neutral-balance-sounding on everything I sent their way—but they are worth noting nonetheless.
Like many ported speakers these days, the 607 S2s come supplied with optional foam "bungs" to plug their cabinet vents, effectively changing them from vented to sealed-box performers, with a resultant reduction in peak bass output but slower rolloff and thus slightly greater extension. Unlike most such, however, these bungs are concentrically cut, with center plugs about 3/4-inch in diameter that you can extract, yielding a total of three options. To experiment, I pushed my stands much closer to the wall than I know to be optimal, bringing the speakers' back panels within about a foot, and cued up "'Deed I Do" from Ms. Krall's Live in Paris album—one of the better-sounding live records you'll encounter. The highly natural voice, delicate drum brushwork, and elegant hall-sound were all there as I expected, but John Clayton's fairly prominent (and likely amplified) stand-up bass sound was a bit blousier than I know it to be, almost tubby. Release the bungs! Now the tub was utterly gone, but so was a modest slice of the bass foundation tones and thus some measure of musical excitement. I removed the center plugs, leaving the larger bungs—now rings—in place. I don't know what alignment this qualifies as, exactly, but the result was salubrious: bass bottom was restored, and most of the tubbiness was still quelled. Pulling the stands out another 10 inches or so resulted in a near-ideal balance, for a decidedly full-range, "big-sounding" presentation. Useful feature? I'll say.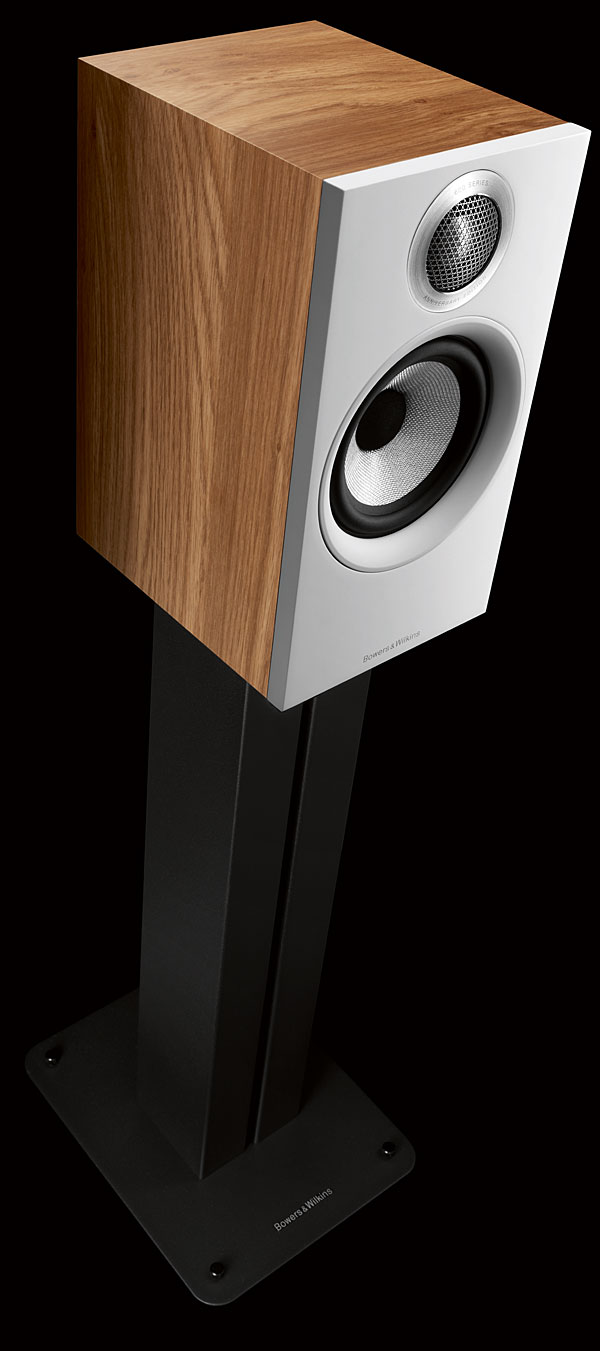 A few random notes. The 607 S2s excelled at the rich, dense vibrations of massed strings. A quick survey of quartet and orchestral passages uncovered no tendencies toward edginess or screech, but plenty of bit and zing when bows really dug in. Same deal with brass attack: crisp and shiny but not cutting. High-volume rock fared well, too. Little Feat's Waiting for Columbus still qualifies as one of the great live recordings, and the B&Ws rendered the opening of "Fat Man in a Bathtub" with impressive impact. Not at fully live levels, of course, but not so far off: loud enough to convey the general idea and to get your head bobbing. Pushed harder still I heard no overt sounds of driver distress or obvious distortion, but the overall sound coarsened and noticeably lost detail.
The ample top octaves of the 607 S2s meant that recordings erring on the bright/hard side did not find much refuge. The Police's Synchronicity has always struck me as not all that far short of unpleasantly bright, and while it remained perfectly listenable at moderately loud levels, pushing things further did the recording no favors. However, raising the speakers up about 7 inches via my audiophile-approved height modules (dictionaries) to put the tweeters above my seated ear level smoothed things out discernibly, and I would recommend you do the same. Putting on the understated grey grilles might've helped just a tetch, too, but the little speakers look so good without them, I'd hate to do so permanently.
Conclusion
Overall, good stuff sounded uniformly great with the Bowers & Wilkins 607 S2 Anniversary Edition. This is a very fine, intelligently balanced small two-way. Of course, it's densely crowded field, so you won't have far to look to find plenty of worthy competitors of similar size and price. That said, the 607 S2 Anniversary Edition can line up with any of them, with the added support of more-than-elegant looks and a storied pedigree.