Wireless Wonders: 7 Wireless Speakers Reviewed Sonos PLAY:1
Sonos PLAY:1
PRICE
$199
AT A GLANCE
Plus
Great sound—now better with Trueplay
Elegant, simple app
Minus
Slightly overemphasized bass
No hi-res support
THE VERDICT
A best-in-class app and refined sound keep Sonos a top contender.
At $199, the PLAY:1 marks the affordable entry point into the well-established world of Sonos, which includes larger powered speakers, soundbars, and a subwoofer. Like Bluesound, Sonos also has streamers and streamer/amplifiers for connecting an existing A/V system or passive speakers.
The PLAY:1 is a two-way speaker with a 3.5-inch aluminum woofer and 0.75-inch cloth dome tweeter driven by separate Class D amplifiers. It has a wired LAN jack but no additional inputs to connect other audio sources. Although Sonos has yet to embrace hi-res audio, the PLAY:1 does support ALAC, FLAC, WAV, and AIFF file formats up to 44/16 (that is, CD quality). Two PLAY:1 speakers can be linked for stereo playback.
The PLAY:1's enclosure is designed to withstand a high-humidity environment, such as a bathroom (though it's not waterproof). The Sonos PLAY:1, PLAY:3, and PLAY:5 speakers also now benefit from a new feature: Trueplay auto EQ. This lets you apply AVR- style room correction to improve sound quality, especially when the speaker is in a less than sonically ideal environment (a bathroom, for example).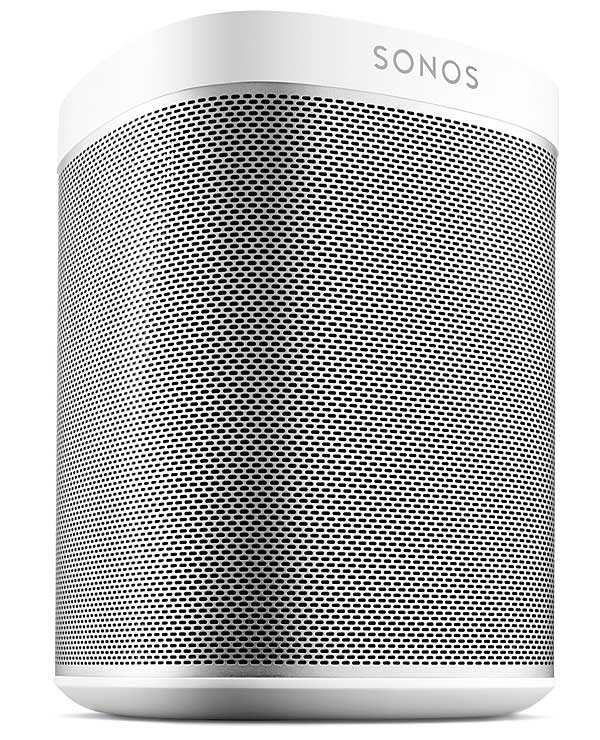 The Sonos app walks you through setup with an illustrated guide; it's like the wireless speaker equivalent of Ikea. I had no problem setting up rooms/zones or speaker groups and pairing speakers for stereo playback. Trueplay setup was also simple: You just walk around the room waving your smartphone or tablet for 60 seconds while a test tone plays, and the speaker then processes the results.
The PLAY:1 did an excellent job of not sounding like a single speaker. Sound quality was full and the envelopment good enough to prevent me from easily pinpointing speaker location by ear. With the McGuire track, the bass sounded tight—maybe a little goosed in level compared with what I heard from the Bluesound, but the extra oomph didn't necessarily detract from the sound quality. After I ran the Trueplay routine, bass sounded a tad more balanced, but overall, Trueplay didn't make that much of a difference in my particular setup.
As I listened to the Floating Points track in stereo, the PLAY:1 pair cast an impressive soundstage, with good delineation between instruments. When the vocals in the track's final third came in, the sound extended well beyond the speakers. Overall, I found the PLAY:1's sound to be highly dynamic—something that was particularly evident with drums.
After using some of the slightly less intuitive GUIs tested here, I was quick to embrace the Sonos app. Its interface consists of a vertical bar on the left side that lists your services, playlists, and favorites, while the currently playing content is displayed in a larger panel with album art and track listings. Integration of services like Tidal, Spotify, and even Apple Music—a unique capability among the systems I tested—was seamless, with everything simply appearing as content wrapped within the Sonos ecosystem.
Specs
3.5 in woofer, 0.75 in tweeter
Inputs: Ethernet
Dimensions (WxHxD, Inches): 4.69 x 6.36 x 4.69
Weight (Pounds): 4.08
Related: What You Need to Know About Wireless Multiroom Music Systems