New Gear for Spring 2021 Page 2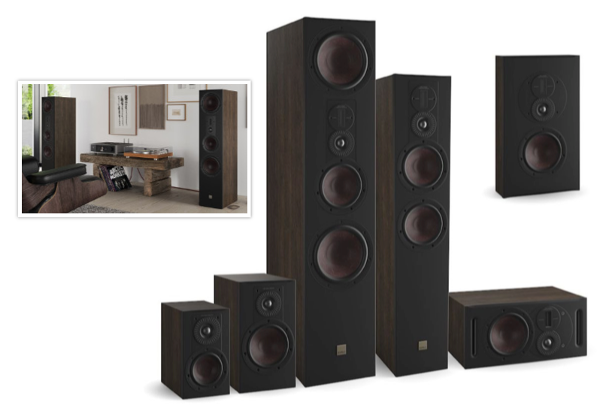 DALI Updates Opticon Speaker Series
Denmark's Dali has introduced a new and improved version of its Opticon Series speakers through its exclusive U.S. distributor, Lenbrook Americas.
Ranging in price from $799 to $3,999/pair, the updated Opticon MK2 series comprises two bookshelf/stand mount models, two floorstanding towers, a center-channel speaker, and a low-profile on-wall model — all featuring inch-thick baffles and enclosures designed to optimize rigidity while minimizing resonance. Redesigned drivers are also used throughout, including a larger diameter 1.1-inch soft-dome tweeter that can play lower with less distortion and handle more power than the tweeters used in the previous Opticon speakers.
All models except for the two bookshelf speakers include a refined "best of both words" hybrid tweeter that mates the soft-dome with a custom 0.7 x 1.8-inch ribbon tweeter that operates above 10 kHz while maintaining wide horizontal dispersion in the top frequency range. The ribbon is mounted on a cast-aluminum faceplate designed to reduce vibration.
The speakers are made in Denmark and each pair is built and tested at the same time to ensure acoustic and aesthetic consistency, according to DALI. All MK2 models are bass reflex designs that harness "the otherwise unused acoustic output from the rear of a bass driver to extend low-frequency bandwidth and increase low-frequency power handling." Except for the Vokal Mk2 and LCR MK2, each model has dual flared ports in the back of the cabinet in an effort to minimize turbulence. The Vokal has two letterbox style vents on its front panel so it can be placed in a cabinet without audible consequence, and the LCR MK2 has rear ports "engineered to vent parallel to the wall" with the wall becoming integral to port tuning.
Pricing is $999/pair and $1,499/pair for the Opticon 1 MK2 and Opticon 2 MK2 bookshelf models featuring a 4.75- and 6.5-inch woofer, respectively; $2,499/pair and $3,999/pair for the two-way Opticon 6 MK2 and three-way Opticon 8 MK2 tower speakers featuring two 6.5-inch woofers and a 6.5-inch midrange driver plus two 8-inch woofers, respectively. The Opticon Vokal MK2 center speaker is $799 and Opticon LCR MK2 on-wall speaker is $999.
Except for the tweeters, the drivers employ cones made from a mix of paper and wood fiber to produce a stiff, lightweight material that "ensures minimal break-up resonance" and pole pieces coated with a granular material DALI calls SMC (Soft Magnetic Compound) that's said to help lower harmonic distortion and improve low-level detail. MK2 crossover assemblies were also re-engineered with low-loss capacitors to improve coherence and detail.
All models feature a new cosmetic design and, except for the Opticon 8 MK2, are available in satin black, satin white, or tobacco oak with new color-matched "furniture-grade" fabric grilles and gold-plated connection terminals. The Opticon 8 MK2 is available only in satin black or oak. Visit dali-speakers.com for more information.
ATC's Unique CD/DAC/Preamp Combo Gets Roon Certified
England's Acoustic Transducer Company (ATC) is known for the superb speakers its founder Billy Woodman has been designing for more than four decades but the company also makes an interesting piece of audio electronics: the CDA2 Mk2 ($4,249), which combines a CD player, 32-bit digital-to-analog converter (DAC), and Class A preamplifier in one low-profile chassis.
That unique component has just been certified as "Roon Tested," meaning Roon's music playback and library management software will automatically identify and configure it for seamless integration into the Roon ecosystem. To become certified, products must be sent to Roon for testing to ensure key features and specifications are in the Roon database and confirm that the product is correctly identified by Roon software.
In addition to its high-performance CD player, the CDA2 Mk2 provides access to high-resolution music streaming up to 24 bit/384 kHz PCM and DSD256 via its USB port, a dedicated headphone amp, and a preamp with optical and coaxial digital inputs, RCA/phono analog inputs, and both balanced and unbalanced outputs. For more information on the CDA2 Mk2, visit atcloudspeakers.co.uk. For more on Roon, visit roonlabs.com.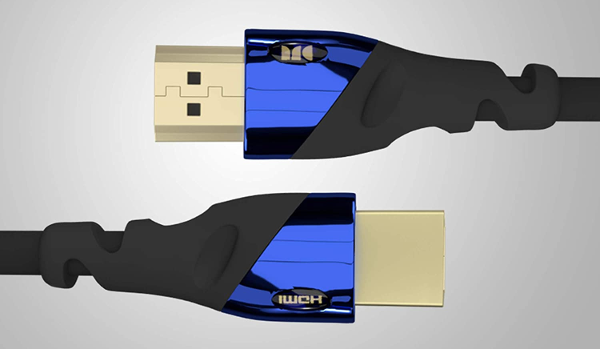 Monster: Get Ready for 8K with New Cobalt HDMI Cables
Time for a cable upgrade? If it's been a while since you replaced the HDMI cables running from your TV, it might be time for some HDMI 2.1-compliant cables.
Monster's new Ultra High-Speed 8K Cobalt cable supports data-transfer rates up to 48 Gbps, high-frame-rate video — 4K at 120Hz and 8K at 60Hz — and, in sharp contrast to the audio cables that made the Monster brand famous decades ago, is reasonably priced. Even if you don't yet own an 8K TV, Monster says the cable supports lossless digital audio and high-dynamic range (HDR) video and improves 4K image quality with faster refresh rates.
Of course, the cable also keeps you a step ahead of the game with the infrastructure you'll need when 10K resolution becomes the norm in the future and supports eARC (enhanced Audio Return Channel) technology for enhanced sound quality and streamlined connections.
Monster's Cobalt cable is available in 4-, 6-, 8- and 12-foot lengths at $35, $40, $45, and $50, respectively. For more information, visit amazon.com.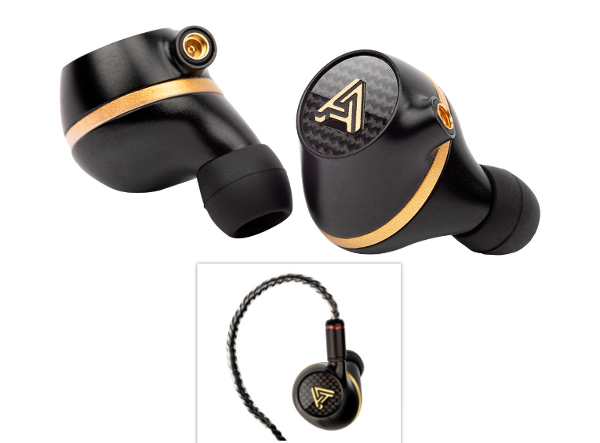 Audeze Unveils its First Closed-Back Planar-Magnetic Earphones
Santa Ana, CA-based Audeze has expanded its extensive portfolio of planar-magnetic headphones with its first set of closed-back planar-magnetic earphones.
The culmination of more than a decade of research and design, the new Euclid earphones ($1,299) house custom 0.7-inch diaphragms in elegant black and gold casings made of carbon fiber and precision-milled aluminum to produce "the highest dynamic range of any in-ear in its size category." The 'phones feature the company's patented Fazor waveguides, which are said to "eliminate the phasing and distortion typical of most closed-back dynamic in-ears."
Specs include an impressive 105 dB/mW sensitivity rating and maximum sound-pressure level (SPL) of 120 dB. Each bud weighs only a quarter of an ounce and is ergonomically designed to ensure a tight, comfortable fit. The Euclids aren't wireless but they do have detachable cables secured by gold-plated MMCX connectors. A selection of silicone and Comply foam eartips are included along with a cleaning brush and travel case. For more information, visit audeze.com.
MORE NEW GEAR
SVS Launches 1000 Pro Series Subwoofers
More Headphones from CES 2021 and Beyond
Polk Audio Readies React Sound Bar
KEF Introduces KC62 Uni-Core Subwoofer

CES 2021 AT A GLANCE
CES 2021: Headphones Hold Down the Audio Fort
CES 2021: A Little Something for Everyone
Hisense Pushes the Outer Limits of Laser TV
LG Launches HU810P 4K UHD Laser Projector
JBL Synthesis Unveils SCL-1 Speaker and SSW-1 Sub
Panasonic Introduces Flagship JZ2000 OLED TV
Konka Announces 2021 Ultra HDTV Lineup
JBL Previews Retro Integrated Amp, L100 Classic Speaker
TCL Plans 8K TVs, 85-Inch Screens, Slimmer Mini-LEDs
LG Showcases 2021 OLED TV Lineup at CES
Sony Announces 2021 Bravia XR LCD and OLED TV Lineup
CES 2021 Preview: High-Tech TV Sets the Stage