JBL Synthesis Unveils SCL-1 Speaker and SSW-1 Sub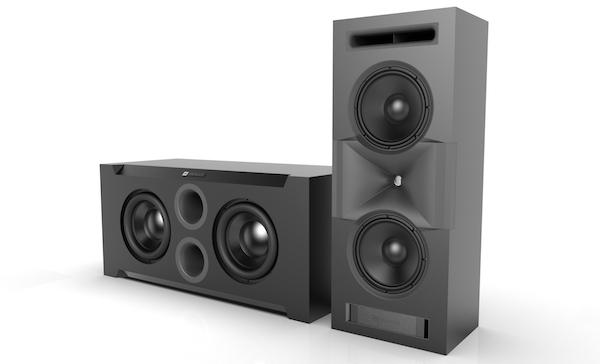 JBL is upping the ante on its Synthesis Custom range with the addition of two flagship models: the SCL-1 loudspeaker and SSW-1 subwoofer. The new offerings are designed to complement each other in custom-installed "ultra-premium, high channel count immersive audio deployments" that also feature the company's SDP-75 immersive surround processor and SDA amplifiers.
"Our revolutionary Synthesis Custom Loudspeaker range has set the bar for performance expectations in multichannel immersive audio systems and we are beyond excited to be expanding that series to new heights with these flagship models," said Jim Garrett, Senior Director, Product Strategy and Planning, HARMAN Luxury Audio. "With home entertainment on the rise, JBL Synthesis systems can now be scaled further than ever before! Applying 75-years of transducer and acoustic expertise to the home environment allows JBL Synthesis to bring unique value, helps our dealer community address new opportunities and provides customers with exceptional audio experiences that cannot be achieved from any other brand."
The SCL-1 loudspeaker is an LCR model designed for installation behind acoustically transparent projection screens. It features a dual 3-inch diaphragm compression driver positioned within a High-Definition Imaging (HDI) horn that's paired with 12-inch cast frame Carbon Cellulose Composite Cone woofers in a patented JBL Complementary Bass Alignment System (C-BAS) configuration. Front panel controls allow for high-frequency tuning, along with bi-wire, bi-amp, and crossover bypass settings, with the latter intended for systems that employ an outboard electronic crossover.
The SSW-1 subwoofer features dual high-excursion 15-inch woofers with composite cones and 6-inch voice coils and features dual front-firing Slipstream ports for tuning. At 53.5 inches x 24 inches x 22.8 inches (H x W x D), the SSW-1 is built for maximum impact, with its 1-inch thick cabinet walls and extensive internal bracing contributing to a more than 330-pound weight. JBL specs the SSW-1's power handling at 2,500W RMS per woofer and says that it provides usable low-frequency extension to 13Hz.
Both models will ship in March 2021, with the SCL-1 retailing for $15,000 each and the SSW-1 for $7,500 each.