CES 2021: A Little Something for Everyone
As the first virtual CES comes to a close, the Consumer Technology Association (CTA) has already proclaimed the event the largest digital tech show in history with close to 2,000 companies — including 700 startups from 37 countries — congregating online to introduce a staggering variety of new products and technologies that go well beyond the A/V-infused entertainment we know and love here at
Sound & Vision
.
CES has in recent years greatly expanded its scope and evolved into a showcase for every imaginable type of technology. If you think I'm exaggerating, announcements that caught my eye while I searched for AV-related news ranged from the "world's first robotic kitchen" and "world's tiniest satellite "attitude" [sic] control system" to the "world's first temperature-regulating smart mug and bowl," the "world's smallest wearable air purifier," a "traveler's shirt that smells fresh for days with its cinnamon-based antimicrobial textile component," and the "world's first smart baseball" that provides "quantifiable data to analyze spin rate, rotational axis, velocity, trajectory, pop-time, and location." Talk about a game-changer. To round things out and make things even weirder for CES veterans, the "sextech" company Lioness released a report on how the pandemic has changed our sex lives and launched the next generation of its "award winning biofeedback vibrator." I'll leave it at that. Despite these colorful diversions, here's a peek at some of the A/V-related news I came across.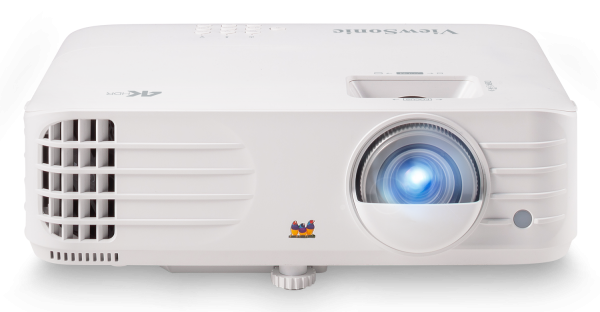 ViewSonic Highlights $900 4K Projector
Brea, California-based ViewSonic previewed 17 new products at CES 2021, including a slew of monitors for gamers and content creators, all but a handful of which are due out in the spring or summer. One of the exceptions is a 4K DLP projector due out this month with an "estimated street price" of $900 (the price on the company website is $962).
In addition to native 4K resolution, the PX701-4K uses Texas Instrument's XPR chipset to produce a rated brightness of 3,200 lumens and supports HDR10 and HLG high dynamic range (HDR). The projector can beam images up to 300 inches (diagonal) and provides ±40% vertical and horizontal keystone correction plus a corner adjustment to keep images square.
Lamp life is rated for up to 6,000 hours but can be extended to 20,000 hours if the projector is run in its energy-saving SuperEco mode, which reduces light output. HDMI 2.0/HDCP 1.4 connectivity is supported and the projector is equipped with a 1.1x optical zoom and a built-in speaker/10-watt amplifier, though a 3.5mm audio output is provided for routing audio to an external speaker system.
ViewSonic also announced plans to ship the step-up PX748-4K in March. With an estimated selling price of $1,000, the projector is described as home automation ready and boasts a higher 4,000 lumens output, 1.3x zoom, and a 12-volt trigger. Visit viewsonic.com for more information.
Evoca Aims to Give Broadcast TV a Boost
Over-the-air TV broadcasting might seem quaint at a time when the COVID-19 pandemic has catapulted streaming into the stratosphere of entertainment delivery but Edge Networks is harnessing the power of the ATSC 3.0 TV broadcast standard (a.k.a. Next Gen TV) to deliver a service called Evoca that combines off-air TV with the internet to deliver a mix of free and subscription channels for $49 a month.
Intended to serve mid-sized markets where TV choices are limited, Evoca went live in Boise, Idaho last August and became the first company to broadcast 4K/Ultra HD programming over the air with the launch of Insight TV in mid-October. A few weeks later, the service added EVRGRN, a lifestyle channel that celebrates "the creative and independent spirit of the Pacific Northwest." The channel was created by Triple Squirrels, a digital media company founded by Emmy Award-winning TV and film actor Tom Skerritt.
Evoca delivers live local sports, news, weather channels, and popular on-demand programming — about 60 channels in all — via a proprietary receiver called Scout that attaches to your TV and an antenna. The box also connects to the internet via an Ethernet cable or Wi-Fi, though the company recommends a wired connection "to view higher quality video."
With hopes of reaching tens-of-millions of U.S. households over the next few years, Evoca is slated to roll out in additional markets in 2021 with a focus on small and mid-size cities in the western U.S. Though it declined to offer specifics, the company did say it's looking at states like Montana, Colorado, and Texas.
"We built Evoca for the more than 50 million U.S. households in mid-sized markets like Boise — where TV choices are limited and expensive," said Evoca President and CEO Todd Achilles. "Since we broadcast channels using a mix of over-the-air and internet sources, subscribers can experience as many video games, movies, or video conferences as they want, and Evoca will always deliver the best picture and most reliable service." Visit evoca.tv for more information.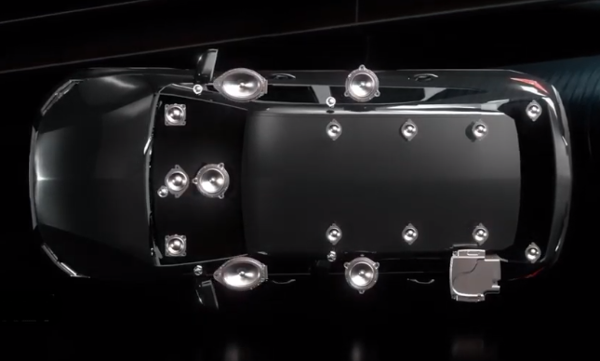 Panasonic Teams with Klipsch & Dolby Bring Atmos Music to the Car
A year ago Klipsch announced that it had entered into an exclusive collaboration with Panasonic Automotive Systems of America to develop an audiophile-quality sound system for automakers. That system has finally come to fruition as a first-of-its-kind proof of concept vehicle featuring immersive sound developed in collaboration with Dolby and its Dolby Atmos Music initiative.
The aim of Dolby Atmos Music is to put listeners in the middle of an "immersive soundscape that allows you to feel music in a whole new way." Though specifics of the sound system were not revealed, it's a multi-speaker affair that embraces the tenets of high efficiency and low distortion, wide dynamic range, flat frequency response to "reproduce recorded sound as accurately as possible without colorization," and controlled directivity to achieve a "more lifelike soundstage without wasting acoustic energy where sound is not needed or desired"
"I have personally participated in bringing to market a range of products that feature Dolby Atmos capability," said Mark Casavant, Klipsch vice president of brand and business development. "The sonic realism and envelopment of the listener into the on-screen action for films opens up new dimensions of entertainment. Working with the audio experts at Panasonic Automotive we have achieved a similar experience for the in-vehicle listener with Dolby Atmos music. The music is more immersive, with additional space, clarity, and depth."
Visit na.panasonic.com for more information and to find out how to experience a live demo.
From Russia with Love: Truly Wireless TV
The one thing you never see in a professional TV installation — and PR beauty shots of TVs, for that matter — is the power cable. It's there, integrated into the wall or, in the case of publicity photos, airbrushed out of the image. The Russian company Reasonance is showcasing a wireless power-transfer technology based on magnetic resonance that transmits electricity through the air to "make true wireless TV a reality."
The company, which describes itself as a group of Russian scientists and engineers working together in a private R&D company, says the technology is patented and ready for use as shown in the CES video below featuring a demonstration by Reasonance founder and CEO Anton Vishnevsky. The system comprises a transmitting coil that can be built into the wall or a table and a receiving coil that can be integrated into the back of a TV.
Vishnevsky says other companies have developed wireless transfer systems but none have "made it real." The secret to the Reasonance system is a patented design that makes the wireless transfer efficient and able to operate over a practical distance. In a setting where the transmitting element is built into a table and aligned at a right angle to the TV's receiving element (as in the video), the transmission range is 1.6 feet with a power-transfer efficiency of 90%, according to the company. The coils don't have to be perfectly aligned for the system to work and transfer efficiency is not affected by walls or furniture panels.
Reasonance says technology is flexible and cost-effective. To prove the point, it's working on prototypes for a variety of applications — from powering lamps and e-bikes to powering kitchen appliances and laptops. Visit reasonance.tech for more information.