CES 2021 Preview: High-Tech TV Sets the Stage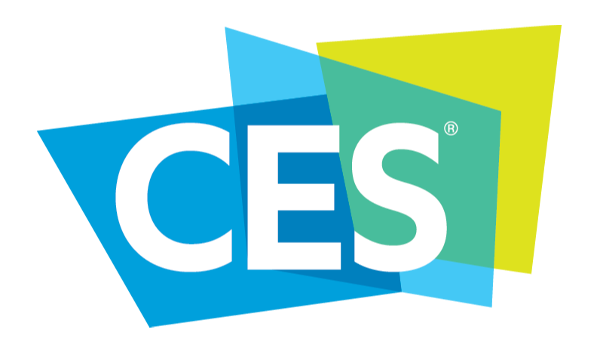 Like so many other things in this upside-down world, CES 2021 is a casualty of the pandemic. The Consumer Technology Association (CTA) decided months ago to transition from the usual mega gathering in Las Vegas to an all-digital virtual experience. The show must go on — just not in person this time around. So instead of walking an expansive show floor and visiting company booths to check out new wares firsthand, the staff of
Sound & Vision
will be logging onto the official CES portal to seek out news and information relevant to our readers. (Sorry, the portal is available only to media and members of the trade who have registered for the show.) Though the virtual show officially goes live on Monday (January 11), A/V-related news is trickling in with
high-tech TV leading the way
.
TV Retains Top Status
TV is once again shaping up to be a key category at a show that over the years has evolved from an A/V-centric event into an eclectic showcase for everything from drones and personal robots to autonomous vehicles, personal health technology, and beyond. Given the central role it continues to play in the stay-at-home world we've endured for the better part of a year, it's no surprise that television, particularly as it relates to 8K, will be a newsmaker at CES 2021.
Back in October, the CTA's own annual consumer technology report identified TV as one of the most-wanted gifts during the 2020 holiday season, and in its new "TV Ownership Trends Report," NPD confirmed that overall TV sales jumped 19% in 2020 compared with 2019 and noted an acceleration in the trend toward larger screens with the average screen size of replacement TVs reaching 51 inches, up from 49 inches a year earlier and 47 inches in 2018.
In particular, 15% of households now own a TV with a screen size of 60 inches or larger, up from 11% a in 2019, according to NPD data. And through Cyber Monday, sales of TVs with screen sizes of 65 inches and up increased 27% over 2019, while sales of sets with screen sizes of 70 inches and up jumped a whopping 82%. Through all of this, the average age of the primary TV in U.S. households has dipped to 4.9 years, down from 5.4 years in 2019.
The NPD survey also found consumers more inclined to seek out features such as high dynamic range (HDR) and available apps when considering a replacement purchase, which dovetails with the CTA's finding that smart TV capability — that is, internet connectivity with onboard streaming — was the most sought-after feature during the 2020 holiday shopping season.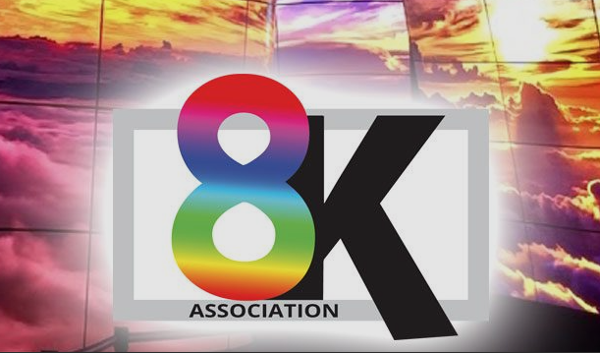 8K Association Fortifies 8K TV Certification Program
While TV makers continue to refine the performance of 4K TVs, Samsung with the Neo QLED technology it announced the other day and LG with its forthcoming QNED Mini-LED sets, the move to 8K TVs capable of displaying 33 million pixels with unprecedented clarity, color and contrast signify the Next Big Thing in TV. On Monday, the 8K Association (8KA) updated the performance specification behind the 8K TV certification program it launched a year ago.
"Our goal with the 8K Association Certified logo program is to offer a logo that consumers can look for knowing that any 8K TV that carries the logo will provide a high-quality 8K experience," executive director Chris Chinnock told us in an interview last June. "To be sure this logo delivers on this promise, we carefully reviewed a number of TV performance specifications and interfaces. Our aim is to set the bar sufficiently high to eliminate performance levels that in our estimation do not offer the best 8K experience. The logo program is backed by testing to be sure certified TVs meet the spec in order to carry the logo, as well as a market audit program to further ensure compliance."
In addition to ensuring that 8K certified TVs meet technical requirements for resolution, luminance, color, and connectivity, the updated spec recognizes a broader set of video decoding standards in an effort to spur "wider availability of 8K streaming" and ensure that 8K TVs "enable access to advanced multi-dimensional surround sound formats for a truly immersive home theater experience." The expanded specification will apply to 8K TVs introduced into the market this year and the 8KA plans to support growth of the 8K ecosystem with a focus on educating video content creators on the benefits of capturing, finishing, and distributing video in 8K resolution.
Established in 2019, the 8K Association membership encompasses companies that represent all aspects of the 8K ecosystem, from 8K content creators and technology suppliers that enable the creation of 8K content to display semiconductor makers, panel manufacturers, and the TV brands Samsung, Panasonic, TCL, and Hisense. Visit 8kassociation.com for more information.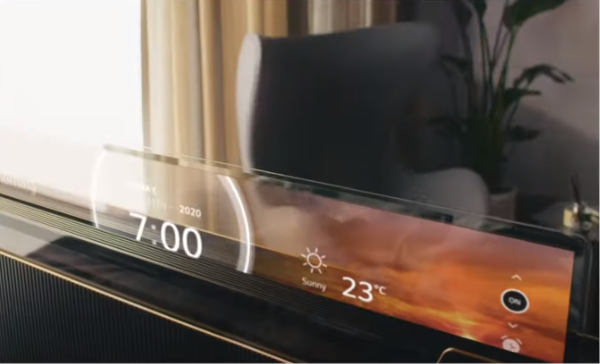 LG Previews Innovative Uses for Transparent OLED, Unveils Eyesafe TV
Though they are not as bright as their LCD counterparts, OLED TVs are celebrated for delivering stunning image quality but did you know that an OLED display panel can also be transparent? Last week, LG Display offered a sneak peek at some innovative uses for see-through OLED displays. Though two of the three applications LG touted were commercial — one for use in subway stations, the other for use in sushi bars and restaurants — the third is a 55-inch transparent display in a frame that lifts and retracts the screen at the push of a button.
The frame can be moved throughout the home but LG is promoting it as a "Smart Bed" TV positioned at the foot a bed. In addition to providing a relaxing way to close out the evening while watching a favorite TV show or movie, the screen is optimized to display information in various aspect ratios "without compromising clear image quality that does not rely on backlights." The screen also doubles as a speaker capable of projecting what LG describes as "immersive cinematic sound," eliminating the need for external speakers.
LG says its transparent OLED displays achieve 40% transparency, which compares with "only 10%" for existing transparent LCD panels.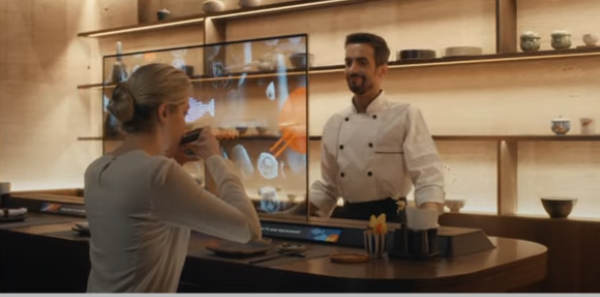 Referring to the restaurant application as a game-changer, LG explains that the transparent screen enables a sushi chef or bar tender to maintain a connection with customers on the other side of the screen. And as shown in the photo here, a transparent screen can serve as a functional replacement for the plexiglass "COVID shields" now widely used in retail settings.
"As guests wait for their order, they can watch a movie or TV program, while at the same time viewing the chef preparing their food on the other side of the display," LG said, noting that transparent video displays have the potential to "change the existing display paradigm" in a variety of commercial settings — from shopping malls to self-driving vehicles and airplanes.
Click here to watch LG's CES 2021 teaser video.