8K Association Launches TV Certification Program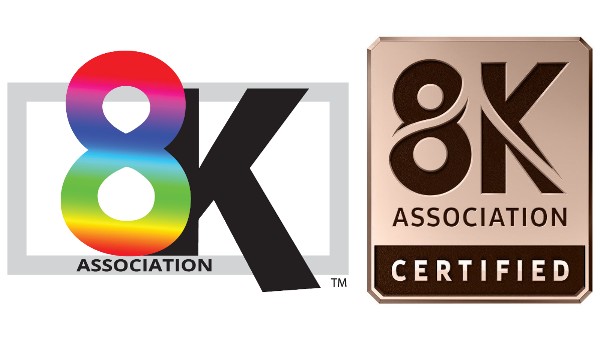 The 8K Association (8KA) today announced the availability of a certification program for 8K TVs that boast a resolution of 7,680 x 4,320 pixels, four times that of the 4K Ultra HD standard.
The program is based on performance specifications the association announced in August. In order to be eligible for certification, which is signified by the "8K Association Certified" logo shown above, a TV must meet "exacting requirements" outlined by the association and validated by an independent "certification program manager."
In addition to being able to display 33 million pixels "for realistic clarity," an 8K-certified TV must meet requirements for peak white and black levels and "deliver exceptional contrast and color for striking high dynamic range performance," according to the 8KA, which expects consumer adoption of 8K to follow a growth pattern similar to that which 4K Ultra HD experienced in recent years.
To foster growth and awareness of the nascent 8K ecosystem, the association plans to ramp up education and industry cooperation activities in 2020 and facilitate the adoption of higher efficiency 8K streaming technologies. Though no specifics were announced, activities beyond the actual certification of 8K TVs will include "cutting-edge demos" and consumer-focused promotions.
"As a content creator and filmmaker, it is a joy to provide entertainment with such high visual standards to viewers around the world," said Phillip Holland, a pioneer in 8K cinematography. "8K is much more than a resolution, it's about creating a very high-quality viewing medium to present content in the best way possible. Now with the 8K Association Certified logo program, viewers can easily see if they are looking at a television that can accurately deliver that extremely high-quality 8K content."
Futuresource market analyst Matthew Rubin added: "With the 2020 Olympic Games in Japan the first major event to be broadcast in 8K… barriers to uptake will begin to fall away."
The 8K Association's stated mission is to "grow appreciation and awareness of 8K products which will provide an even higher level of enjoyment which is paramount to large screen entertainment." The association currently comprises 22 member companies, including five of the world's leading panel manufacturers, which together represented more 70% of global TV-panel manufacturing capacity in 2019. Membership also includes technology providers and companies that create and distribute content. TV/video members include Samsung, Panasonic, Hisense, TCL, and IMAX.
For more information, visit 8KAssociation.com.