LG Showcases 2021 OLED TV Lineup at CES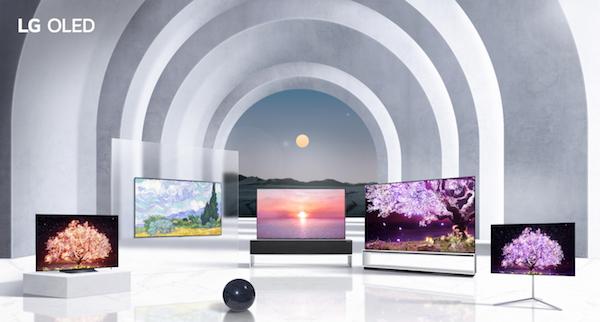 LG today announced its new OLED TVs for 2021 at the company's virtual CES press conference. The lineup includes a 4K-resolution 83-inch TV—a new screen size option from the company—high-end "evo" models with a new panel designed to deliver higher brightness than prior OLEDs, and a new AI processor for improved performance. LG is also planning to attract more OLED buyers via a series of affordable entry-level models.
The company's 2021 OLED lineup is led by its G1 series, available in 77-, 65-, and 55-inch screen sizes. These are LG's OLED evo models and feature a panel with a "new luminous element" that produces higher brightness via a "precise wavelength" and "optimized composition." They also feature four HDMI 2.1 ports, a built-in ATSC 3.0 tuner, and the α 9 Gen 4 AI processor, which LG says improves picture quality through AI upscaling and object enhancement and also optimizes images via genre and scene detection.
LG's Z1 series of 8K OLEDs will provide a high-end, and correspondingly high-priced, option for viewers with deep pockets. Available in 88- and 77-inch screen sizes, these will offer many of the same features found in the G1 series, but with an 8K variant of the α 9 Gen 4 AI processor to handle upconversion to the set's native resolution.
The C1 series offers the widest assortment of screen sizes, with five models ranging from 48 inches up to a new 83-inch option. These sets feature the company's new α 9 Gen 4 AI processor, HDMI 2.1 connectivity, and compatibility with the new Gallery Stand, an option also available for LG's new entry-level A1 series OLEDs. Available in 48-, 55-, 65-, and 75-inch screen sizes, this new series features the company's α 7 Gen 4 AI processor along with HDMI 2.0 connectivity.
All of the new LG OLEDs feature the company's updated webOS 6.0 smart TV platform, which provides a redesigned Home screen along with improved performance, according to the company. A redesigned Magic remote is also new for 2021, with an ergonomic design for easier handling plus a point & scroll cursor to navigate onscreen options.
The new higher-end models from LG feature Filmmaker mode, CalMan Auto Calibration II with built-in test patterns, and Game Optimizer, with the latter feature providing an onscreen menu that compiles all selected gamer-centric settings such as G-SYNC, FreeSync, variable refresh rate (VRR), and game genre modes. They will also offer support for cloud gaming from Google Stadia and GeForce Now in Q2 2021 and Q4 2021, respectively.
LG's new TV announcements for CES 2021 include the company's QNED Mini-LED TV lineup, which we had previously reported on.
Info on pricing and availability for the LG's new OLEDs was not announced.