CES 2021: Headphones Hold Down the Audio Fort
Once upon a time, CES was a huge show for audio but those days are long gone and showed no signs of returning in the virtual world that was CES 2021, with one possible exception: Wireless headphones, a category that has made incredible strides in just the past year or so. A number of companies — some familiar, many not-so-familiar — used the world-class venue as a showcase for new headphones you can buy now and models you can expect to see online and in stores in the coming months. Prominent among the new entries were earbuds and full-size headphones with active noise canceling and features designed to improve wireless performance and the sound quality of music and phone calls. Wired models, as you might expect, were few and far between. Here's a look at what a few of the more familiar brands are bringing to market.
V-Moda's New Headphones Boast 10 Levels of Noise Cancellation
In a market overflowing with all-too-similar products, high-end headphone specialist V-Moda is taking customization to the next level with wireless cans that not only look distinctive but give listeners the ability to "fully customize their listening experience." The new M-200 ANC headphones ($500) — the company's first to offer active noise cancellation — support aptX HD-enabled Bluetooth 5.0 and come with a companion app that provides adjustable equalization (EQ) and 10 levels of noise cancellation, the most aggressive of which is said to "neutralize outside disturbances."
Listeners can create their own EQ curve or choose among six EQ settings — Rock, Pop, Podcast, Hip Hop, Jazz, and Off. Customization also extends to the look of the 'phones: The decorative earcup "shields" come in six colors and can be further personalized with laser engraving or color printing — they're even removable so you can switch them out with a new color or design.
A flexible metal-core headband holds the earcups, each of which houses a beefy 1.6-inch driver with neodymium magnets and copper-clad-aluminum wire coils built to heighten sensitivity, boost output, and improve sound quality by "enhancing diaphragm movement." The earpads are fitted with memory foam cushions covered in "soft-to-the-touch" faux leather and attach magnetically for easy removal.
Full-charge battery life is rated for up to 20 hours with noise cancellation activated and 10 minutes of charging provides 1.5 hours of playtime. The M-200s can be folded down for storage in a carrying case with room for accessories, which include a charging cable, airline adapter plug, and detachable audio cable for zero-latency hi-res listening.
Google Assistant and Siri voice control are supported and a convenient "voice in" feature makes it easy to quickly lower the volume and pause playback by simply placing your hand over the left earcup. Visit v-moda.com for more information.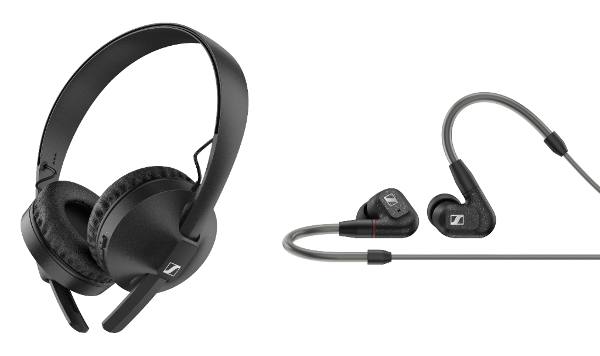 Sennheiser Aims for Entry-Level Buyers and Audiophiles
Though Sennheiser was not an official CES exhibitor, the company timed the announcement of two new models to coincide with the show. Due out by the end of January, the "entry level" HD 250BT wireless headphones ($70) support AptX-enabled Bluetooth 5.0 and work with the company's Smart Control App, which puts an equalizer at the listener's fingertips and shows remaining battery life, which is rated for up to 25 hours on a full charge. Weighing in just under 4.5 ounces, the 'phones are fitted with "soft, noise-isolating earpads" that rest on the listener's ears and have a built-in microphone for phone calls.
At $300, the IE 300 in-ear headphones are more than four times the cost of the 250BT, and they're not even wireless — but they are "meticulously crafted to offer nuanced, natural sound on the go" thanks to the use of a new, refined version of the 0.28-inch "extra wide band" (XWB) transducer Sennheiser builds at its headquarters in Wedemark, Germany. The XWB is made with a special "membrane foil" designed to minimize resonance and reduce distortion (THD <0.08% at 1 kHz, 94 dB), and loaded with a back volume said to minimize reflections. The design also includes a resonant chamber that "removes masking resonances in the ear canal for more refined and detailed treble."
Earbuds that sound good are of little value if they're not comfortable to wear, which is why the IE 300s loop around the ear, use ear hooks that are flexible and adjustable, and include a selection of silicone and memory-foam ear tips. The cables sprouting from each of the IE 300's buds are reinforced with super-strong para-aramid fibers for maximum durability and fitted on the bud end with a detachable gold-plated MMCX locking connector that sits in a recessed socket. At the other end of the cable is a 3.5mm miniplug.
A cleaning tool and woven-fabric carry case are included. Visit en-us.sennheiser.com for more information.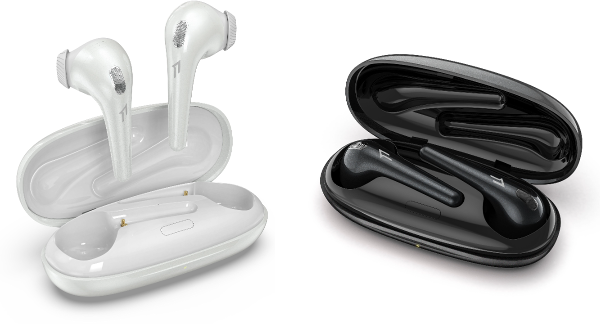 1More Sets its Sights on Apple with New ComfoBuds
1More, one of two brands to prevail in last year's wireless earbud face-off, is taking on Apple with its new ComfoBuds line of wireless "AirPod killers," which kicks off with an auspicious model that sells for $60 with a $130 Pro version featuring active noise cancellation slated to follow in March. The company included a comparison chart in its CES media kit that pits the ComfoBuds against the AirPods in 21 categories, ranging from color options and water-resistance to battery life and price, where the ComfoBuds easily trounce the competition.
The ComfoBuds feature larger than usual, half-inch dynamic drivers in a sleek, AirPod-like form factor and have a rated battery life of 4 hours (with music playing at half volume), which can be extended to 18 with the charging case when it's fully charged. Both the current and forthcoming ComfoBud models support Bluetooth 5.0 and provide a low-latency entertainment mode" in addition to using four miniature ENC (environmental noise cancelling) microphones and artificial intelligence (AI) processing to suppress outside noise while amplifying the caller's voice. They also boast touch controls with auto play and pause and an IPX5 rating for water/sweat resistance.
The forthcoming Pro version adds 1More's QuietMax noise-cancellation technology, a hybrid system with two microphones that separates bass and treble to preserve audio quality.
At CES 2021, 1More also previewed a $150 Pro version of its $100 wireless ColorBuds along with the new WristBuds fitness watch ($200) featuring earbuds that slide out of the watch housing. The ColorBuds Pro earbuds incorporate the company's QuietMax noise-cancellation technology and support Bluetooth LE (Low Energy), which allows listeners to connect to multiple devices at the same time. You could, for example, answer a call on your phone while watching a movie on a friend's laptop and then seamlessly return to the movie without having to reconnect (pair) the buds to the laptop. Both models are slated for release in March.
As of this writing, 1More has reduced the price of the ComfoBuds to $50. Visit usa.1more.com for more information.