Samsung Readies "Neo QLED" TVs, MicroLED TVs
Samsung plans a 2021 launch of TVs with contrast-enhancing Neo QLED backlighting technology and its first consumer-installable MicroLED displays, giving video enthusiasts more options to enjoy cinema-like bigscreen entertainment at home.
With the first virtual CES primed to go live next week, the Korean electronics maker outlined its 2021 A/V lineup, which includes a trio of one-piece 4K MicroLED displays that mount to the wall like conventional flat-panel TVs. The development will broaden the appeal of emissive MicroLED technology, previously available only through professional installers who pieced together multiple MicroLED panel modules to custom-build a single large display.
In Samsung's 2021 quantum dot LCD TV lineup, Neo QLED models will represent the majority of offerings, appearing in all 8K TVs and most 4K quantum dot TVs, a spokesman said. Neo QLED backlight technology will deliver more precise local dimming than the company's previous full-array local dimming methodologies, representing a "contrast-level breakthrough," said TV product marketing director Mike Kadish.
Neo QLED does so by packing smaller and more numerous Quantum MiniLED back lights into a given space and replacing a layer of lenses, each of which captures and transmits LED light, with a micro layer of material that focuses LED lights more precisely, a spokesman explained.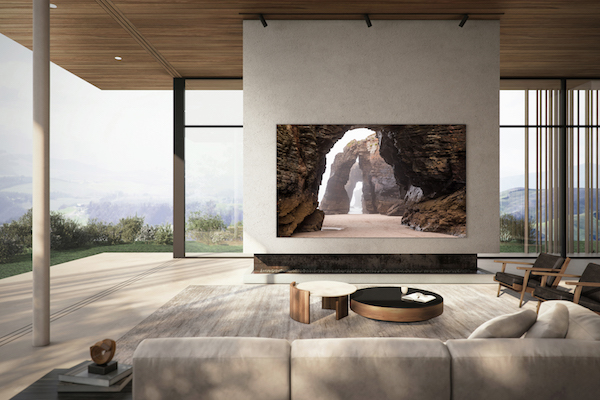 MicroLED Evolution The 4K MicroLED TVs will be available in fixed out-of-the-box sizes of 110, 99, and 88 inches in contrast with Samsung's existing Wall series of modular MicroLED displays. The Wall's building-block approach lets consumers buy massive displays, up to 292 inches for an 8K model, that wouldn't otherwise fit through a home's doorways. Walls can also be installed with fewer modules to deliver lower resolutions or create custom aspect ratios.
MicroLED displays feature micrometer-size red, green, and blue LEDs that can be individually turned off or lit up to varying degrees of brightness, eliminating the need for separate backlights that fire into separate layers of quantum dots and color filters.
Like OLED displays, MicroLED displays deliver pure blacks because individual LEDs can be turned completely off. Both technologies also make small details more visible because each pixel can be individually controlled. MicroLED, however, also produces higher peak brightness levels, a wider color range, and improved color accuracy and purity.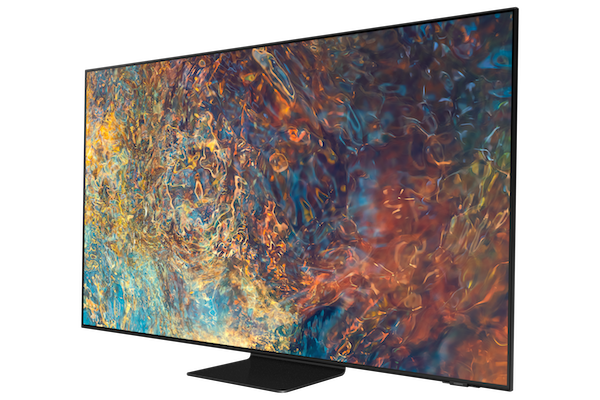 Neo QLED Advantages In delivering more focused local dimming backlights, Samsung's flagship Neo QLED technology will improve black levels and enhance details in the brightest and darkest portions of HDR (high-dynamic range) content, yielding a perception of greater depth, the company said. It will also eliminate blooming, which occurs when bright objects bleed light into adjacent black areas, turning blacks into grays, Samsung added.
By using MiniLEDs and eliminating lenses, Samsung said it is also able to deliver the enhancements in a slimmer design.
The Neo QLED TVs also feature a black-detail-boosting technology to reproduce "extreme details" in dark areas.
Samsung didn't disclose Neo QLED pricing.
Frame TV Design Change In another announcements, Samsung will also bring an all-new design to its framed-art-style Frame TVs. The company will expand the choice of colors and styles for optional frames, add stands whose width and height can be adjusted, and trim panel depth by 50 percent to better match the depths of framed pictures and artwork. Current 43- to 65-inch 4K Frame TVs are 1.8 inches deep, while a 75-inch model is 2 inches deep. A 32-inch 1080p model features a 1-inch depth.
With a new 43-inch model, consumers will for the first time be able to rotate the screen orientation to landscape or portrait mode.
Like before, the TVs will display pictures, downloaded artwork, or, via Ambient Mode+, fade from view by displaying the color and pattern of the wall behind it. They can be mounted flush to the wall with included no-gap wall-mount bracket, placed on a stand or, for select models, placed on a three-legged floor stand.
Pricing and availability dates weren't disclosed.
MicroLED TV Features Although Samsung didn't reveal U.S. pricing of its prefabricated MicroLED trio, the company previously priced its 110-inch model in Korea at 170 million KRW, or more than $155,000.
At these prices, consumers can expect peak brightness up to 2,000 nits, 100 percent of P3 color volume, multiple high dynamic range (HDR) formats, bezel-less Infinity screens with metal sides, and new Micro AI processor that automatically optimizes the picture on a scene-by-scene basis.
All mount to a wall but lack a stand-mounting option. They'll connect via a single thin "near invisible" cable to an outboard OneConnect box that feeds power and A/V from connected video sources and incorporates a standard ATSC over-the-air TV tuner.
The TVs also feature an upgraded Multi View feature, which displays up to four video sources at a time versus two sources on up to 55-inch split screens.
Like Frame TVs, the MicroLED TVs feature Ambient Mode +.
The TVs also feature Object Tracking Sound (OTS) Pro, an upgrade to Samsung's previous OTS and OTS+ technologies. OTS combines audio post-processing technology with embedded drivers to better lock the sounds of voices and objects within a scene to its onscreen location. OTS Pro adds more speakers to the display.
Neo QLED TV Features In its Neo QLED lineup, premium models will offer "ultrawide" viewing angles to deliver consistent color and detail when viewers are seated way off-axis, plus an antireflective screen for well-lit rooms.
The 8K models, like last year's 8K models, will come with IP-based NextGen TV (ATSC 3.0) tuners, but it wasn't clear whether NextGen TV tuners will come to select 4K TVs for the first time.
A new SpaceFit Sound feature optimizes sound by analyzing the TV's distance from the surface behind it and whether the surface consists of reflective material or absorptive material such as drapes.
Flagship models will feature OTS Pro, and all Neo QLED TVs will support 120Hz frame rates for 4K gaming.
Audio features carried over into select Neo QLED models from select 2020 TVs include Q Symphony, Active Voice Amplifier (AVA), and Adaptive Sound. Q Symphony lets users sync the sound of a connected Samsung sound bar with the TVs' top-mounted speakers to add height to the sound field. AVA uses a built-in microphone to listen for ambient noise levels and then boosts dialog over the noise. And Adaptive Sound optimizes audio playback on a scene-by-scene basis while calibrating audio settings to compensate for room size and reflectivity/absorption characteristics.
All new 8K Neo QLED models and select 4K models will also come with a previously available Adaptive Picture feature that, via a light sensor, automatically adjusts backight levels and contrast on a scene-by-scene basis according to a room's ambient light levels.
The 8K models will upgrade their predecessors' deep-learning AI neuro network, which improves 8K upscaling quality over time.
More New Features In response to the Covid-19 outbreak, Samsung is bringing Google Duo video chat capability to 8K TVs and select 4K TVs for the first time via optional TV cameras and a new screen mirroring function. Samsung is also simplifying the setup of its Remote Access feature, which wirelessly connects a PC, keyboard, and mouse to a TV for PC gaming, Web browsing, and Cloud access to Microsoft Office 365 and Microsoft Teams services.
All QLED TVs will also get a Multi View upgrade, with 4K models displaying up to four video sources at a time and 8K models displaying up to 12 sources at a time. That's up from two simultaneous sources in the 2020 line.
In a TV-audio advance, Samsung will expand its Q Symphony feature to more TVs. In the 2020 line, the feature was available in all three 8K series and two of four 4K quantum-dot series. In 2021, Q Symphony expands down in price to two more series of 4K quantum-dot TVs and to one 4K series lacking quantum dots.
Soundbars In other 2021 home theater plans, the Korean electronics giant will expand Dolby Atmos and DTS:X decoding to more soundbars and raise the channel count to 11.1.4 in one model from a current maximum of 9.1.4, said audio marketing VP Jim Kiczek.
Samsung will deliver 11.1.4 channels by mating a 7.1.2-channel sound bar/subwoofer combo (three front drivers, two side drivers, two drivers angled forward, two up-firing drivers, and an outboard wireless subwoofer) with a pair of wireless surround speakers (each incorporating a front-, top- and side-firing driver).
In contrast, the 9.1.4 model in the 2020 line combines a 7.1.2-channel sound bar/subwoofer combo with a pair of wireless surround speakers incorporating only a front driver and a top-firing driver.
Four current Q Series sound bars feature Atmos and DTS:X at 2020 launch prices of $699 to $1,799 for the 9.1.4 model. Some are 3.1.2-channel models requiring optional wireless surround speakers to expand the channel count to 5.1.2.
Other new features in select soundbars include Active Voice Amplifier (AVA), previously available in select Samsung TVs, and a feature tentatively named Q Calibration. These sound bars will collect room-reflection and reverberation data through the built-in microphones of select Samsung TVs, then calibrate sound bar audio to improve clarity and optimize surround effects for the room, Kiczek said.
An upgraded SpaceEQ feature in select models collects the reflection and absorption characteristics of a room and alters audio response to compensate, but in this year's line, the data will be captured by a microphone built into the subwoofer. Previously, consumers measured room response by holding a microphone in hand and walking around the room.
Also new is an upgraded pair of optional wireless surround speakers, which add a top-firing driver to their predecessors' front-firing driver. The 2.0.2 speaker kit will upgrade a 3.1.2-channel Atmos/DTS:X sound bar to 5.1.4 channels.
Entry-level sound bars will get a power-output upgrade.
Select models will continue to feature built-in Alexa and Q Symphony, and the company will continue to offer its outdoor Terrace subwoofer for outdoor Terrace TVs at $1,199. Select sound bars in 2020 feature eARC, which will presumably be carried over into select 2021 models.
HDR10+ Adaptive Separately, the company announced the debut of HDR10+ Adaptive into quantum dot TVs to compete with Dolby Vision IQ and counter the deleterious effects of bright rooms on HDR content. In brighter rooms, the company explained, HDR pictures lose some detail and contrast. With HDR10+ Adaptive, however, TVs will use an ambient light sensor built into TVs to optimize display settings when content incorporating HDR10+ dynamic metadata is viewed in brighter viewing environments.
HDR10+ Adaptive's light-adapting algorithms, also adopted by Panasonic, are designed specifically for HDR10+ playback.
HDR10+ Adaptive is compatible with the UHD Alliance's 4K Filmmaker Mode, which also appears this year in select Samsung TVs.
Filmmaker Mode, a standard set by the UHD Alliance and supported by several TV brands, displays content as its creators intended by displaying the movie in its original aspect ratio; turning off noise reduction, picture sharpening and other post-processing effects; and turning off motion smoothing, which increases movie frame rates.