TCL Plans 8K TVs, 85-Inch Screens, Slimmer Mini-LEDs
TCL today announced its 2021 TV lineup. The range includes the company's first 8K UHD TVs for the North American market, its largest screen sizes ever for the continent at 85 inches, and third-generation contrast-enhancing mini-LED backlighting that slims down the profiles of bigscreen TVs.
On the eve of the 2021 Virtual CES, the Chinese CE maker said it plans to expand its selection of Android-based smart TVs to complement its lineup of Roku-based smart TVs, taking the Android OS (now Google TV) beyond its 4 Series of entry-level 4K models and its 3 Series HDTVs. It will also launch a TCL Home smartphone app that integrates control of its Android- and Roku-based smart TVs with control of its smart Wi-Fi-connected home-comfort products. All new home-comfort products (air purifiers, air conditioners and dehumidifiers) will come with Wi-Fi and voice control through smart speakers and other devices equipped with Alexa and Google Assistant, which will also integrate the TVs into smart-home routines.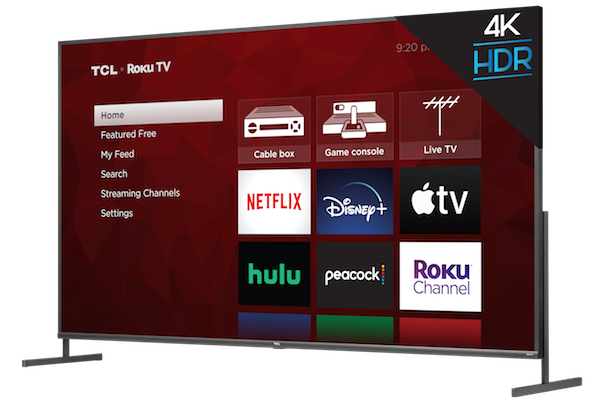 85-Inch TVs "Screen size is the most important consideration for TV buyers," said Aaron Dew, director of North American product development, in announcing a trio of XL Collection 85-inch TVs. The company's screen sizes previously topped out at 75 inches. Big screens deliver a wide field of view that replaces the cinema experience, he said.
The XL Collection will consist of a $1,599 4K model in the entry-level 4K 4 Series along with a step-up 4K model that adds quantum dots and an 8K model. The former two will feature Roku OS; the OS of the third model wasn't disclosed.
The 85-inch 4 Series model will be available in the first quarter, with the others arriving sometime later. The current 4 Series includes a $799 75-inch TV in both Android and Roku versions.
TCL is going big because growth in bigscreen sales is outperforming the growth of the total U.S. TV market, NPD statistics show. From January 5 though December 5, 2020, total dollar sales of TVs to U.S. consumers jumped 19 percent over the year-ago period, but sales of 65-inch models grew a faster 27 percent. And screen sizes of 70 inches and up leaped by 82 percent.
In all, screen sizes of at least 65 inches accounted for 21 percent of dollar sales during the 2020 period, up from the year-ago 18 percent. By 2022, NPD expects screen sizes of 65 inches and up will account for 27 percent of unit sales.
In the first two months of the fourth quarter, TCL added, sales of 70-inch and larger models were growing 150 percent over the year-ago period. Demand for big screens is so high that it was hard for consumers to find 65-inch models in the fourth quarter of 2020, added North America senior VP Chris Larson. Bigscreen demand will pressure the supply channel, hurting small TV brands the most, he also contended.
8K Plans Though it launched two 8K TVs outside North America in 2020, TCL plans to bring 8K to North America for the first time with "several" models, said Dew. They'll include one 85-inch TV in the three-model XL Collection as well as all of the new 6 Series models, described as offering great performance at an accessible price. The new 6 Series 8K models will coexist with current 4K 6 Series models.
The 8K TVs will feature the company's flagship AiPQ video engine with machine-learning artificial intelligence to upscale video to 8K. The 6 Series 8K models will feature the Roku TV OS, but the company didn't disclose the OS of the 85-inch 8K model in the XL Collection.
The current 6 Series consists of 4K Roku TV models ranging in price from $699 to $1,499 for 55-, 65- and 75-inch screens featuring quantum-dot color-enhancement technology delivering 100 percent of the cinema industry's P3 color-gamut standard, mini-LED backlights delivering up to 240 local dimming zones, Dolby Atmos decoding and passthrough, AiPQ, HDMI 2.1 enhanced Audio Return Channel (eARC), THX-certified Game Mode with variable refresh rate (VRR), Roku Voice control via voice remote, and a trio of HDR formats: Dolby Vision, HDR 10, and HLG.
The company had originally planned to bring 8K TVs to North America in 2020.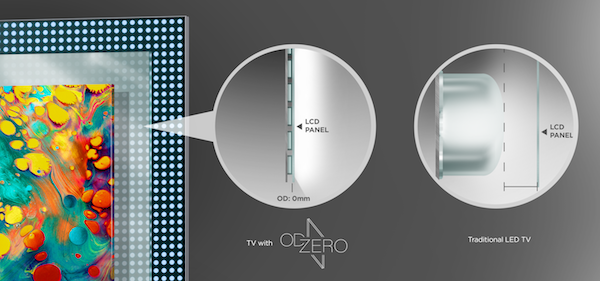 Third-Gen Mini-LED In select TVs including the planned 85-inch 8K TV, TCL will incorporate what it called an industry-first third-gen Mini-LED backlight technology that brings Mini-LED's contrast and other enhancements to "ultraslim" TVs with a "strikingly thin profile," the company said. Called Optical Depth Zero (OD Zero), the technology eliminates the distance between a TV's LCD display layer and Mini-LED backlights, said Dew.
Both the number of OD Zero models and their series designations were not disclosed.
With mini-LED backlight technology, TCL can pack up to tens of thousands Mini-LED lights into a TV, boosting peak brightness levels and distributing light more evenly across the display. That in turn produces more uniform colors and blacks across the screen, TCL has said.
The densely packed Mini-LED array also produces many more individually controlled local-dimming backlight zones than traditional LEDs, creating up to around 1,000 zones in one of TCL's 2020 4K TVs. More zones deliver more precise control of backlighting over smaller sections of images, in turn boosting contrast and increasing image depth. The added zones increase depth perception because blacks are deeper and more details are visible in the brightest and darkest portions of an image. The technology also minimizes halos around bright objects on dark backgrounds.
In TCL's 2020 lineup, Mini-LED technology appeared in the 6 Series' three 4K TVs, offering up to 240 dimming zones in a $1,499 75-inch quantum-dot TV. In the two-model flagship 8 Series of 4K quantum-dot TVs, a $2,999 75-inch model delivered almost 1,000 local dimming zones via 25,000 Mini-LEDs.
Android TV Expansion Having offered Roku TVs in North America since 2014, TCL added Android TVs to its lineup in June 2020 to reach people familiar with the Android OS of their smartphones and people who use Google Assistant voice control at home and on the go, said Dew. The company started with low-priced HD models in the entry-level 3 Series at prices from $129 for a 32-inch HDTV to $199 for a 40-inch HD model at $199, both with built-in Google Assistant and Chromecast.
In October, the Android TV selection expanded upward to include 4K models in the step-up 4 Series in five sizes from 43 to 75 inches at prices from $249 to $799. Both the 3 and 4 Series also feature Roku TV counterparts.
In 2021, TCL will add Google TV to "other" series, said Dew. That could move Google TV up into the higher performance 5 Series or perhaps even into the 6 Series.
In 2020, the 5 Series offered such performance enhancements as TCL's AiPQ video engine, quantum dots, full-array local dimming, bezel-less screen, Dolby Vision HDR to complement HDR 10 and HLG, Apple HomeKit integration, and HDMI 2.1 features such as eARC. The 6 Series stepped up to add Mini-LED backlighting, Dolby Atmos decoding and passthrough, and up to 240 local dimming zones.
Stay Tuned for More Additional new-product details and pricing will be disclosed closer to availability dates, clearing up such questions as whether Mini-LED technology will expand to series priced below the 6 Series and whether the HDR10+ high dynamic range format will be supported in TCL TVs.
The company also declined to comment on whether Dolby Atmos decoding and passthrough would expand below the 8 and 6 Series to lower-priced sets, if THX-certified Game Mode would expand to more models, and if the lower priced 4 Series would get wideband eARC connections. A spokesman did say, however, that TCL has "no plans to support the current generation of Filmmaker Mode or IMAX Enhanced certification in TCL TVs in North America at this time."
Filmmaker Mode, a standard set by the UHD Alliance and supported by several TV brands, displays content as its creators intended by displaying the movie in its original aspect ratio and turning off such post-processing effects as motion smoothing, noise reduction, picture sharpening and the like.
IMAX Enhanced certification, developed by IMAX and DTS, is a content and hardware certification program intended to replicate the A/V performance of IMAX cinemas in 4K home theaters.
Soundbars Among four new Roku-ready soundbars, one will be TCL's first soundbar with a wireless Wi-Fi connection to Roku TVs to eliminate a cable connection. The technology will also deliver automatic Internet-delivered updates, a unified onscreen TV-and-soundbar menu system, and control of the TV and soundbar from a single remote. Three other Roku-ready soundbars will feature Dolby Atmos decoding, and two of them will be the company's first with built-in voice assistants: Amazon Alexa and Google Assistant. Those two models will also feature AirPlay 2 and Spotify compatibility.
Mobile Devices Outside the home theater market, the company will bring its TVs' AiPQ video engine to mobile devices in 2021, launch its first 5G-embedded tablet (based on Android) and foldable phone, and expand its 5G phone selection from a single model and bring prices down to less than $300.