CES 2021 Preview: High-Tech TV Sets the Stage Page 2
LG Display also announced plans to unveil the world's first Eyesafe Certified television at CES 2021. Designed in conjunction with Eyesafe, developer of blue-light mitigation technology for video displays, the 65-inch OLED TV meets requirements for low emissions of blue light and optimal color performance. The move acknowledges scientific research showing that long-term exposure to blue light can have a negative impact on eye health.
"The announcement comes in the wake of significant data from across the globe, indicating rising levels of screen time by consumers," LG said. "While the average number of hours spent in front of displays — which includes television screens, smartphones, laptops, and other digital devices — has been growing at an alarming rate in recent years, it has skyrocketed in the past year due to the global pandemic. In the U.S. alone, a recent Nielsen report indicates average screen time exceeds 13 hours a day."
The certification was conducted by the independent testing and certification firm TUV Rheinland. LG said it expects many more Eyesafe television displays to come to market in 2021, as TV makers adopt Eyesafe standards "in an effort to communicate health and safety to end-consumers."
"It's a real honor to partner with an industry leader like LG Display on this project because it has vast implications across the television display industry," said Eyesafe CEO Justin Barrett. "Amid the global pandemic, screen time continues to increase at a shocking rate, and we believe it is our responsibility to put the health of consumers first; we are proud to introduce these game-changing solutions that protect eyes at the source. We look forward to our continued work with LG Display, as we encourage other major display manufacturers and television brands to adopt Eyesafe solutions in the near future."
The Eyesafe display standard was developed in conjunction with more than 250 leading ophthalmologists, optometrists, and engineers who have been conducting and analyzing clinical health and safety research on the impacts of exposure to high-energy blue light. For more information, visit eyesafe.com.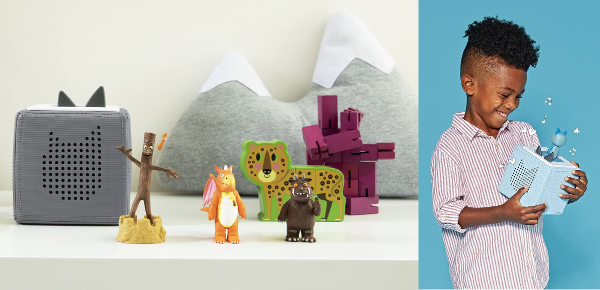 A New Kind of Audio Entertainment for Kids
At the opposite end of the A/V spectrum, Tonies is promoting a unique storytelling device for children 3 years and up. The Toniebox — a soft, 5-inch speaker cube — comes to life when paired with a colorful figurine that attaches magnetically to top of the cube. The company offers a whimsical collection of "Tonies" to choose from, including familiar Pixar and Disney characters, each ready to tell stories and sing songs.
The Toniebox is intended to introduce pre-readers and developing readers to the wonders of narrative storytelling combined with imaginative play. Inventors Patric Fassbender and Marcus Stahl describe it this way: "Childhood should be a magical time full of big adventures and loveable memories. We wanted to create a way for kids to experience storytelling in a digital age that stimulates their imagination in ways that a screen can't. We made the Toniebox for kids (and parents) who want to feel good about their entertainment at home and to bring back imagination in its purest form."
Kids can adjust volume by squeezing the ears on the top of the Toniebox and skip chapters by tapping the sides of the cube, but parents also have wireless control with the ability to set maximum volume and upload content through the Wi-Fi-enabled Tonie-App. The Toniebox has a headphone jack and is powered by a battery that lasts up to 7 hours when fully charged.
The Toniebox Starter Set sells for $100 and is available in red, light blue, pink, and gray. Visit us.tonies.com for more information.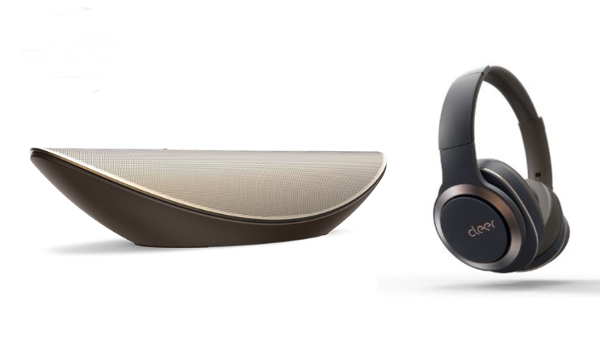 Cleer Audio Previews Smart Speaker, Adds Noise Canceling to Enduro Headphones
Cleer Audio, maker of the remarkable Enduro 100 wireless headphones we reviewed in late 2019, is previewing a new smart-home speaker and an update of the Enduro 100 featuring active noise canceling.
Slated for delivery at the end of the month, the Crescent smart speaker ($700) is based on the Google Assistant voice platform and teams eight 1.6-inch custom drivers arranged in an arc across its top panel with two 3.3-inch woofers in a stylish cabinet that uses glass-fiber ribbing to reduce vibration and resonance. The speaker boasts three listening modes: Wide Stereo mode "mimics the ambiance of a large orchestral performance;" Room Filling mode evenly disperses sound throughout the room, making it perfect for parties; and 3D mode uses beamforming technology to focus sound toward a single location, creating the "ultimate sweet spot."
The Crescent combines an "optimized mic array with noise-rejection technology to ensure voice commands spoken from across the room are recognized and supports streaming via Chromecast, Spotify Connect, and Apple AirPlay 2. Hardwire connections include a 3.5mm analog minjack input and an optical digital input.
Due out in February, the Enduro ANC wireless headphones ($150) support aptX-enabled Bluetooth and build on the success of the Enduro 100 with the addition of active noise canceling that's said to suppress noise by up to 25 dB and a battery rated to last 60 hours with noise cancellation engaged. (The Enduro 100 has an astounding 100-hour battery life.) The headphones incorporate Cleer's patented 1.6-inch drivers and can be controlled via the Clear Connect app, which enables listeners to customize noise cancellation to specific environments.
The headphones are made of high-grade molded plastic with an adjustable headband and memory foam earpads. They are available in blue or light gray and have a quick-charge mode that provides 2 hours of play time after a 5-minute charge.
The company also previewed two wireless noise canceling earbuds: the Ally Plus II ($130) and Roam NC ($60), both slated to ship in March.
The Ally Plus II features adaptive noise cancellation technology that automatically adjusts the level of noise suppression based on the ambient noise present, a sound pipe fitted with 0.4-inch drivers and silicon eartips, angled to reduce ear pressure, and an 11-hour battery life that can be extended an additional 22 hours with Qi wireless charging. The buds can be controlled via the Cleer+ app, which provides additional noise-control customization and an equalizer to personalize the sound.
The Roam NC earbuds have smaller 0.2-inch drivers and use non-adaptive noise cancelling that's said to suppress noise by up to 25 dB. Battery life is rated for up to 15 hours with an extra 10 hours available through its charging case.
Visit cleeraudio.com for more information.