New Gear for Winter 2021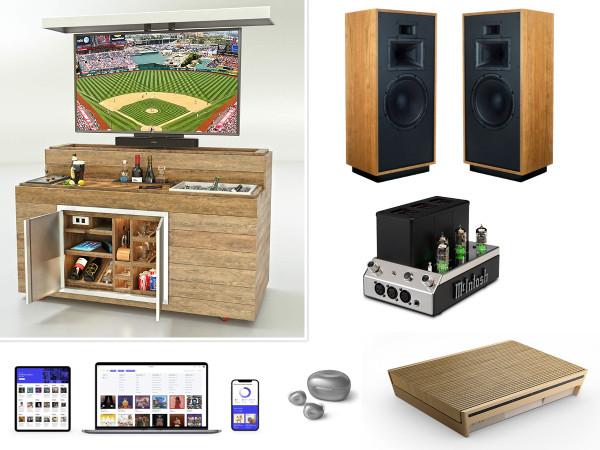 In the weeks following
CES 2021
, we've witnessed a flurry of new product announcements. From a couple of nostalgic audio products to an outdoor entertainment setup and wireless speakers guaranteed to make your neighbors envious, here's a look at some of the new gear coming your way.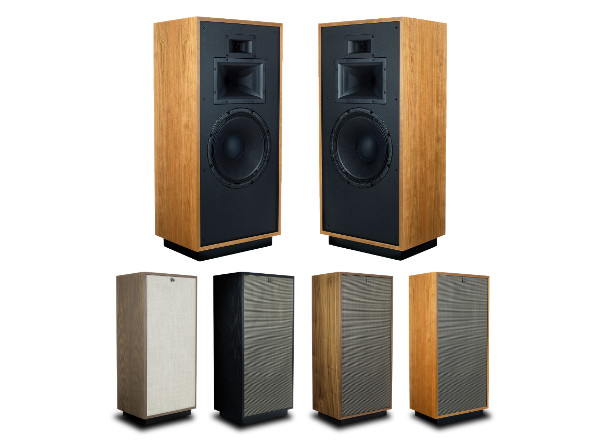 Klipsch Refreshes a Classic
Feeling nostalgic? More to the point, ready to rock out? In recognition of its 75th anniversary, Klipsch has refreshed one of its best-selling and most formidable speakers of all time — the Forte. Introduced in 1985, the speaker quickly became the company's top seller and was reintroduced in 2017 as the Forte III and an esteemed member of the Heritage series honoring founder Paul W. Klipsch.
Standing just shy of 3-feet tall and only 13 inches deep, the new Forte IV ($4,500/pair) brings updated cosmetics and the latest advancements in acoustic engineering to the original three-way design, which has been re-voiced and outfitted with an updated crossover network that draws on the steep-slope design of the legendary Klipschorn. Specifically, a horn-loaded 1-inch titanium tweeter and 12-inch fiber-composite woofer are mated with a new midrange compression driver in a beautiful wood-veneer cabinet made using the "highest-grade adhesives and fasteners." Like its predecessor, the Forte IV employs a rear-mounted 15-inch passive radiator to augment the bass (rated down to 20 Hz ±3 dB).
Sound is further refined with the help of the new K-702 midrange driver that combines a 1.8-inch polyimide driver with a modified Tractrix horn featuring Klipsch's patented Mumps technology for "consistent sound throughout the listening area." The tweeter also boasts a phase plug that has been redesigned to provide "exceptionally even high-frequency dispersion for a wider, more accurate sweet spot."
Each pair of Forte IV speakers is made using wood-veneer panels harvested from the same timber. Before the speakers leave the Klipsch factory, they are inspected and labeled with sequential serial numbers to ensure each pair is a matched set. Binding posts are mounted on a large aluminum panel configured to accommodate thick cables and bi-wiring or bi-amping.
Standard finish options (shown left to right in bottom of photo) are distressed oak, black ash, American walnut, and natural cherry. A "salt and pepper" grille is included with all finishes except distressed oak, which comes with a lamb's wool grille. Visit klipsch.com for more information.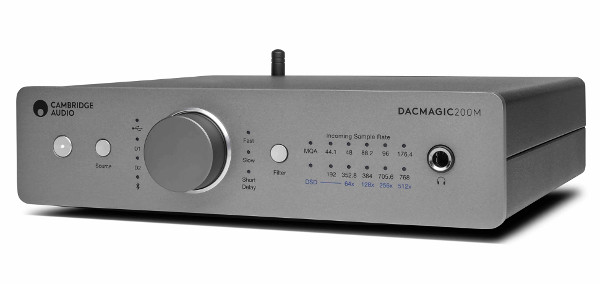 Cambridge Audio Announces New Flagship DAC
British hi-fi specialist Cambridge Audio is expanding its popular DacMagic series of digital-to-analog converters (DACs) with a new flagship model that delivers a step-up in features and performance over its current top model. Due out by the end of February, the DacMagic 200M ($499) boasts MQA processing and aptX-enabled Bluetooth 5.0 streaming as well as a more powerful headphone output and dual ESS Sabre DACs that can handle PCM at resolutions up to 32 bit/768 kHz and DSD up to DSD512.
Cambridge achieved an effective bump in headphone power by reducing output impedance, which is also said to lower noise and distortion. Switchable digital filters — fast, slow, and short delay — let listeners choose between three sonic signatures, while "helping to reduce noise generated by the digital-to-analog conversion process."
Housed in a compact x 8.5 x 2 x 7.5-inch aluminum chassis, the DacMagic 200M provides optical (two), coaxial (two), and USB Type B inputs, balanced and unbalanced analog outputs, and a ¼-inch headphone output on its front panel. The USB connection supports DSD512 and PCM up to 32 bit/768 kHz and the coaxial inputs support resolutions up to 24 bit/192 kHz, while the optical connections top out at 12 bit/96 kHz. Front-panel LEDs show incoming sample rate and indicate if an MQA source is playing. Visit cambridgeaudio.com for more information.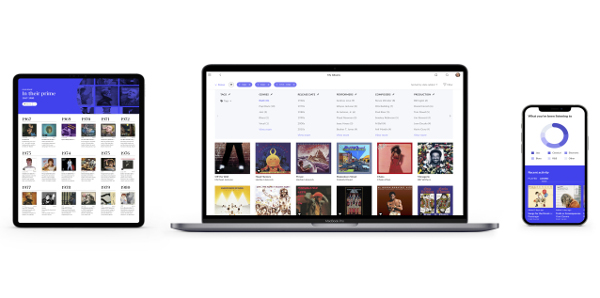 Roon 1.8 Is Ready for its Closeup
Roon Labs has released a "significantly improved" version of its popular Roon music playback and library management system. Dubbed Roon 1.8, the software presents a "fresh, modern design with bold typography" and features a new dashboard that highlights your listening habits and a vertical scroll that makes it "quick and easy" to find the music you're looking for, whether you're on a phone, tablet, or desktop PC.
Roon 1.8 draws on metadata and an understanding of how Roon's community of 100,000 listeners use the platform to enrich browsing and offer suggestions tailored to individual users. Roon says recommendations are made with "uncanny insight" to help listeners rediscover music in their personal libraries and find new music. To make searches more comprehensive, the popular Focus feature has been expanded to search across platforms, providing access to hi-res music available for streaming from Qobuz and Tidal as well as a "360° view of favorite artists, genre, performers, and composers." A new Discography view also makes it easier to browse artist catalogs.
Classical music is another focal point of the 1.8 release, starting with a new visual style and layout that encourages discovery and education. The software enables listeners to explore the genre from the perspective of the composer, performance, or period and provides "tighter links between albums and composers, as well as simpler browsing and intelligent recommendations based on the composer, performer, composition or conductor you're listening to." Roon's Discography feature also now includes a comprehensive "performances" view, which can be refined by using the Focus feature to locate a specific performance.
Located on the homepage, the new dashboard displays listening habits over time — broken down by top artists, albums, and genres — and can be changed to show data for the last week, month, year, or all time. You also get a calendar view of music you've been listening to over the last month with the ability to click on each section to get deeper insight into your listening habits.
"Roon users are expert listeners, which means they mine their favorite subgenres fanatically," explained Roon founder and CEO Enno Vandermeer. "The data about that listening, in turn, is what makes Roon's music suggestions feel so human. It's the Roon community that makes these innovations possible." The updated Roon app includes quick links to the Roon Community. Visit roonlabs.com for more information.
Spring Is Calling
Ready for a pandemic-free spring and summer? I can't guarantee we'll be virus-free but as we inch closer to normalcy, it's time to start thinking about gatherings and parties — yes, parties — out on your deck or patio. Cabinet Tronix, a California-based company that has been specializing in "TV lift furniture" since 2002, has just the thing to put some serious pizzazz into backyard get-togethers: the Outdoor Hidden Bar and TV Lift Cabinet. At $14,950, it doesn't come cheap but it looks awesome and is movable. As the company puts it, "Let the good times roll."
The rolling refreshment/entertainment center is built in the U.S. and features stainless-steel casters, a motorized TV lift that will support a 55-inch TV (not included), a dry bar with an integrated walnut cutting board/liquor holder, roomy storage compartment, and stainless-steel bin that holds up to 40 pounds of ice. There's even a removable condiment station with additional storage underneath and adjustable lighting in the storage cabinet, which also has a USB charging station with an outlet for powering a soundbar or portable speaker.
Everything is housed in a "100% weatherproof" cabinet made of Brazilian Walnut with a stainless-steel top and mahogany interior. "Forget about mold, insects, and moisture — we've thought of everything so this unit will remain fully functional and offer hours of fun without warping," the company says, adding that the cabinet is built for year-round outdoor entertainment.
If you want to get really fancy, you have the option of ordering the system with a lift that supports a 65-inch TV and replacing the standard TV lift with one that rotates the screen 360°. A mini remote control is included for raising and lowering the TV — a feat guaranteed to wow your guests.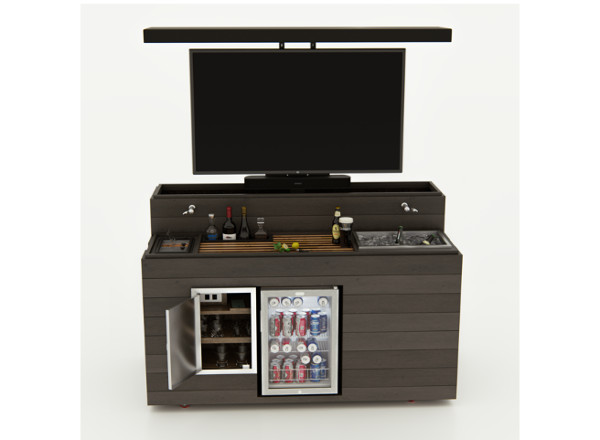 As I was wrapping up this post, the guys at Cabinet Tronix told me they're working on a new version of their outdoor bar/TV setup that costs $500 more but includes a built-in mini-fridge. Both versions are covered by a 10-year warranty. Visit cabinet-tronix.com for more information.