New Gear for Winter 2021 Page 2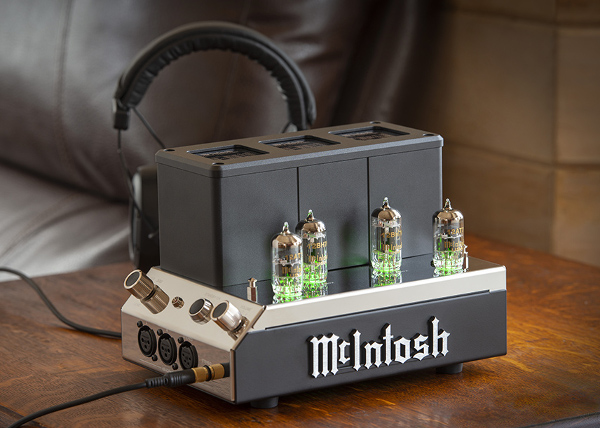 McIntosh Previews Tube-Powered Headphone Amp
If you take your headphone listening seriously, McIntosh just announced a tube-powered headphone amp incorporating a modified version of the Unity Coupled Circuit output transformer that's been a staple in its tube amplifiers since the company was founded in 1949.
Slated to sell for $2,500 when it hits store shelves in March, the MHA200 sports Mac's signature design with exposed tubes, accentuated by a polished stainless-steel chassis 6 inches wide and 9 inches deep and adorned with a vintage die-cast-aluminum McIntosh badge. The amp derives power from four triodes — two 12AT7 and two 12BH7A triodes — and provides three output options: a ¼-inch stereo phone jack, a four-pin balanced stereo connector, and a left/right stereo pair of balanced three-pin outputs.
To ensure compatibility with "nearly all" headphones, McIntosh has adapted its Unity Coupled Circuit transformer to accommodate impedance ranges of 32-100, 100-250, 250-600, and 600-1,000 ohms at 500mW, selectable by one of two knobs on its front panel. The second knob controls volume, enabling the MHA200 to be connected directly (without a preamp) to sources that only have a fixed volume output. When used with variable-output sources, the knob should be set to its center "unity gain" positon.
McIntosh says the classic output transformer (one per channel) was redesigned to match the tube section to the output to ensure maximum power transfer for various headphone loads. "Instead of having to adapt to the impedance of the headphones with voltage gain in the input stage, the Unity Coupled Circuit output transformers' secondary windings ensure full power is available regardless of headphone impedance," the company explains. Visit mcintoshlabs.com for more information.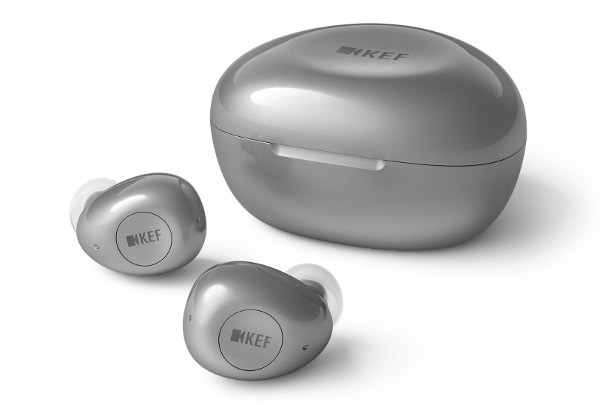 KEF Unveils its First Noise-Canceling Headphones
British speaker specialist KEF is expanding its small offering of headphones with noise-canceling earbuds designed by Ross Lovegrove, the Welsh industrial designer behind its striking Muon flagship. The new Mu3 earphones mark KEF's entry into the bustling noise-cancellation space and mate a custom tuned 0.3-inch dynamic driver with an ergonomic housing designed for comfort and weighted to keep the earbud in place. Even with the weighting, it still weighs only 0.2 ounces.
The splash-resistant earphones use Bluetooth 5.0 to transmit music signals simultaneously to both earphones to reduce the risk of latency and pair automatically with iOS and Android devices. Noise cancellation is engaged or disengaged by touching the multifunction button on either earbud; the buttons also control volume, phone calls, and music playback. When noise cancellation is turned off, ambient sound is picked up by the microphones and played through the earphones.
Battery life is rated for up to 15 hours with an additional 9 hours possible through the charging case; a 5-minute quick-charge mode provides an hour of play time. The Mu3 is offered in silver and includes four sets of different-size silicone ear tips to ensure a tight seal. For more information, visit kef.com.
Bang & Olufsen's New Wireless Speaker Is Chic and Highly Functional
Denmark's Bang & Olufsen has been leading with way with stylish audio designs and clever engineering for decades. The new Beosound Level wireless speaker ($1,499) carries on the tradition with a utilitarian, battery-powered design that employs active room compensation and acoustic tuning to adapt its output to the environment and orientation of the speaker. Sound is dispersed in a 180° pattern when the speaker is mounted on the wall but automatically switches to an omnidirectional 360° pattern if it's lying flat or standing on edge.
In characteristic B&O fashion, the speaker turns on as you approach it and adjusts the brightness of its display for day or night. It supports Bluetooth connectivity and multiroom streaming via Spotify Connect, AirPlay 2, or Chromecast and mates five drivers — two 4-inch woofers, a 2-inch full range driver, and two 0.8-inch tweeters — with 105 watts of power in a slim aluminum/polymer enclosure fitted with a light oak-veneer or gray-fabric grille cover.
The Beosound Level can be operated using the soft-touch buttons integrated into its frame or via B&O's companion app, which provides EQ presets and controls for personalizing the sound. With an IP54 rating, the speaker is resistant to dust and water and can play up to 16 hours when its battery is fully charged, which takes 3 hours. Charging is handled through a magnetic plug that clicks onto the back of the speaker. Bang & Olufsen offers an optional wall bracket with built-in charging capability and a quick-release mechanism that makes it easy to detach the speaker.
A "futureproof" modular design makes it easy to service the speaker and incudes a removable streaming module that receives performance updates over the internet. For more information, visit bang-olufsen.com.