KEF Introduces KC62 Uni-Core Subwoofer
After teasing a new subwoofer-related tech in an
announcement
last week, KEF has revealed details of the first product to feature its Uni-Core technology: the KC62 subwoofer. According to the company's release, the KC62 actually incorporates
three
new tech innovations, all packed in a curved extruded aluminum enclosure measuring a mere 9.68 x 10.07 x 9.76 inches.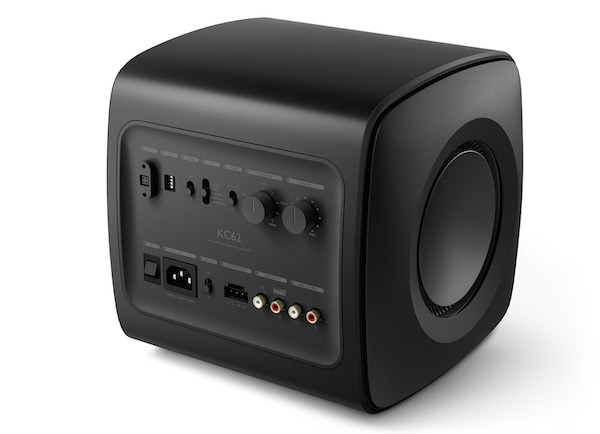 As noted in our earlier post, Uni-Core uses dual opposed "force-cancelling" drivers that are concentrically arranged and share a single motor. According to KEF, this design "allows the cabinet size to be reduced by over a third while equaling or exceeding the driver excursion of a much larger subwoofer." The KC62 also uses an "Origami" surround that resists pressure within the sealed cabinet without restricting sensitivity. Tech innovation number three is a Smart Distortion Control motional feedback system that reduces "signal abnormalities" by "measuring the current in the voice coil, detecting, and then correcting any non-linear distortions," according to KEF.
Also contributing to the KC62's performance is a custom-designed DSP called KEF's Music Integrity Engine with Intelligent Bass Extension and SmartLimiter algorithms, as well as a pair of 500-watt class-D amps to independently drive the subwoofer's dual force-cancelling drivers.
KEF's KC62 Uni-Core Force-Cancelling subwoofer is available now in your choice of a Carbon Black or Mineral White finish for $1,499.99 each.
For more info visit KEF's U.S. website.