JBL Authentics L16 Wireless Speaker System

PRICE
$1,000
AT A GLANCE
Plus
Serious drivers and power
AirPlay, Bluetooth, DLNA
Cool retro styling
Minus
Some connectors inconveniently located
Bright tonal balance, though adjustable
THE VERDICT
JBL's Authentics L16 is a powerful-sounding triple-threat wireless speaker system—oh, and it's got a phono input.
If you're the type who likes to order the biggest hero (hoagie, grinder, po' boy, or submarine depending on where you live) sandwich you can find with everything on it, JBL's Authentics L16 may be just the wireless speaker for you. At more than 2 feet wide, it's a big mama jama. And its wireless connectivity is all-embracing. In addition to a direct device-to-device Bluetooth connection, the L16 supports both Apple AirPlay and DLNA via Wi-Fi, for streaming from just about any smartphone, tablet, or computer. It's also got the retro angle covered, with cubed sculpted-foam grille cosmetics.
In shape, the L16 looks like a large center-channel loudspeaker. But you probably won't find a center speaker so provocatively clad, with that cubed grille wrapping around the front and sides of the walnut-veneer (not vinyl) enclosure. (That waffle grille, old-timers will remember, is reminiscent of the one used on JBL's iconic 1970's box speaker, the L100 Century.) The driver array is similar to that of a pair of three-way speakers—two 5.25-inch woofers, two 2-inch midranges, two 1-inch tweeters—but is built into a single enclosure. The inclusion of six 50-watt amps means that each driver gets a separate source of juice. Yeah, this puppy can play loud. (There's also a smaller L8 at $600, with smaller drivers and less powerful amps.)
The L16 rises an inch on four cone-shaped rubber feet to give some breathing room to its two down-firing ports, which nestle amid a giant aluminum heatsink. It's designed to be used either on a table or on an accessory stand, made of wood and metal with a black finish ($119 extra). You just might plop it down in front of your TV, connect the TV or cable box to the optical input, and use it as a stereo soundbar—and that would still leave two inputs and the wireless connections for music. [Editor's note: optical would indeed be the best connection for a TV link; our bench tests revealed signal latency from the analog input that might affect lip sync in a video installation.—RS]
Somewhat inconveniently, the bottom of the unit is where you'll find the digital optical and analog RCA jacks. The latter can be switched to operate as an analog line-level input or—surprise!—as a phono input, for moving-magnet or moving-coil cartridges. Oh, to be a fly on the wall at the design meeting when someone said, "The phono input has got to handle moving-coil." There's also a ground terminal for turntables requiring one.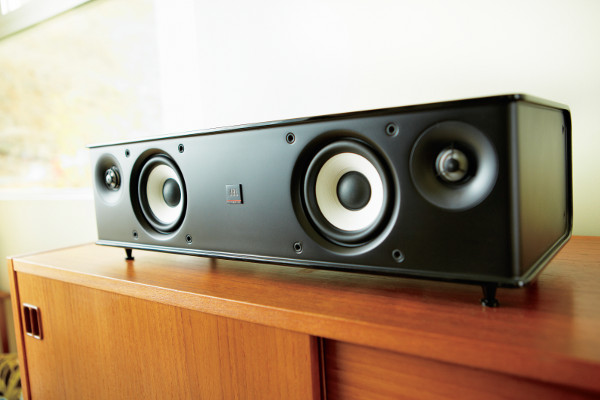 In the top compartment are an analog minijack, two charging USB jacks, and a WPS button for mating up with compatible routers. Further attention to detail materializes in a large spindle for cable management and in the compartment's anti-resonant, rubber-lined lid, which has two small notches that allow cables to escape when the compartment is closed. For wireless charging of compatible devices, you can replace the lid with the JBL Authentics Qi module ($99).
Once you've connected the power cable to the bottom panel, JBL offers five different methods of connecting to your Wi-Fi network, probably a record for this product category. You can use the free JBL Music app for iOS or Android devices, an iOS device via USB cable, an iOS device combined with Bluetooth, the pushbutton WPS method if you have a compatible router, or a more laborious manual-connect mode for PCs, Macs, or Android devices. All methods, except for the last one, get the router login from another device, saving you the trouble of keying in the password. Bluetooth connection requires the usual pairing method, and the L16 supports NFC (near field communication) for even easier auto-pairing with NFC-equipped sources.
The L16 operates through two circular controls on top (or via app). At right is a power button in the center of a flush mounted volume dial. Press the button to power up, and spin the dial to adjust volume. At left is a similar-looking circular control that selects input, though it works somewhat differently. Press the button in the center to cycle among sources; the exterior circle is just a display, not a dial. The display's half-dozen white-lit icons signify AirPlay, Bluetooth, DLNA, top minijack input, bottom optical input, and switchable line/phono input. Note the absence of USB; those jacks are for charging. You may also use various apps—either JBL's or anything that operates through iOS or DLNA. The L16 makes an endearing bleeping sound when connecting to the network.
Which of the L16's three audio streaming options is right for you? First of all, it's great to be able to choose. AirPlay offers better sound than Bluetooth as long as you're willing to connect through your home network. But Bluetooth may come in handy if you want the system to accommodate a guest's mobile phone with a quick pairing or an NFC bump. If you're bashing away at your old-school Windows PC (as I'm doing right now), it's a blessed convenience to use the Windows Media Player's Play To feature to recognize the L16 through the network, pick some tunes, and push them to the L16, which will automatically switch to DLNA mode and begin playing. The system is capable of high-res audio, supporting bit depth up to 24 and sampling rates up to 96 kilohertz.