JBL Authentics L16 Wireless Speaker System Page 2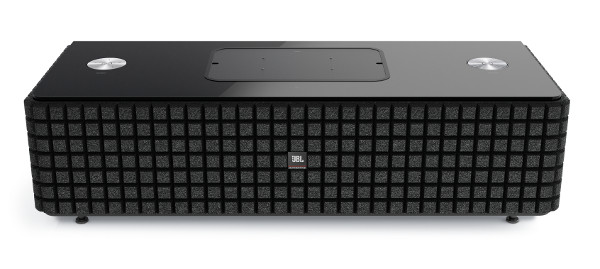 Full-Bodied Sonics
I grabbed an iPad 2 and got busy. While I wouldn't call the L16 refined, it certainly had the potential to sound natural, and even well balanced in recordings with no potentially edgy elements. In a simple vocal-and-piano album like The Randy Newman Songbook Vol. 1 (ALAC from CD), the eminent songwriter's gentle croak was fleshed out from the bottom end on up, and the L16's treatment of the piano kept the left and right hands in correct balance, indicating good bass response. When I moved on to classical guitarist Narciso Yepes' transcriptions of Scarlatti sonatas—one of my rare iTunes purchases, helpfully bumped onto the iPad by iCloud—the use of the lossy AAC file format didn't prevent the L16 from evoking the 10-stringed instrument's unusually resonant body and the Deutsche Grammophon recording's rich ambience.
I keep recent acquisitions to my audio-file music library on a Win 7 desktop PC, and the full archives are on external hard drives, so it was convenient to access that body of content via DLNA and WMP's Play To. A CD-ripped WAV file of Carlos Kleiber's well-nigh-perfect version of Beethoven's Symphony No. 5 with the Vienna Philharmonic revealed the L16's native voicing to be bright. However, a solution was at hand, because the JBL Music app offers a three-way tone control, with Bass, Mid, and High adjustments centered at 63 hertz, 1 kHz, and 12 kHz.
I pushed down the highs and pushed up the mids. Since the L16 was sitting in front of my TV, with its baffle 32 inches from the wall, I thought it needed a little bass reinforcement as well, so I pushed up the bass control. What emerged from this tweaking was a full-bodied sound that supported high listening levels with relatively little fatigue. The SPL meter registered 88 decibels (which for me is comfortably loud) with the app's volume control halfway up. The L16 is rated for maximum SPL of 108 dB at 1 meter—pretty darn loud for a self-contained shelf system.
In addition to summoning volume and tone controls, the JBL app accessed music on the iPad (but not on the DLNA/network-connected PC) by song, artist, album, playlist, or genre. If you choose artist, it will skip albums and go straight to songs, listing them in alphabetical order (ignoring the album sequencing). For Donald Fagen's "I'm Not the Same Without You" (MP3), I returned to the default bass setting but kept the elevated mids and reduced highs. This was the best setting for subsequent rock content, including "My Bird Performs," one of Colin Moulding's songs from XTC's Nonsuch (ALAC), with its chiming guitars and bird twitters kept in proportion with the minimal tone control adjustments.
JBL's Authentics L16 is one of the few truly formidable wireless compact sound systems, thanks to its audiophile-retro cosmetics, substantial driver array, brawny amplification, comprehensive wireless and vinyl connectivity, and construction details (from the he-man heatsink to the elaborate footers and rubberized compartment lid). Sure, it's voiced a little bright, but the app-accessible tone controls make that easy to fix. JBL has gone the extra mile to support all types of wireless devices, and to make them easy to connect. This is a powerful, and powerfully versatile, product. Oh, and you can play it loud.
Audio editor Mark Fleischmann is also the author of the annually updated book Practical Home Theater (quietriverpress.com).