2021 Midyear Roundup: News & Gear Page 2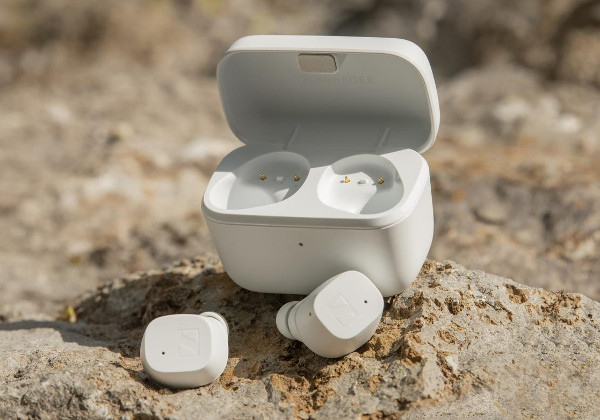 Anticipating Sale of Consumer Division, Sennheiser Unveils New 'Buds
Sennheiser's new $130 CX True Wireless earbuds will likely be the last headphones produced by the family-owned company before it consummates the sale of its consumer electronics business — which includes headphones and soundbars — to Swiss hearing-aid maker Sonova. The company, which has been making microphones and headphones in Germany for 76 years, announced the acquisition in May saying it aims to focus on its professional division. The deal is expected to be completed by the end of the year.
In a statement posted on the company website, brothers Daniel and Andreas Sennheiser wrote: "We are convinced that Sonova will strengthen the consumer business in the long term and capture the potential in the best possible way — especially in the market for speech enhanced hearables as well as true wireless and audiophile headphones."
The new splash-resistant earbuds support aptX-enabled Bluetooth 5.2 and are built around the proprietary TrueResponse transducer, a 0.27-inch driver used in a number of the Sennheiser's consumer and professional earphones. The buds power up when removed from their charging case and turn off when returned to the case. You can control audio and engage Siri or Google voice assistants by tapping on the buds or by opening Sennheiser's Smart Control App, which provides an equalizer with a bass boost preset and a Sidetone feature for adjusting the level of your voice during calls. A firmware update also makes it possible to customize the touch controls.
Battery life is rated for up to 9 hours on a single charge, with another 18 hours possible using the charging case. Each earbud is equipped with dual microphones to improve voice pickup and a "role switching" feature allows either earbud to be used on its own. The earbuds are available in black or white and come with four sets of different size silicone earpads to ensure a comfortable and snug fit.
For more information, visit en-us.sennheiser.com.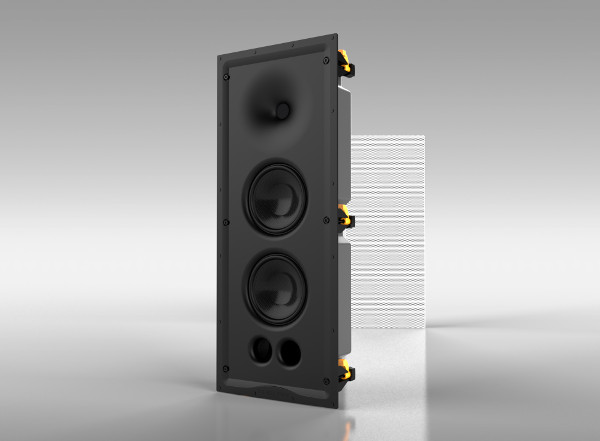 Theory Audio Launches its First In-Wall Speaker
Theory Audio Design, the sister company of Pro Audio Technology that launched in early 2019, has introduced its first in-wall speaker.
The first of "many architectural products to be announced this year," the iw25 ($850 each) is a high-output design that mates a super-efficient 1.4-inch polymer-compression tweeter with two 5-inch carbon-fiber woofers in a 23.5 x 9.6-inch frame that's only 3.4 inches deep with a perforated black or white metal grille. The speaker plays down to 52 Hz (–3 dB) and boasts a sensitivity rating of 94-108 dB SPL with maximum output spec'd at 117 dB.
Nominal impedance is 4 ohms and the iw25 includes a switch-selectable 70V/100v transformer for use in distributed-audio systems. The speaker is weather-resistant and can be used outdoors with an optional all-weather grille.
Five other models are slated for introduction later this year. Two in-ceiling speakers are being readied for release in September with two in-wall subwoofers and a multi-mount subwoofer scheduled for release before the end of the year. For more information on the iw25 and the forthcoming models, visit theoryaudiodesign.com .


Naim Announces Special-Edition Turntable
Naim Audio is aiming high with its maiden turntable, the $20,000 Solstice Special Edition, whose name is inspired by the world-famous Stonehenge site near its headquarters in Salisbury, England. With a limited production run of only 500 units, the meticulously crafted turntable boasts multiple levels of mechanical decoupling — including a plinth crafted from 47 metal-skinned layers of wood, a high-mass, polished-aluminum platter supported by a magnetic bearing, and a self-calibrating-motor drive system. But the crown jewel of the table is an updated version of the Aro tonearm the company introduced way back in 1989. Remarkably, the company never got around to introducing a table to go with the Aro until now.
Fitted with Naim's Equinox moving-coil (MC) cartridge, the tonearm remains true to the Aro's original design principles but has been upgraded with improved materials, including tungsten and carbon-fiber (the original was made of aluminum), and adjustments for bias, arm height, and azimuth. There is also a two-point slotted fixing alongside the three-point fixing to accommodate alternate cartridges.
Expected to ship in late July, the table includes a standalone Class A phono stage featuring discrete regulators (a first for Naim) and settings for up to 256 MC tuning combinations plus a separate smart power supply with an oversized toroidal transformer and isolated sections to drive the turntable and phono stage. When the turntable stops spinning, the supply automatically goes into sleep mode.
The Solstice phono stage and power supply are hand-built at Naim's U.K. facility, while the turntable, Aro arm, and Equinox cartridge are manufactured to Naim's specifications by Germany's Clearaudio. The special-edition package is capped off with a commemorative book and a curated collection of superb true stereo recordings from Naim Records, newly remastered for vinyl.
For more information, visit naimaudio.com.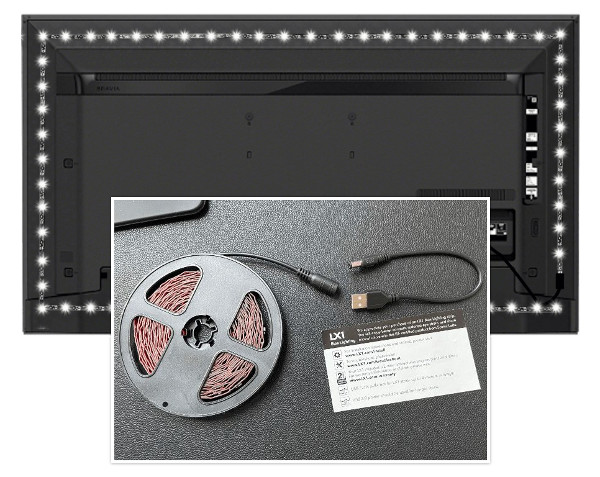 Scenic Labs Reduces Eye-Strain with Dirt-Cheap Bias Lighting for TVs
Scenic Labs, a New Jersey-based company specializing in video optimization products, has introduced a lower-cost version of its popular MediaLight Bias Lighting system. Ranging in price from $25 to $50, depending on screen size, the new LXI Bias Lighting system uses a simulated D65/6500K ColorGrade chip to provide a calibrated white reference that "enhances any display's image and reduces eye strain," while adhering to industry standards. The system is certified for color accuracy by the Imaging Science Foundation (ISF).
By making some modest changes in specification from our flagship MediaLight brand, we've been able to engineer a high-quality bias light that vastly outperforms the competition and costs less," said company president Jason Rosenfeld, while warning that "low-cost alternatives on the market can compromise image quality by altering perceived color."
LX1 lighting strips, which connect via the TV's USB port, are available in six easy-to-install lengths with three-sided coverage for displays up to 129 inches (diagonal) and four-sided coverage for displays up to 95 inches. The company suggests using a dimmer with the system, which is compatible with a variety of aftermarket controllers. The LX1 is covered by a two-year warranty.
For more information, visit biaslighting.com.
MORE NEWS & GEAR
Definitive Technology Introduces Descend Series Subs
Elac to Start Shipping Reference Speakers
Sonus faber Expands Entry-Level Lumina Series
Andover Previews Sub for its SpinBase System
Vizio Announces Pricing & Availability for 2022 TVs
Denon and Marantz Announce 8K Upgrades for Flagship AVR and Processor
Yamaha Revamps Flagship Aventage AV Receiver Line
Apple Music Adds Atmos, Lossless Audio in Sound Quality Makeover
Bluesound Announces Updates for Streaming Portfolio
News and New Gear for Spring 2021