News and New Gear for Spring 2021
As we continue to emerge from the Great Pandemic with even the most reluctant of reluctant states finally looking to lift restrictions, Spring 2021 continues to pay dividends with an eclectic and, in some cases, season-specific mix of A/V news and gear, ranging from outdoor TVs and speakers to solar-powered headphones and new wireless speakers that don't rely on Wi-Fi. Let's take a closer look…
HDR10+ Format Gains Momentum
The coalition behind HDR10+, the enhanced version of the HDR10 high-dynamic-range (HDR) format that leverages dynamic metadata to maximize a TV's black level and peak brightness frame by frame, has announced that the technology is now supported by more than 100 companies from across the A/V entertainment industry.
Most recently, Paramount+ has joined Amazon Prime Video, Google Play, and YouTube in supporting the format. Among the hundreds of shows and movies now streaming in HDR10+ is the TV series The Stand, based on Stephen King's post-apocalyptic novel and now in its first season on Paramount+, Wonder Woman 1984 (Amazon), and classics such as Back to the Future.
On the hardware side, Google and Roku are the latest companies to certify HDR10+ products with plans to offer a number of compatible devices moving forward, including Chromecast and Google TV. HDR10+ is also included in the OS 10 software update rolling out to Roku streaming devices and has been enabled on the new Roku Express 4K+, Roku Express 4K, and 2020's Roku Ultra. The format has also been adopted for the new APEX (Airline Passenger EXperience) Association standard for in-flight entertainment.
A new whitepaper entitled "Understanding the HDR10 Ecosystem," which delves deeper into the features and benefits of the HDR10 and HDR10+ formats is available here in PDF form. In addition to examining the history of HDR10 and the perceptual, technical, and creative benefits of HDR in general, the paper details how HDR10+ uses dynamic metadata to enhance the 4K/Ultra HD experience and explores new developments such as HDR10+ Adaptive and other potential applications for the future.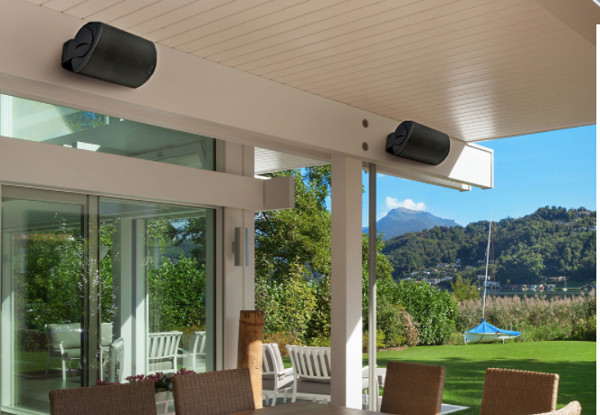 Polk Welcomes Spring/Summer with Outdoor Speaker Discounts
Polk has lowered the price of the four models in its Atrium line of "all-weather" speakers to make it a little easier to move the party outdoors as the weather gets nicer. All models carry a 5-year warranty and are built to withstand extreme temperatures and heavy rain as well salt, fog, and UV light. Polk's Power Port technology is also standard as is an integral bracket that swivels 180° and accommodates vertical or horizontal mounting.
Moving up the price scale, the entry-level Atrium4, combining a 4.5-inch woofer and 0.75-inch tweeter in an enclosure 8.6-inches tall, is now $149/pair, 30 bucks off its $179 list price. The Atrium8 SDI, featuring dual 1-inch tweeters and a dual-voice-coil 6.5-inch woofer in a cabinet almost 13 inches tall and a low-frequency rating of 45 Hz, has been reduced to $199 (from $249). The Atrium5 and Atrium6, larger versions of the Atrium4 that team a 1-inch tweeter with a 5- or 5.25-inch woofer in a 10.3- or 11.7-inch-tall enclosure, are now priced at $249 and $349, respectively, down from $299 and $399.
Sensitivity ratings range from 89 to 91 dB (1 watt @ 1 meter) and the Atrium4, Atrium5, and Atrium6 are rated down to 75, 60, and 50 Hz, respectively. Visit polkaudio.com for more information.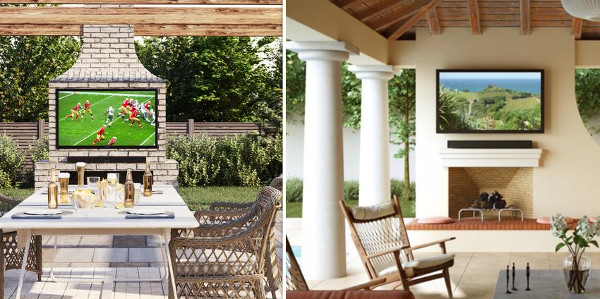 Furrion Introduces Outdoor TVs for Shaded and Partial Sun Areas
Furrion, an Indiana-based company specializing in luxury appliances and entertainment equipment for marine and recreational use, has introduced a line of outdoor 4K LCD TVs built to withstand rain, snow, dust, humidity, UV rays, and extreme temperatures.
The new Aurora series has eight models — four designed for use in partial sun and four for use in fully shaded areas. The partial sun models are rated for up to 750 nits of brightness and available in 43-, 49-, 55- and 65-inch screens sizes with respective prices of $1,500, $2,000, $2,700, and $3,400. Designed for use in areas such as a covered patio or screened gazebo, the shade models are available in the same screen sizes but rated for up to 400 nits of brightness. Pricing is $1,300 (43-inch), $1,600 (49-inch), $2,000 (55-inch), and $2,800 (65-inch).
All of the TVs are IP54-rated, meaning they are highly resistant to dust and able to withstand water splashes and sprays without incident, and boast adaptive brightness that automatically adjusts the picture to compensate for changes in daylight. The sets also support high dynamic range (HDR) content and feature an anti-glare screen to boost picture quality on sunny days.
In addition, each set is equipped with two 5-volt USB ports to accommodate streaming devices and comes with a dustproof/water-resistant (IP64-rated) remote control. Visit furrion.com for more information.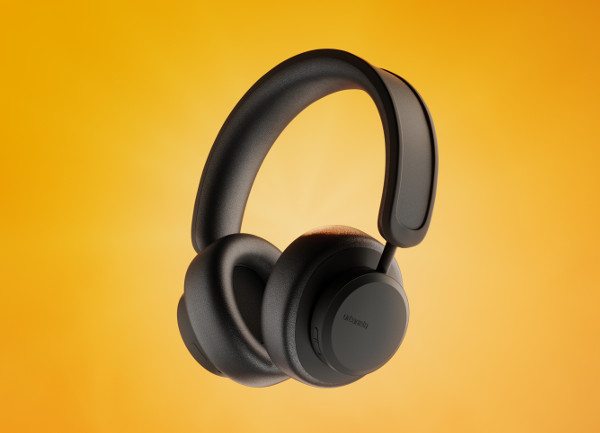 New Solar-Powered Headphones Boast 'Infinite Playtime'
Staying on the outdoor theme, Sweden's Urbanista has announced wireless noise cancelling headphones that harness indoor and outdoor light to provide "virtually infinite playtime."
Slated to ship later this month, the new self-charging Los Angeles headphones will sell for $199 and use Powerfoyle solar-cell material in the headband that continuously charges the battery when exposed to all forms of light. To give you an idea of the charging power, the company says an hour spent outside on a sunny day generates 3 hours of playtime. And on a cloudy day you can still expect 2 hours of playtime. But what if you stay inside? The headphones' battery is designed to charge in ambient light so it will continue to charge in a "well-lit room or office."
When you're not using the headphones, Urbanista says leaving them by a window for an hour adds another full hour of playtime, though notes: "Playtime calculations are estimations based on certain lighting, charging and usage conditions and an initially fully charged battery. Estimations for outdoor conditions are based on lux values of at least 30,000 lux, and for indoor conditions on lux values of at least 1,000 lux. Actual conditions and playtime may vary while using the product."
The secret behind the self-charging is the Powerfoyle material developed by another Swedish company, Exeger, which is being used to power headphones for the first time. The technology is currently used to provide power for a rear light built into POC's Omne Eternal smart helmet for cyclists.
"This is the start of a revolution in consumer electronics," said Exeger CEO Giovanni Fili. "I strongly believe that once users experience the freedom of endless energy, there's no way we're going back to plugging a USB charger into the wall."
Urbanista's Los Angeles headphones boasts a 50-hour battery reserve with a USB charging option and feature on-ear detection that pauses audio when the headphones are removed and restarts it when they are put back on. Active noise cancellation is activated with a single tap and includes an ambient mode that that lets in outside sound.
The headphones support Google Assistant and Apple's Siri voice platforms and are compatible with iOS, Android, and Windows devices. They are fully adjustable and have smooth cushioned shells that sit securely over the ear. Visit urbanista.com for more information.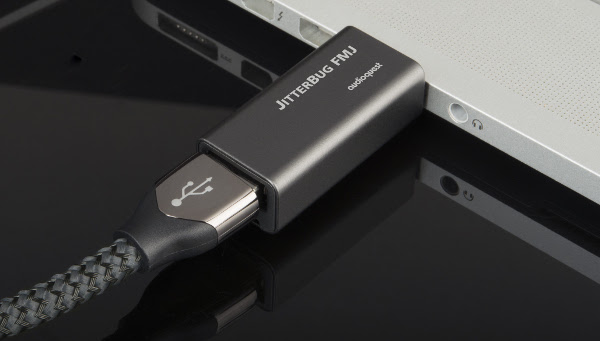 AudioQuest's JitterBug FMJ Combats Noise
Cable and audio accessories specialist AudioQuest has announced a metal-encased version of its popular JitterBug USB noise filter designed for use in cars or with laptops, phones, streamers, and other devices.
Slated for release in mid-May, the new JitterBug FMJ (full metal jacket) will cost $60 and is said to "significantly reduce" contamination from RF (radio frequency) noise generated by a computer, car, or other device when inserted in-line between the source and playback devices. The hinged rubber flap covering its output is made with "RF-absorbing" carbon, which is said to further improve performance.
The device has a USB-A connection on each end but AudioQuest sells a $22 USB-C (male)-to-USB-A (female) adapter for use with devices that have only a USB-C connection. AudioQuest says a second JitterBug can be inserted into an unoccupied USB port (in parallel with the first) for "additional sonic improvement." Visit audioquest.com for more information.