News and New Gear for Spring 2021 Page 2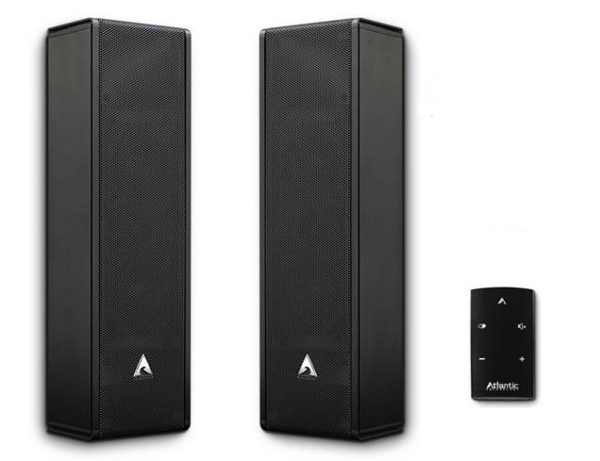 Atlantic Tech Expands SKAA-based Wireless Speaker Collection
Atlantic Technology has expanded its collection of SKAA-based wireless speakers with a pair of powered bookshelf speakers that can be used on their own as a stereo pair or incorporated into a wireless multiroom audio system.
Priced at $699/pair — or $649 through an authorized dealer — each FS-WSLR1 speaker combines a 0.75-inch aluminum-dome tweeter sandwiched between two 2.5-inch mid-woofers with a 30-watt class D amplifier in an extruded-aluminum cabinet about 15 inches tall and only 3 inches deep. The speaker is voiced to match the company's new Gatecrasher3 PowerBar ($879) and works with Atlantic's SKAA-based FS Series wireless subwoofer ($599).
Instead of tapping into a traditional Wi-Fi network, the speaker operates as part of a SKAA-based wireless multiroom network and is able to receive audio wirelessly from a SKAA transmitter connected to an analog or digital audio source or a SKAA-enabled amp or speaker. In a multiroom setting, up to four speakers can be set to function together in a cluster with an unlimited number of clusters operating throughout a home. Each speaker also has a 3.5mm minijack input for making a hard-wire connection (RCA cables are included).
The SKAA standard has a 150-foot range and boasts "interference-free" performance featuring low-latency (36 ms) transmission with a delay of only 0.04 ms between speakers, according to Atlantic Technology. The company offers a selection of mini SKAA transmitters for turning analog or digital devices such as an iPhone, Android, computer, TV, or AV receiver into a SKAA audio source. Though an app isn't required for wireless operation, Eleven Engineering, the company behind SKAA technology, offers a free app called SKAA cmd for iOS, Android, Mac, and PC devices that's said to make it easy to control multiple speakers; it's available for download through Google Play or Apple's App Store.
The FS-WSLR1 has a black satin finish and comes with wall brackets and a remote with buttons for volume up/down, mute, and SKAA bonding — controls that are duplicated on top of each speaker. Visit atlantictechnology.com for more information. Click here for more information on the SKAA wireless technology.
New SVS Wireless Adaptor Optimized for Congested Environments
The subwoofer kings at SVS have expanded their SoundPath line of cables and accessories to include a high-performance audio adapter kit that creates an interference-free, full-range wireless connection between components with stereo RCA jacks, such as an AV receiver and subwoofer or a TV and powered speaker.
The new SVS SoundPath Tri-Band Wireless Audio Adapter system costs $200 and includes compact transmitter and receiver modules optimized for use in congested environments prone to interference from a variety of wireless devices, including dual-band Wi-Fi- routers, Bluetooth devices, and security systems and cameras. The system is designed to transmit an LFE (low-frequency effects) signal or full-range (16-bit/48kHz) stereo signal up to 130 feet with a clear line of sight.
The transmitter and receiver are pre-paired at the factory so operation is quick and simple once RCA connections have been made to the source and subwoofer or other receiving component. SVS provides AC power adapters for powering the modules, though they can be powered using via USB (current SVS subwoofers include a rear-panel USB connector for powering the adapter).
The system has a rated frequency range of 6 Hz-20 kHz and avoids interference by automatically switching between 2.4, 5.2, and 5.8GHz bands. Up to three adapters can be paired simultaneously to create a multi-room distributed audio system.
"As people add more devices to their homes, interference becomes a real issue," explained SVS president Gary Yacoubian. "The Tri-Band technology our engineers deployed makes wirelessly connecting a subwoofer or powered speakers completely impervious to interference, while reducing cable clutter. It really solves a lot of problems when setting up a home theater or audio system."
For areas that are not prone to wireless interference, SVS sells a single band adapter for $120. Visit svsound.com for more information.
Pangea Celebrates 20 Years of Record Doctor with Limited Edition Model
Vinyl enthusiasts take note: Pangea Audio, a Michigan-based distributor of audio products and accessories, is commemorating the 20th anniversary of the Record Doctor with a limited-edition gloss-white version of the Record Doctor VI cleaning machine that netted Sound & Vision Top Pick status in 2020.
As reviewer Michael Trei put it, "Records that were plagued with fingerprints and other dirt came out looking shiny and bright, and surface noise was substantially diminished in listening tests while the clarity of the music itself was enhanced."
Like its predecessors, the $300 machine is a manually operated system featuring a vacuum motor, protective felt cleaning strips, precision bearings that help records spin freely, and an easy-to-drain storage tank for cleaning fluids. In 2020, the system was redesigned to run cooler and quieter compared with previous models and outfitted with a stain-resistant aluminum top, larger turning knob to help keep fluid off the LP label, and a deep-cleaning brush for applying cleaning fluid to the surface of an LP.
The Record Doctor VI is also available in a carbon fiber vinyl or high-gloss black finish. Visit pangeaaudio.com for more information.
Periodic Audio's New Super Compact DAC Is Only $49
Period Audio, a California-based company specializing in earbuds and compact audio gear, has introduced a super compact digital-to-analog converter (DAC) for "anyone looking to seriously boost their digital music's sound quality."
The new Rhodium DAC costs $49 and is described as a simple plug-and-play device that's perfect for music lovers who are on the go or don't have space for a full-size system and ideal for devices lacking a 3.5mm minijack output. It provides signal conversion up to 32-bit/384kHz and is designed to feed a high-power output stage for wired headphones using its detachable cable. Manufacturer specs include a dynamic range of 113 dB, signal-to-noise ratio of 108 dB, and 0.007% total harmonic distortion (THD).
The Rhodium DAC is compatible with Android devices and MacOS and Windows operating systems. The company says it can be used with iOS devices but admits they "aren't well supported" and connection requires the use of an Apple camera adaptor.
Though it can be used on its own, company co-founder Ben Webster said the DAC was born out of an effort to emulate "logical signal path architectures" from high-end audio with the DAC feeding Periodic's Ni (Nickel), a tiny analog power amp you can hold in the palm of your hand. Precision audio-grade capacitors are used in the DAC's audio pathways to reduce noise and distortion and its cable comprises high-strand, oxygen-free copper (OFC) wire shrouded in a woven textile jacket. Visit periodicaudio.com for more information.
MORE NEWS & GEAR
B&W's First Wireless Earbuds Packed with Features
New Sony 4K Projectors Boast BRAVIA's X1 Processing
Epson Discounts EpiqVision Ultra LS500 Projector
JBL Announces Studio Monitor Bookshelf Speaker
BluOS Adds Streaming Options, Access to MQA Music New Gear for Spring 2021, Part 2
Qobuz Hi-Res Music Streaming Now Available on Sonos
Polk Audio Launches Reserve Series Loudspeakers
Bluesound Introduces Pulse Soundbar+
SVS Announces 3000 Micro Subwoofer
Sonos Introduces Roam Portable Smart Speaker
Epson, Philips Agree on Industry Standard Projector Specs
Paradigm Launches Founder Series Loudspeakers