New Gear for Spring 2021, Part 2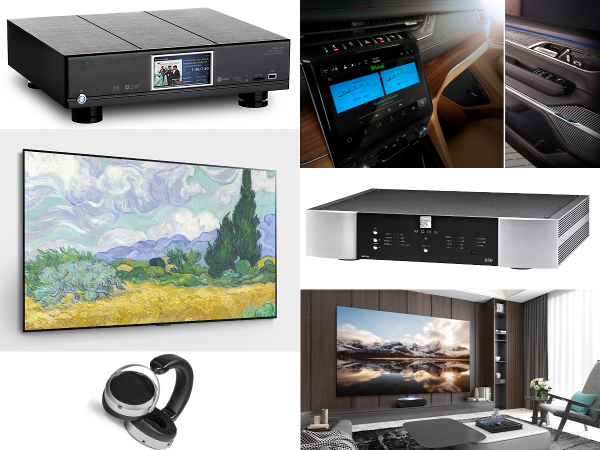 Spring, at last. A time of rebirth. A time of renewal. A time to get back to normal. BTW, in case you haven't heard, the pandemic is over.
April Fools!
(Actually, Pandemic-ville has staked out its territory and, unlike Seattle's absurd and thankfully short-lived autonomous zone, doesn't appear to be going away any time soon if the pundits prove to be right.) Meanwhile, life goes on in various forms around this great nation and A/V companies continue to move forward with new gear and updates to existing products thanks to the marvels of the internet and modern software. Recent weeks have revealed new TV options, including a video projection system that beams 4K images on a 120-inch screen from a distance just over a foot, planar-magnetic headphones that sell for $150, a 23-speaker reference sound system for a classic SUV that's making a comeback, and a WiSA-based wireless speaker system that can be had for 900 bucks.
But first, a couple news bulletins...
• Canada's Lenbrook has announced a unique collaboration with Radio Paradise, an eclectic listener-supported internet station out of Southern California known for its high-quality audio streams that I happen to listen to every day. Under the partnership, products that support Lenbrook's BluOS streaming platform will receive an update in April that provides direct access to this awesome station. (Check it out here.) The kicker is, Radio Paradise recently became the first internet radio station to deliver MQA-encoded music on all four of its mix channels, including 24-bit masters where available. Brands supporting BluOS include the Lenbrook's own NAD, Bluesound, and PSB as well as Monitor Audio, DALI, Roksan, and Peachtree Audio.
• An ongoing national study Apple is conducting in collaboration with the University of Michigan School of Public Health has found that average weekly headphone use for one in 10 participants is higher than the limit recommended by the World Health Organization (WHO). Another 10% of respondents report having been professionally diagnosed with some degree of hearing loss. The study also found that one quarter of participants say they are exposed daily to environmental sounds (traffic, machinery, etc.) that exceed the WHO's recommended limit. In light of these findings, Apple is encouraging users of its products to use the iPhone's Health app and the Noise app on the Apple Watch to help monitor and protect their hearing. Apple is also encouraging AirPod owners to take advantage of the Live Listen and Transparency modes to help mitigate loud sounds.
Now, on to the latest round of new products…
LG Rolls Out Art-Inspired Gallery and C1 Series OLED TVs
LG's has announced pricing and availability for a dozen of the 4K OLED TVs it previewed in January at CES 2021.
Nine of the 12 new models in LG's G1, C1, and A1 series either recently became available or are slated to ship in April. G1 "Gallery Design" Series models feature the brand's evo panel technology, which uses a new luminous element to improve color and boost brightness — a welcome advance in an area where OLED technology has lagged behind LCD. The super-slim G1 Series sets sport an art-inspired look with almost no bezel and include hardware for mounting the TV on the wall with no gap between the screen and wall.
Models that hit stores in March include the 77-inch 77G1PUA ($4,500) and 65-inch 65G1PUA ($3,000) from the G1 "Gallery" Series and the 77-inch 77C1PUB ($3,800), 65-inch 65C1PUB ($2,500), and 55C1PUB ($1,800) from the C1 Series.
Models slated to ship in April include the G1 Series 55-inch 55G1PUA ($2,200), C1 Series 48-inch 48C1PUB ($1,500), and 65-inch 65A1PUA ($2,200) and 55A1PUA ($1,600) from the A1 Series.
The C1 Series brings a new 83-inch screen size to the OLED party in May with the 83C1PUA ($6,000). The 77-inch 77A1PUA ($3,200) and 48-inch 48A1PUA ($1,300) from the A1 Series are slated for June delivery.
Visit lg.com for more information.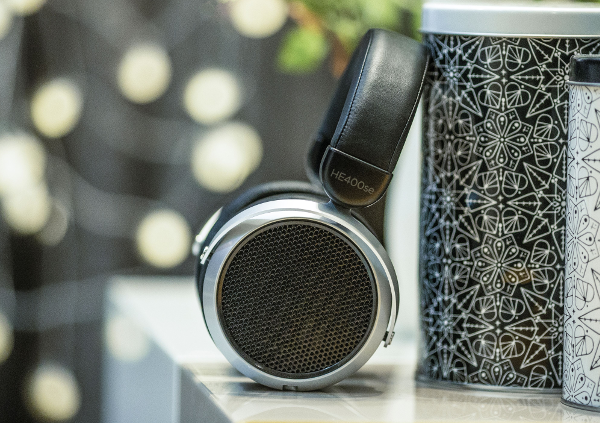 HiFiMan's Spring Surprise: $150 Planar-Magnetic Headphones
It used to be that if you wanted a set of sweet sounding planar-magnetic headphones you'd have to shell out hundreds, if not thousands, to get 'em. Headphone specialist HiFiMan aims to change that with its new $149 HE400se cans, which establish a new low price for the category.
Sporting an open-back design with single-ended drivers and a high 91-dB sensitivity rating, the headphones are designed for use with almost any device — from smartphones and tablets to full-size amplifiers. The same "acoustically invisible" stealth magnets used in the company's higher priced models are used in the HE400se to improve performance by enabling sound waves to pass through the magnets without generating interference (a.k.a. wave diffraction turbulence).
The headphones weight less than 14 ounces and incorporate an adjustable headband and beveled earpads to ensure comfort during long listening sessions.
"HiFiMan is famous for developing planar magnetic headphones that bring real-world full-range sonics to personal audio," observed company founder and CEO Dr. Fang Bian. "The HE400se is the result of our tapping our deep background in planar magnetic design to create a headphone with a wide soundstage and detailed imaging at a price that is within reach of nearly every music lover with a smart portable device, no matter if the source is a high-res audio player or a common smartphone."
Visit hifiman.com for more information on the HE400se headphones, which are also available through amazon.com.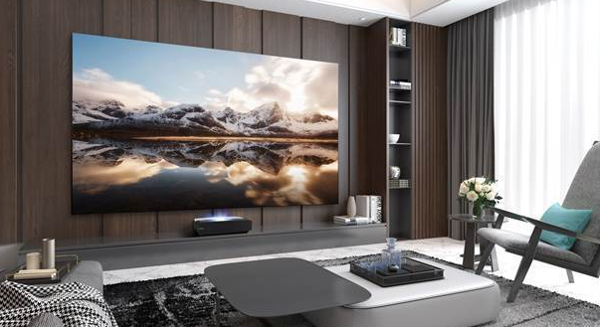 Hisense Ships 4K Laser Projection System with 120-Inch Screen
China's Hisense continues to aggressively pursue the market for big-screen video projection with its "Laser TV" series of ultra-short-throw 4K projectors, launched in 2018. At $5,000, the new L5F Laser Cinema system is half the price of the original model and includes a 120-inch ambient-light-rejecting (ALR) screen designed for use in "any type of lighting" (the original system shipped with a 100-inch ALR screen).
The system creates a big-screen experience with the projector positioned just over a foot (13.8 inches) from the wall. The heart of the Android TV-based DLP projector is the company's X-Fusion laser, featuring brightness of "nearly 2,700 lumens" and an estimated lifespan of 25,000 hours. The system supports HDR10 and HLG high dynamic range (HDR) and is said to exceed the Rec. 709 color space while hitting 83% of the DCI-P3 gamut.
The Android TV platform provides direct access to a host of games and streaming services — including Netflix, Hulu, YouTube, Prime Video, Disney+, and HBO Max — and supports Google Assistant, which enables voice control and search through the supplied remote control.
The L5F has a built-in sound system comprising two speakers and a 2 x 15-watt amplifier and uses patented dbx-tv technology to equalize unwanted changes in volume and create a surround-sound effect without additional speakers.
Hisense says the L5F will be available online through Amazon, BeachCamera, and Vanns beginning April 5. Visit hisense-usa.com for more information.

Moon Upgrades Connectivity for its 280D Streaming DAC
Moon, the reference audio brand launched by Canada's Simaudio almost 25 years ago, has upgraded its 280D streaming DAC (digital-to-analog converter) to include on-board access to CD-quality streaming via Deezer Hi-Fi and high-resolution streaming through the Tidal Masters and Qobuz Sublime+ subscription services. The $3,000 device also now supports Spotify Connect and Apple's AirPlay 2 platform. Existing 280D owners can add the new capabilities by upgrading to Moon's new MiND 2 software.
The 280D is Roon Ready, meaning it is fully compatible with the Roon music-management system, and decodes MQA files as well as native DSD up to DSD256 and PCM up to 32 bits/384 kHz, including DXD. It also boasts a balanced analog stage for improved dynamic range with reduced noise and supports synchronized multiroom playback as well as streaming via aptX-enabled Bluetooth.
In all, the 280D provides eight digital inputs, including two optical and two coaxial connections, AES/EBU and USB jacks (one each), and an Ethernet/Wi-Fi connection. As you'd expect, the DAC is asynchronous, meaning it reclocks the bitstream to all but eliminate timing errors.
Moon provides a traditional remote control but the 280D can also be operated via MiND Controller app, which makes it easy to play music from digital services, computers, and NAS drives. The app was recently updated to support Tidal's algorithm-based My Mix feature, which creates a personalized playlist based on your listening patterns and saved music collection.
Finish options include black, silver, or Moon's signature two-tone finish. The 280D is covered by a generous 10-year warranty. Visit simaudio.com for more information.