Elac to Start Shipping Reference Speakers This Week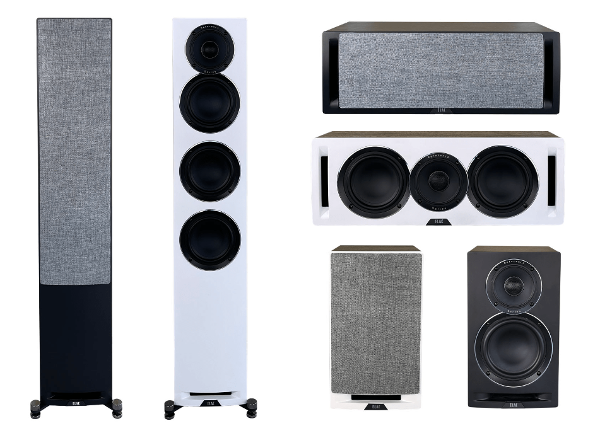 Germany's Elac plans to start shipping the recently announced Uni-Fi Reference series of speakers this week.
The line, which builds on the success of its highly rated Uni-Fi 2.0 series, continues the expansion path started back in 2015 when the 95-year-old speaker company hired noted speaker designer Andrew Jones. There are three models: the UFR52 tower ($2,000/pair), UBR62 bookshelf model ($1,000/pair), and UCR52 center speaker ($600).
Features common to the new speakers include a 4-inch concentric driver that places a 1-inch "wide-surround" soft-dome tweeter in the throat of a new midrange driver featuring a large-diameter voice coil and cast chassis designed to improve clarity by minimizing reflections back to the cone.
All models also employs new cast-chassis aluminum woofers featuring a single piece "compound curvature" cone with a large vented magnet said to improve linearity and low-frequency response over previous Uni-Fi bookshelf models. A new three-way crossover is said to further improve performance through improved response linearity and driver integration.
Available in satin white with oak sides or satin black with walnut sides, all models are three-way designs constructed with front-firing ports to allow for greater placement options and full-perimeter bracing to reduce cabinet vibration and coloration.
The UFR52 tower mates the 4-inch concentric driver with three 5.25-inch woofers in a cabinet standing 39 inches tall and has a rated low-frequency limit of 40 Hz and rated sensitivity of 86 dB. The 14-inch-tall UBR62 bookshelf model has a 6.5-inch woofer and is rated down to 41 Hz with 85 dB sensitivity. In the UCR-51 center speaker, the concentric speaker is flanked by two 5.25-inch woofers in a cabinet about 21 inches wide; it's rated down to 47 Hz and has an 85 dB sensitivity.
"This new line removes the price limitations of the Uni-Fi 2.0 series along with the technical barriers associated with that price point" to produce "significant performance improvements," said Elac senior vice president James Krodel.
For more information, visit elac.com.