Sonus faber Expands Entry-Level Lumina Series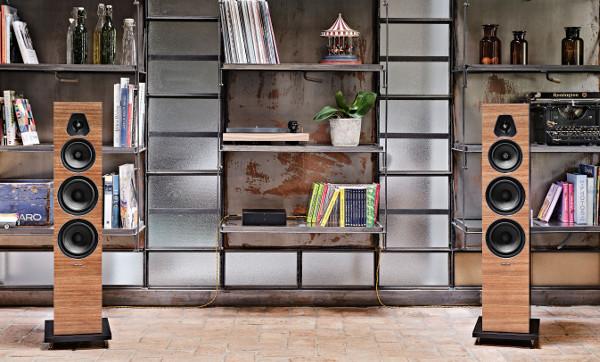 Italy's Sonus faber has expanded the entry-level Lumina speaker series it introduced last fall with a new flagship floorstanding model and larger bookshelf speaker.
Designed for use in a stereo or surround sound system, the Lumina V ($2,800/pair) and compact Lumina II ($1,200/pair) join the tower, bookshelf, and center speakers that comprise the home theater system that netted Top Pick status in April. Both feature the company's signature leather-wrapped top and sides with a multilayer-wood front baffle available in walnut or wenge with maple inlays or gloss black.
The Lumina II is a larger, foot-tall version of the Lumina I ($899/pair) with the company's proprietary 1-inch "DAD" tweeter and a 6-inch pulp/fiber woofer. Nominal impedance is 4 ohms and the speaker is rated down to 55 Hz with a sensitivity spec of 86 dB SPL (1 watt/1 meter).

The Lumina V is a larger, 41-inch-tall version of the Lumina III ($2,199/pair) that assumes the top position in the series. Like its sibling, the V is a three-way design that combines the same 1-inch tweeter with a 6-inch paper/fiber midrange driver and two 6.5-inch paper/fiber woofers. Nominal impedance is 4 ohms and the tower is rated down to 38 Hz with a sensitivity spec of 90 dB SPL (1 watt/1 meter).
Sonus faber is introducing two new features in the Lumina V. The midrange driver is housed in a "lute shaped" chamber designed to maximize the speaker's structural rigidity and reduce standing waves. The V also employs the mid/high crossover network first introduced in the company's $1,5000/pair Maxima Amator speaker; the crossover employs a "Paracross Topology" that places the capacitors and inductors on the negative rail of the circuitry, which is said to improve definition by reducing drivers' back EMF (Electro Motive Force).
For more information, visit sonusfaber.com.