Sonus faber Lumina Surround Speaker System Review
PRICE
$5,296
AT A GLANCE
Plus
Crisp detail and open-sounding midrange
Immersive 5.1 performance
Stylish and affordable
Minus
Cl center speaker has limited off-axis response
THE VERDICT
The name Sonus faber conjures up visions of exotic speakers priced at a level that will buy you a reasonably nice house in some places. But a full 5.1 package from the company's new Lumina line will cost you less than a modest patio upgrade.
Loudspeaker manufacturer Sonus faber was founded in the early 1980s by the late Franco Serblin in Vicenza, Italy. It's been known since then for offering superb sound with classic Italian attention to style, with products aimed at buyers for whom price was at most a secondary consideration. But in recent years the company has tested more affordable waters, particularly in its home theater offerings, with the latest addition to its lineup, the Lumina Collection, designed to appeal to a wider range of listeners with real-world budgets.
Sonus faber's Lumina series consists of three models, all of which I used in the system under review here. The Lumina III floorstander is a three-way design that consists of two 5.9-inch paper-cone woofers, a 5.5-inch paper-cone midrange, and a 1.1-inch soft dome tweeter. (A similar tweeter design trademarked DAD, for Damped Apex Dome, is also used in some of the company's more upscale designs.) The center of the tweeter's dome is gently restrained to keep it from moving in a different direction from the rest of the dome which, should it happen, can affect performance. (This damping technique, though relatively rare, is also used by other manufacturers but under different names.)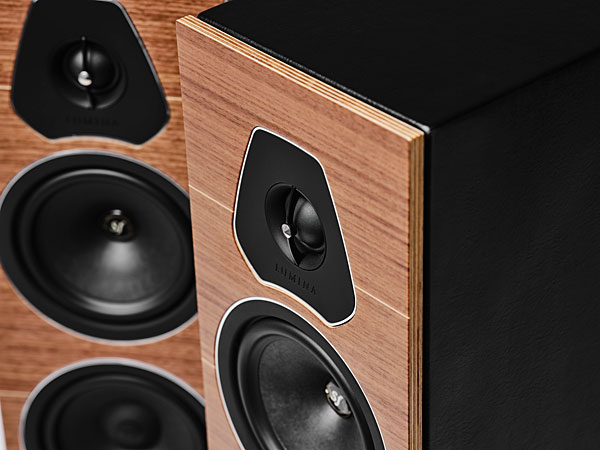 The Lumina CI center is a two-way design with its DAD tweeter flanked by two 4.7-inch woofers. A pair of the tiny Lumina Is, used here for surrounds, is also marketed as a two-way speaker for modest two-channel systems (though at $900/pair, not too modest!). These employ the same DAD tweeter, together with a 4.7-inch paper-cone woofer. The Lumina III crosses over at 350Hz and 3.5kHz, while the Lumina I and Lumina CI both cross over at 2kHz.
All Lumina models use ported cabinets. In the CI and I, the ports radiate from the bottom via sturdy, black plastic fixtures. The Lumina III, however, uses a conventional port firing from the cabinet's bottom. The III's wood base, or plinth, not only stabilizes the cabinet but also forms part of the port length and shouldn't be removed.
The III also comes with spikes that set the plinth high enough off the floor to let the port breathe. This is where I encountered my only setup issue. Since my speakers sit on a room-sized carpet with a hardwood floor beneath it that I'm careful not to scratch, dent, or puncture, I don't use spikes. (Sonus faber includes protective spike footers, but for me using them wasn't practical, as I'd have to fish around blindly under the carpet to position them accurately.) Instead of the spikes, I installed aftermarket speaker outriggers that I've used for a number of other reviews. These raised the Lumina III high enough to comfortably clear the port, further stabilizing the speakers (but not as rigidly as spikes would), and allowing for slight tilt adjustments. (Similar but not identical footers are available from Parts Express.)
The Lumina speakers come with magnetically attached grilles. A quick measurement indicated that the sonic effect of the grilles was minimal. Nevertheless, I removed them for all of my subsequent listening and measurements.
There are no subwoofers specific to the Lumina range, but Sonus faber sent us its Gravis II subwoofer, a model employing a down-firing 10-inch woofer driven by a 350-watt (continuous) class-A/B amplifier plus a front-firing 10-inch passive radiator. Its specified response is from 25Hz up to the low-pass filter setting. Connections and controls are relatively standard and minimal: Hi/Low line-level input with level control, a separate LFE line-level input with its own separate level control, and a two position (0- or 180-degree) phase switch. There's also an Auto-on switch that activates the sub when it senses low frequency information and a main power switch. The sub's speaker-level input uses a Speakon jack—an unusual feature in a consumer product, though an adapter is provided.
I found the Gravis II's LFE input superfluous for home theater applications and only used the Hi/Low input. The latter offers continuous low-pass settings from 30Hz-120Hz, but there's no defeat switch for this, so it will operate together with whatever subwoofer low-pass settings you choose on your AVR. Such a tandem configuration isn't generally recommended, but when I set this control to its 120Hz maximum and used different (lower) frequencies for my AVR's own crossover settings, the combination didn't produce any audible issues.
All of the Lumina speakers, and the Gravis subwoofer as well, carry a "Made in Italy" label, but I wouldn't assume this means "Made Entirely in Italy." (As far as I could determine, Italian export law has a separate "100% Made in Italy" rating. But the latter is difficult to achieve in today's tech-heavy world.) Nevertheless, it's safe to assume that the Luminas were designed and engineered in Italy, with many key parts and perhaps the final assembly originating in or near Sonus faber's headquarters.
Style is a major concern for Italian-made products, and the Luminas are no exception. While keeping costs in check demanded rectangular cabinets free of the swoopy curves found in Sonus faber's pricier offerings, the Luminas lack for little in the looks department. The top and sides are wrapped in soft black leather, and the birch ply front baffles are finished in your choice of Piano Black, Walnut, or Wenge. Matching trims are also available for the Gravis II subwoofer.
Setup
I positioned the Lumina IIIs nine feet apart and roughly four feet out from the back wall with the Lumina CI centered between them on a low stand. The IIIs were angled in toward the center listening seat and tilted just enough upwards to accommodate a seated ear height that's slightly above the tweeters. The two Lumina I speakers I used as surrounds were positioned in the rear of the room a bit further back and higher up than classic Dolby recommendations due to room limitations. The Gravis II subwoofer was positioned behind the main listening position—a location that has previously provided good response in my room for a single-sub system configuration—and connected wirelessly using an SVS Soundpath adapter.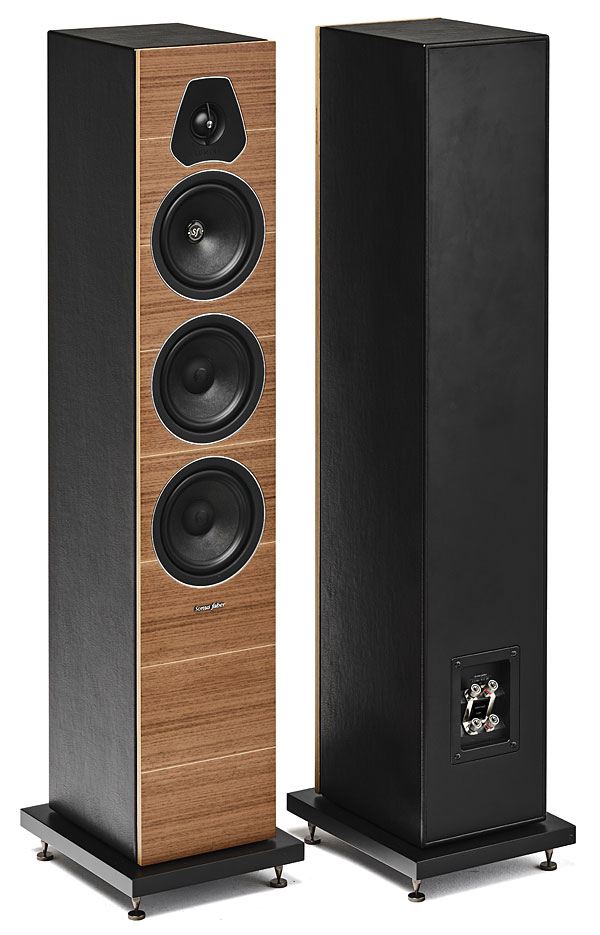 A Denon AVR-X6700H A/V receiver was used to drive the Lumina system. All the source material was lossless and included CD, Blu-ray, and Ultra HD Blu-ray discs. The disc players were an Oppo UDP-203 for movies and a Marantz UD7007 for stereo music.
Music Performance
I started out my evaluation by listening to music with the two Lumina IIIs driven full-range with no subwoofer. As I've mentioned in previous speaker reviews, my room is very large in cubic feet and provides no significant deep bass support. That's been a concern with every speaker I've reviewed in this space and the Lumina III was no exception. Even with a significant boost from the Denon AVR's 63Hz graphic EQ control, the response at the main listening position was down by several dB at 50Hz and fell off rapidly below that point. The resulting bass was impressively clean and tight, but not fully satisfying on music with a strong bottom end. Nor is such a bass boost a good idea in a very large room. After only a few selections I dialed in the Gravis II subwoofer and didn't look back. In a smaller room the Lumina III might well offer deep enough bass to not require bass boost or a subwoofer, but despite being a floorstander it's still a relatively small speaker.