Polk Audio Reserve Surround Speaker System Review
PRICE
$3,195 (as tested)
AT A GLANCE
Plus
Crisp, near full-range performance
R900 module delivers immersive sound
Impressive build quality for price
Excellent value
Minus
Revealing sound can be slightly bright with some sources
THE VERDICT
Packed with tech developed for Polk Audio's flagship Legend series, this Reserve series speaker package delivers dynamic and immersive sound at a budget-friendly price.
Back in 2019, Polk Audio rolled out its Legend series speakers. For a brand known to maintain a laser-like focus on value, the Legends, with their finely constructed cabinets (featuring real wood veneer) and fully redesigned driver complement, not to mention an enhanced version of the company's SDA (Stereo Dimensional Array) technology in the line's flagship L800 tower, seemed an atypically cost-no- object offering. Even so, this being Polk Audio, the Legend series was priced substantially less than flagship speakers from many other brands, but also more than a typical Polk customer might expect to pay.
Fast-forward two years and Polk Audio has rolled out its Reserve series, a follow-up to the Legends that incorporates the same advanced drivers developed for those flagship speakers, along with some new technologies developed to optimize performance in a less swanky cabinet design. According to Polk Audio, the main goal was to take every- thing good about the Legend series and port it over to a significantly lower-cost speaker line, making the advanced tech featured in its premium speakers accessible to listeners with more modest means.
The key components the Reserve series shares with the Legends are Polk Audio's next-generation Pinnacle Ring Radiator tweeter and Turbine cone drivers. I covered both in my review of the Legend L800 towers but will provide a brief recap here. Unlike conventional dome tweeters, Polk Audio's design uses a ring-shaped diaphragm with internal and external waveguides. The benefits to this design, according to the company, are the elimination of the "break-up modes" characteristic of domes along with smoother high frequency response due to the wave- guides. A sealed cavity behind the tweeter also affects the linearity of its response through the use of damping material that specifically reduces ringing at the 2.5kHz frequency.
Polk Audio's distinctive Turbine woofer features a foam- core polymer-injected cone with an asymmetric geometry. According to Polk, this combination damps break-up modes without added mass and also reduces resonances characteristic of the smooth cone woofers typically used for bass and midrange drivers.
What's new for the Reserve series? The patented Power Port featured in the company's Legend series speakers has been upgraded to version 2.0. This next-gen tech, available in the Reserve R600 and R700 towers, uses a new port tube along with a revamped base design that positions the port diffusor closer to the floor to, in Polk's description, make the floor "part of the Power Port." The new design also minimizes the visual impact of the bottom-mounted port and uses an aluminum plate and outrigger feet to enhance stability and aesthetic appeal. Further on up the port tube in Reserve series towers lies another enhancement: X-Port. A proprietary filter designed by Scott Orth, Polk Audio's Head of Audio and Acoustics, X-Port uses something called an Eigentone Filter that can be tuned to cancel resonances at multiple frequencies within the port. According to Polk, X-Port effectively eliminates "unwanted noise, even at high volumes."
While Reserve series speaker cabinets lack the lavish construction and wood-veneer finishes found in the Legend series, the company says they are "precisely engineered to minimize unwanted internal standing waves and eliminate unwanted resonances." To that end, a complex network of internal point-to-point bracing can be found inside Reserve series speakers. Each model in the R600 tower-based system I was sent to review sports a smooth, attractive black finish (walnut and white finishes are also available), with rounded-off corners and dark gray mesh grilles that nicely complement the cabinets.

At just 11 inches wide, the two-way R600 tower is appealingly slim, blending easily into the background when I dimmed the lights for movie viewing. Along with its 1-inch Pinnacle Ring Radiator tweeter, it features a pair of 6.5-inch turbine cone woofers and has a specified 35Hz-50kHz frequency response. Sensitivity is 87.5dB, allowing it to be driven to loud-enough levels by even modest-powered receivers. Connections are made via nickel-plated five-way binding posts on the tower's bottom rear panel, while adjustable rubber spikes on the aluminum outrigger feet allow for precise height leveling on uneven floors.
Polk also sent along its R900 module ($499/pair) for Atmos and DTS:X height effects, a compact, sealed design that fits on top of Reserve series tower speakers as well as the R200 standmount/bookshelf speaker. The R900 features a 0.75-inch version of the Pinnacle Ring Radiator tweeter and a 4-inch Turbine cone woofer. Keyhole slots on the back panel allow for wall-mounting, and there's
a switch that optimizes the speaker's output for on-speaker and on-wall installations.
There are three center speaker options in the Reserve family, including a low-profile LCR and the compact R300 model ($399). The R300 features a pair of 5 1/4-inch turbine cone woofers flanking its Pinnacle Ring Radiator tweeter, which is vertically offset from center. According to Polk Audio's Orth, this offset tweeter placement reduces diffraction issues, with the varied distances from the sound source to the edges of the cabinet helping to smooth out the response. Unlike the top center speaker in the Reserve line, the R400 ($599), the R300 has sealed cabinet, a factor that likely accounts for its lower sensitivity rating compared with the R400 (86.5dB vs. 89dB), which features dual rear X-Ports.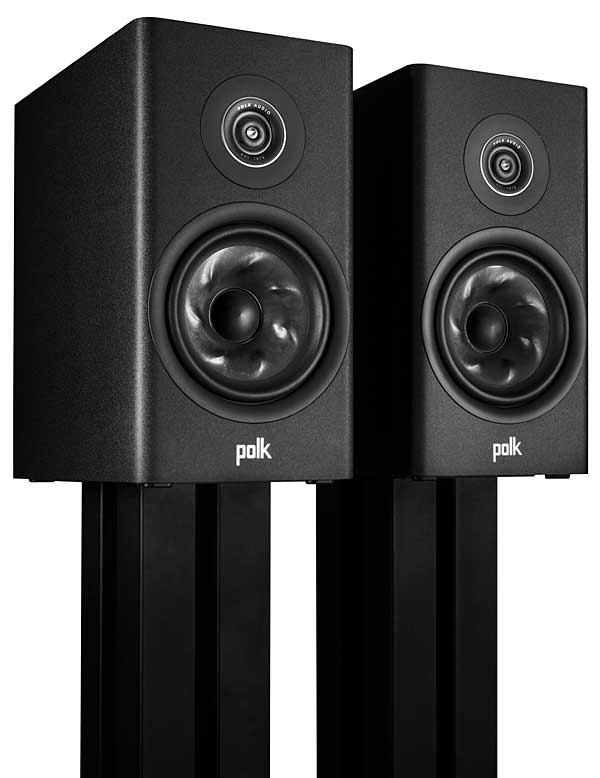 Polk included a set of its R200 standmount/bookshelf speakers ($699/pair) to use as surrounds. The R200 pairs a single 6.5-inch Turbine cone woofer with its 1-inch Pinnacle Ring Radiator tweeter and, with a rated 39Hz-50kHz frequency response, is spec'd to deliver better-than-average bass extension for a bookshelf model. A single X-Port is located on the R200's back panel, along with a set of nickel-plated five-way binding posts.
Setup
I tested the Reserve system in my 12 x 9 x 16-foot home theater room, but later moved the R600 towers and R200 bookshelf speakers to my slightly larger living room for a stereo-only evaluation with music. The R600 towers were installed at either side of an 80-inch-wide projection screen with the R900 height modules placed on top, and the R300 center speaker on a low stand below the screen and angled up toward the listening position using rubber feet. I placed the R200s on high speaker stands in the corners of my room behind the couch and angled them in at the main listening position.