Enclave Audio CineHome PRO Wireless Home Theater System Review
PRICE
$1,600
AT A GLANCE
Plus
Easy, app-driven automatic setup
Good audio quality via hi-res wireless WiSA platform
Simple and intuitive control app
Minus
Lack of A/V switching may be an issue for some systems
No included remote control or learning feature
No decoding or full-resolution transmission of DTS-HD or Dolby TrueHD bitstreams
THE VERDICT
Enclave's THX-certified wireless system delivers highly dynamic and enjoyable surround sound in an easy-to-install and use package...though it comes at a price.
When I was a trade reporter many years ago, I wrote an article about the skyrocketing sales of packaged home theater audio systems. Inside each box was a rudimentary A/V receiver, five or six speakers (typically compact satellites in plastic cabinets), color-coded speaker cables, and graphic instructions to get things hooked up. The article's big takeaway was that the brands selling these (Sony, Panasonic, et. al. ) had discovered that many buyers either left the rear surround speakers in the box or wired them up and placed them on top of the front left- and right-channel speakers. (Hey—the more speakers the better, right?) The bottom line was that nobody wanted those damn cables running along the walls to the back of the room. So, the most demonstrable benefit of having a surround-sound system—surround sound—was eschewed by consumers who'd actually paid for it. Eventually, the audio industry just called it a day for those box systems and invented the soundbar.
Which brings us to the Enclave Audio CineHome PRO, a 5.1-channel wireless home theater system that fully eliminates the need to run speaker cables to the rear surrounds—or any speakers—and does so with superb reliability. At $1,600 it's not cheap, but it does offer substantial build and sound quality, and is the first WiSA-wireless powered home theater system to achieve THX certification. (I'll say more on WiSA in a moment.)
Enclave may be an unfamiliar name, though some readers will recall Sound & Vision's 2016 review of the company's CineHome HD WiSA system. That model was replaced last year by two redesigned systems, the CineHome PRO and the $1,100 CineHome II. The key differences beside THX certification in the PRO are the height of the thin, column-style satellite speakers and the system's total number of drivers (23.6 inches vs. 15.75 inches; 14 drivers total vs. 12), the driver size for the powered sub (10-inch vs. 8-inch), and the design of the surrounds (bipoles in the CineHome II).
Both systems are tagged on Enclave's website as the "CineHub" edition, a reference to the small, 7 x 1.6 x 5.1-inch (W x H x D) black box that serves as the system's brain and connection point for source components. The CineHub has three inputs on it: an eARC/ARC-enabled HDMI port, a Toslink optical, and an analog stereo mini-jack. There's also Bluetooth for streaming music from your smartphone.
The CineHome PRO's speakers are solid and offer a modern design in matte black with brushed silver top or end caps (metal on the LCRs, plastic on the surrounds). The front LCR cabinets are made of MDF, while the rear surrounds are a high-density molded plastic; both materials emitted a non-resonant, confidence-inducing thunk on a knuckle-rap test. Each of the nearly two-feet-tall front-channel LCRs has a pair of 3-inch paper-composite midwoofer drivers surrounding a 1-inch cloth dome tweeter in a classic D'Appolito array; there's also a pair of forward-facing ports to improve the bass response. The surrounds are shorter at about 16 inches and feature a single matching midwoofer and tweeter, along with a single port. Each speaker contains its own built-in class-D amplifiers, with no power rating specified. But a key advantage of any multi-driver powered speaker is that engineers are able to use digital crossovers and processing to fine-tune the sound in a way that's not possible when designing conventional passive speakers for which the amplifier match is unknown. The subwoofer uses a 10-inch paper-composite cone supported by a hidden downfiring port.
Each speaker in the system requires a connection to 110-volt AC power. And that's it—the audio signals are handled using WiSA wireless communication. WiSA stands for Wireless Speaker & Audio, an association of hardware manufacturers embracing the same wireless communication standard that allows an audio link of up to 24-bit/96kHz resolution with near-zero latency across as many as seven channels plus the ability to support up to 5.1.2 Dolby Atmos. The system generates its own wireless network in the 5 GHz band to avoid interference from traditional household Wi-Fi. The WiSA standard has a good track record for signal quality and reliability; several big brands now sell interchangeable WiSA-enabled products, including Klipsch, Bang & Olufsen, Harman Kardon, and TV-maker LG.
In the case of the CineHome PRO, the CineHub sends uncompressed 24-bit/48kHz hi-res audio to the individual speakers, and it supports stereo or multichannel soundtracks encoded in Dolby Pro Logic, Dolby Digital, Dolby Digital Plus, DTS 5.1, or standard uncompressed LPCM. The Dolby TrueHD and DTS-HD formats, which offer higher 24-bit/96kHz resoution, are not supported. But given the likely target customer for this product—not the demanding enthusiast—it's hard to imagine those formats being missed.
Noticeably absent from the box is a conventional remote control. In its place Enclave has an app that automatically configures the setup and allows full operation. It also has a Settings page that lets you tune speaker levels and distance to optimize the surround bubble as you'd do on any AVR. The app was intuitive and worked reliably, though if you utilize the CineHub's HDMI-ARC connection (and your display's HDMI-CEC functions work correctly), you should be able to use your TV's remote to control volume day-to-day. Still, that won't work if you're using the CineHub's optical or analog input or need to switch among these, and having to keep a smartphone handy to boot an app just to turn the system on or off or control volume is a pain—and not something most family members will embrace. As another alternative, the CineHub will respond to Harmony universal remotes, and the small remote supplied with Enclave's first-gen system is available as a $15 accessory. But the remote should rightfully ship with a system at this price, and there could ideally be an IR learning function to teach the CineHub to respond to a TV or set-top box remote regardless of the input used—something Enclave says it's working on for a future firmware update.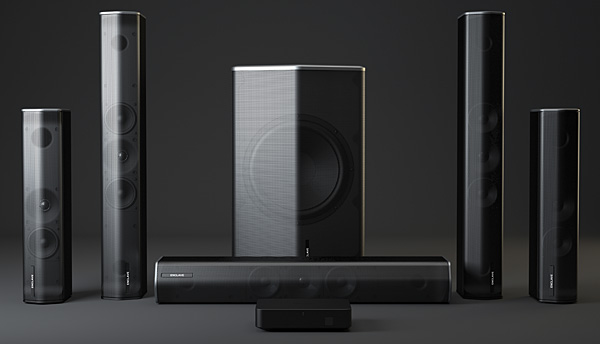 Setup
It took way longer to just position the CineHome speakers for my audition than it did to fire up the app and get the system working. Except for the squat center channel, the speakers are intended for vertical orientation and have a small footprint that makes them somewhat unstable—something to consider if you have toddlers. I set the left and right channels on speaker stands straddling my 100-inch projection screen and put the rear surrounds behind my couch on another set of stands that situated them at ear height. I locked each of the columns down using a couple of strips of super-sticky double-sided 3M foam tape intended for outdoor signage (15-pound strength). The center speaker went on a stand below the screen and the sub in my usual spot in the front right corner of the room. All the speakers and CineHub were fed off a couple of power outlets on the same 15-amp circuit in my studio, which simultaneously powered my projector and source components, a space heater, and all the LED room lighting. Even with the system running full tilt I never tripped the breaker.