Monoprice Monolith THX-365T 5.1.4 Speaker System Review
PRICE
$2,900 (as tested)
AT A GLANCE
Plus
Lively and dynamic sound
Optimized for movies
Outstanding value for money
Minus
Awkward form factor
Drab cosmetic
THE VERDICT
By combining the benefits of both THX certification and Dolby Atmos, this superb high-value home theater speaker package from Monoprice knocks it out of the park.
What's in a name? If visions of $10 HDMI and iPhone Lightning cables pop into your head when you hear the name Monoprice, you should know that the company introduced the premium Monolith brand a few years back to move beyond its image as an online peddler of low-cost cables. Think of Monolith as being a bit like Genesis is to Hyundai: a fresh name free of the parent brand's bargain basement associations.
The Monolith brand portfolio mostly consists of amplifiers, headphones, and subwoofers. For the first complete line of speakers to sport the Monolith name, Monoprice has taken a surprisingly focused approach. Instead of creating speakers that would appeal to a wide array of customers, they have aimed straight for the dedicated home theater enthusiast with THX Certified speakers that support Dolby Atmos.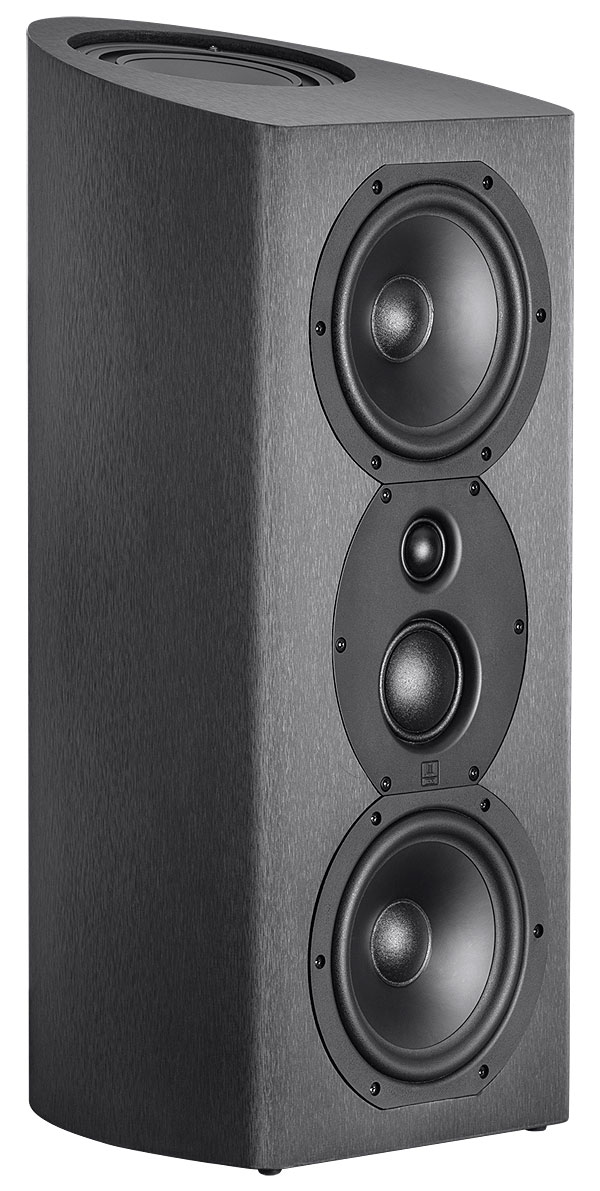 When I worked in a high- end audio store back in the early 1990s, customers would eagerly snap up THX Certified speakers from brands like Snell, Bowers & Wilkins, and JBL Synthesis for their fancy home theaters. While such speakers have to meet exacting standards for frequency response, power handling, distortion, and dispersion, their deliberately restricted bass extension means they need to be paired up with a subwoofer to get full-range sound. That's fine for getting loud volume levels and clean dynamics with action movies, but maybe less than ideal if you prefer a more purist approach for two- channel music listening. For that reason, a "blended" strategy eventually became popular, one combining conventional speakers capable of standing alone for music listening paired with THX Certified receivers and subwoofers that could deliver the punch needed for action movies.
More recently, the arrival of object-oriented Dolby Atmos and DTS:X soundtracks caused the high-end home theater loudspeaker landscape to shift again. The result has been some pretty unwieldy solutions that use separate top-mounted speaker modules or ceiling-mounted speakers to handle overhead effects. And then there are "integrated" models like those in the Monolith THX-365T-based system under review here: speakers that make things simple by incorporating both front- and upward-firing drivers.
All of the Monolith THX speakers have sealed cabinets made from high-density HDF, the stiffer cousin of the more common MDF (medium-density fibreboard). To further enhance rigidity, the side walls are curved to form a rounded point at the rear, while the lack of flat parallel surfaces helps to minimize standing waves inside the enclosure. With weights ranging from 21 to 28 pounds, these are solidly constructed hunks of speaker. Their textured black vinyl finish may not win any beauty contests, but the curved sides and sloping tops make the Monoliths look a bit like the evil cousins of the exotic and beautiful speakers made by the Italian manufacturer Sonus Faber. The included grilles are magnetically attached to eliminate the ugly peg holes found on some speakers, although the grilles themselves use a slightly old-fashioned-looking black fabric stretched over an MDF frame.
Monoprice calls the Monolith THX-365T ($500/each) that I used as the system's front left/ right speakers a "mini tower," but unlike most towers, it's not tall enough to sit directly on the floor. On the other hand, it's also kind of big and unwieldy when placed on a speaker stand. I dug up a pair of sturdy 22-inch stands that positioned the tweeters at the optimum height for my viewing/listening seat, but the speakers still looked kind of awkward perched in the air like that. A dedicated stand tailored to match the THX-365T's non-standard size would be a nice option for Monoprice to consider.
Both the 365T and the smaller THX-265B ($350/each) that I used for surrounds are effectively two speakers in one, with conventional forward- facing drivers for the main channel, plus an additional upward-firing 5.25-inch coaxial driver sitting on the cabinet's sloped top. The latter delivers the spatial cues in an immersive Atmos or DTS:X soundtrack by aiming the sound upward so it reflects off the ceiling and lands near the listening area. Two pairs of binding posts are provided: one for the main forward-facing speaker, and a second that delivers the Atmos height signal.
The 365T has a total of six drivers, including two 6.5-inch woofers flanking a 2-inch soft dome midrange and 1-inch tweeter for the main forward- facing array, and a 5.25-inch woofer with a 0.6-inch silk dome coaxial tweeter for the upward- facing Atmos array. The smaller 265Bs and THX-356C ($400) center speaker are similar to the THX-365T in many ways, but with a few simplifications. The 265B loses the second woofer and dome midrange driver of its bigger brother, while the 365C center speaker is essentially like a 365T flipped onto its side, but minus the Atmos driver, and with the midrange and tweeter array rotated 90 degrees so it's optimized for horizontal placement.