Paradigm Monitor SE 3000F Speaker System Review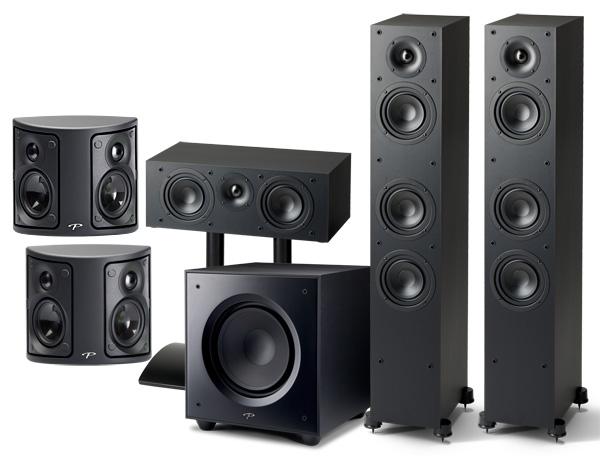 PRICE
$2,144 (as tested)
AT A GLANCE
Plus
Impressive performance for price
Surround speakers provide flexible installation options
Subwoofer with app control and room correction
Minus
Basic build quality and looks
THE VERDICT
This entry-level Paradigm speaker package delivers performance reminiscent of the company's higher end models, along with a few sophisticated and well-considered features.
Canada's Paradigm offers a truly impressive range of speakers for audiophiles and home theater enthusiasts alike. The company makes so many speakers, in fact, that I sometimes have trouble keeping track of what's what in the Paradigm lineup. With luscious, hand-lacquered cabinets and Beryllium drivers, the Persona line is the flagship offering, one that Sound & Vision reviewed in a 5.1-channel configuration in our September 2017 issue. While we found plenty to like about that Persona rig, at $31,000 it clearly represented a luxury purchase. Fortunately, the Paradigm family also includes speakers aimed at budget-conscious listeners, such as the Monitor SE series.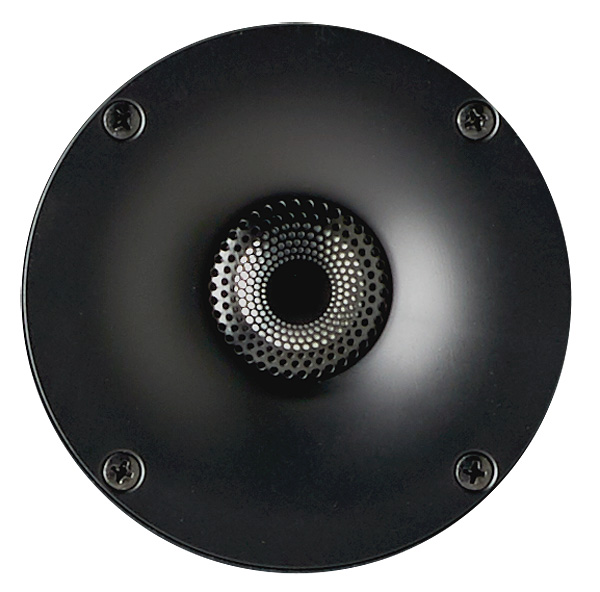 As you might expect from an entry-level offering, the Monitor SE line mostly sticks to the basics. In this case, that means simple, yet solid MDF cabinets in either a matte-black or high-gloss white vinyl finish. Although the look of Monitor SE speakers may be basic, the line does borrow elements from the company's pricier offerings such as an X-PAL aluminum-dome tweeter and Perforated Phase- Aligning (PPA) Lens, a metal shield that serves to protect the tweeter and, according to Paradigm, smooth output by "blocking a wide range of out-of-phase frequencies."
The system that Paradigm opted to send me consisted of Monitor SE 3000F towers ($698/pair), a Monitor SE 2000C center channel ($199), Surround 1 surrounds ($598/pair), and a Defiance V12 subwoofer ($649). Do the math and that all adds up to $2,144—a reasonable price to pay for a system of this caliber.
Getting down to details, the smaller of the Monitor SE line's two towers, the 3000F, stands about 40 inches high. A 3-way ported design, its slim, 9-inch-wide cabinet holds a pair of mineral-filled 5.5-inch polypropylene cone woofers, a single 5.5-inch polypropylene cone midrange driver, and a 1-inch aluminum dome tweeter (with PPA Lens). Paradigm's frequency response spec for the 3000F is 55 Hz - 21 kHz (±3dB). The two-way 2000C center channel features a similar driver configuration to the 3000F, minus the midrange. Dual ports are located on the back, which likely accounts for the 2000C's 93-dB efficiency spec (the 3000F is rated at 91dB). Both models feature a single set of gold-plated multiway binding posts.
The Surround 1 surround speakers that Paradigm sent along with the Monitor SE system are a new offering that features a bi-directional driver array. Designed for on-wall mounting, the Surround 1 has identical sets of 4.5-inch aluminum cone mid- bass drivers and 1-inch aluminum dome tweeters (with PPA Lens) located on either side of its curved baffle. Paradigm suggests that the expansive, non-localized sound the Surround 1 delivers makes it a good fit for spaces with non-ideal dimensions—including narrow rooms like mine where the side surrounds will be mounted near the seating area.
The Defiance V12 subwoofer is the step-down model in the Defiance series from the X12 model ($1,299) that we covered in our Paradigm Premier series system review (February/March). Like the X12, the V12 features a 12-inch driver, a slot for an optional wireless connection module, app control, and compatibility with Anthem Room Correction (ARC). The main difference between the V12 and the X12 (aside from a considerably lower price) seems to be a less powerful class-D amplifier (120 watts RMS, 250 watts dynamic peak). The V12's also lacks the X12's Active Ridge Technology (ART) surround, a driver enhancement that Paradigm says results in increased output and a 50 percent reduction in audible distortion.
Setup
To test out the Monitor SE system, I first placed the 3000F towers and Defiance V12 subwoofer in my living room stereo system. The towers were situated 9 feet apart and a foot out from the back wall, while the sub sat in the left front corner where subs typically sound best in that room. For phase two of my testing, I moved the towers to my smallish 12 x 9 x 16-foot (W x H x D) home theater room, placing them at either side of my 92-inch diagonal (80-inch wide) projection screen with the 2000C centered between them on a low stand. The subwoofer ended up in the front of the room positioned between the right- channel 3000F and the 2000C, while the Surround 1s were placed on high stands at the left/right sides of the seating area.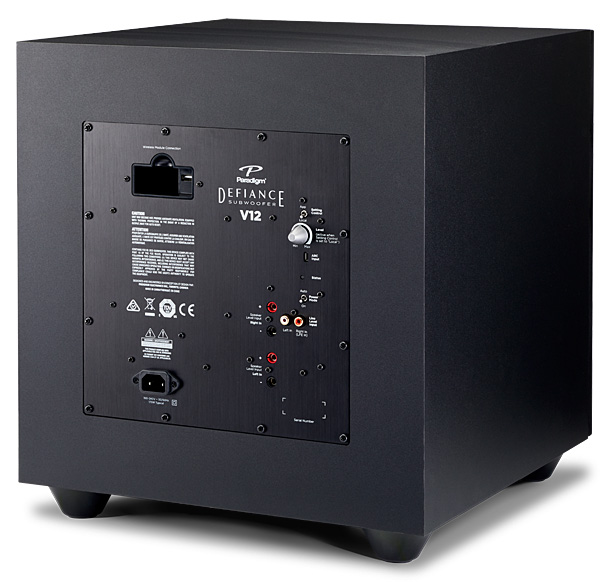 So far, so simple. The only setup step that required a modicum of brainpower was to download Paradigm's Subwoofer Control and ARC apps to my iPhone and configure the V12 subwoofer for both music and movie room installations. Both apps use Bluetooth LE (Low Energy) to connect to the subwoofer. Once a link has been made, Subwoofer Control offers Music, Movie, and Night EQ modes, along with volume, low pass filter (variable in 1-Hz steps from 30 to 120 Hz with third order, fourth order, and filter bypass settings), phase (variable in 1-degree steps from 0 to 180 degrees, with a polarity inversion setting), and Deep Bass Level (adjustable in 1dB steps from -10 to +10 dB).