Aperion Audio Novus 5.0.2 Speaker System Review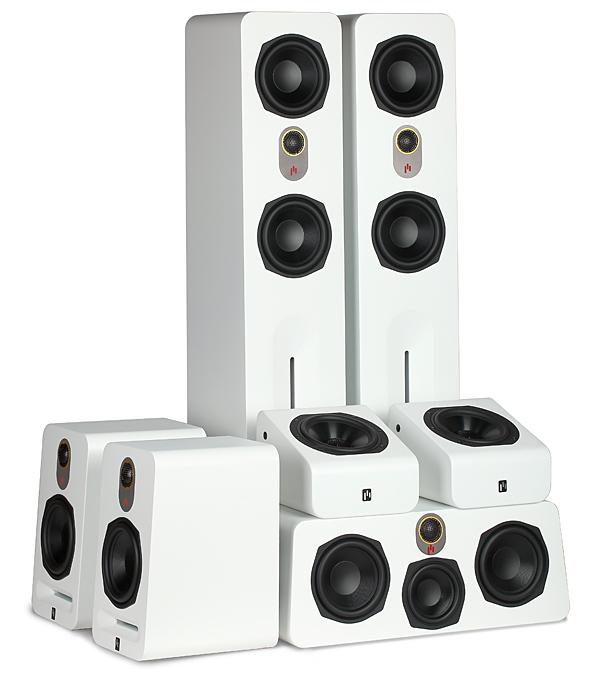 PRICE
$2,995
AT A GLANCE
Plus
Natural dialogue
Detailed without sounding aggressive
Great value
Minus
Limited deep bass
THE VERDICT
This Aperion Audio Novus system delivers great sound with music and, when combined with a good subwoofer or two, enough visceral thrills to keep up with the most sonically ambitious movie soundtracks.
Aperion Audio had a dilemma. Its flagship speaker line, the Aperion Verus III, costs considerably more than its entry level Intimus range, with the $2,500 flagship Verus III Grand tower selling for nearly three times the price of the $800/pair Intimus 5t tower. Both are bargains in high-end audio's accelerating race to the top, but buyers who might spend more than $800 aren't always keen about making a $2,500 commitment, not to mention the added outlay needed for a full home theater speaker setup. Enter the company's new Novus range, which at $1,400/pair for the Novus towers neatly splits the difference between the two existing ranges.
The single Novus tower is relatively short for a floorstander and is available in two satin finishes: Pure White or Stealth Black. It comes with small outrigger feet already attached—no assembly required. Floor spikes are included. At a light 27 pounds, the tower is easy to carry around, but sturdier than this weight might suggest.

The tower's front baffle has a subtle backward slope. Two 5.25-inch aramid-fiber cone woofers and a single 1-inch silk-dome tweeter, plus a long, vertical slotted bass port, occupy most of baffle's real estate. The woofers and tweeter are arrayed in a vertical woofer-tweeter-woofer layout, often called (though not always correctly) a D'Appolito configuration. The tweeter has a non-removeable perforated grille to protect it from small, curious fingers. A removeable, magnetically attached grille is also included to conceal all three drivers if desired.
Around back is a single pair of three-way binding posts, plus a unique adjustment feature Aperion calls "Room Tuning," though that name might be a little grandiose. It consists of a small plug that straps across a second set of posts just above the input pair. Out of the box, response is nominally flat, but remove the strap and the tweeter level is reduced by 3dB. That's a bit extreme for me (I'd prefer -1dB, and/or -2dB adjustments), but it might be useful in some setups.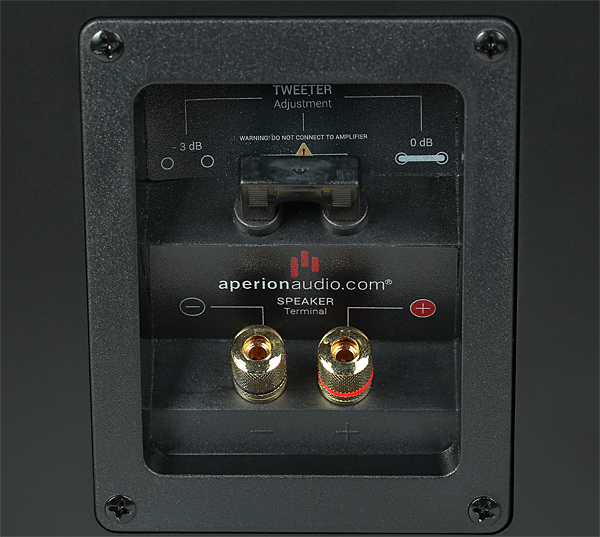 The small Novus bookshelf speaker is best suited for surrounds. That's how I used it, but it could also be deployed as a front-channel speaker together with a subwoofer. The bookshelf model offers many of the features found in the larger tower, including the same tweeter and 5.25-inch woofer (a single one in this case), slot-loaded front port, and sloped baffle (more obvious here than on the tower). It also has the same rear connections and Room Tuning plug.
I've always been a big proponent of three-way center channel speakers. The more common two-way design, where a pair of woofers flank the tweeter, is always a compromise regardless of price. And don't get me started on using a "phantom" center, an even worse option that only works for a listener positioned dead center. (A center speaker carries a far heavier load than just dialogue.) The best center speaker, of course, is a third model identical to the left and right speakers, but when used in a system with a flat-panel TV, it can block the picture!
Of course, a three-way center speaker will always cost more, which is why two-ways are more common. But Aperion has consistently offered three-way centers, even in its budget lines. The small Novus Center Channel is a classic three-way, sealed design, with two woofers horizontally flanking a vertically arrayed midrange and tweeter—a layout that offers more uniform off-axis response than two-way designs. The same drivers used in the Novus tower—two woofers and a single tweeter—are supplemented in the Novus Center Channel by a 4-inch midrange similar in design to the woofers apart from its smaller size.
I didn't request a subwoofer with the Novus speakers. I reviewed Aperion's Bravus II 12D sub for Sound & Vision two years ago, together with Aperion's flagship Verus Grand III surround speaker system (review available at soundandvision.com). The Bravus II 12D was a solid performer at a good price, but a single sub isn't quite up to the challenges of my new, very large, open-concept room, and since I already had a pair of SVS SB-3000 subs on hand for another project. I used the two SVS subs for this review, except when I listened to stereo music on the Novus towers alone.
Aperion also sent us its A5 immersive audio modules. Although a bit pricey at $500/pair, these are nonetheless beautifully built, sealed-box designs featuring a slick- looking, coincident driver (5.25-inch aluminum-coned woofer and 1-inch silk dome tweeter). While they're sized to fit atop the Novus towers and bookshelf models and sloped to reflect overhead audio information off the ceiling, they also include threaded inserts for on-wall or even on-ceiling use as well.
Setup
I set up the Novus Towers as I do all speakers: about 3.5-feet from the closest walls and angled toward the main listening seat. The towers were positioned roughly 9 feet apart, 11 feet