Dali Oberon 5.1 Speaker System Review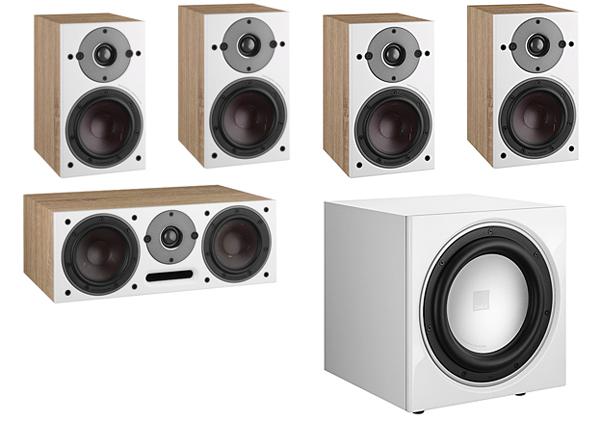 PRICE
$2,546 (as tested)
AT A GLANCE
Plus
Balanced sound with effortless treble
Solid bass extension
Impressive performance from compact subwoofer
Minus
Center speaker can sound slightly chesty when listening off-axis
THE VERDICT
DALI joins the pantheon of excellent compact, affordable 5.1 speaker packages with this system based around the overachieving Oberon 1.
Over the past 25 years, the Danish Audiophile Loudspeaker Industries company has grown from a small and relatively obscure maker (in the U.S. market, at least) to a much more major player in the world's crowded loudspeaker arena. The Danes' latest move toward the broader marketplace is the Oberon series, an affordable range consisting of two towers, two bookshelf/standmount models, one on-wall, and one center- channel—all two-way, vented- enclosure designs. We sampled a system comprising two pairs of the smallest bookshelf model, the Oberon 1 ($599/pair), for fronts and surrounds, the Oberon Vokal center speaker ($549), and the SUB E-9F ($799), a compact powered subwoofer with a 9-inch driver.
DALI's top claim for the new family is that it extends its proprietary SMC woofer design to an accessible entry level tier. SMC (soft magnetic compound) is a non-ferrous magnet material that's deployed in the Oberons as a sort of pole-piece "cap." Its prime virtue is said to be a substantial reduction in net woofer distortion (especially third-harmonic) by reducing the mechanical errors induced in more conventionally conductive iron (ferrite) magnet materials, including hysteresis and eddy-current non- linearities. DALI also employs a slightly larger tweeter (roughly 1 and 1/6 inches in diameter versus the more typical 1-inch version), which is said to permit a slightly lower crossover frequency. (Puzzlingly, though, according to DALI's printed specs, the Oberon 1 crosses over to the tweeter at 2,800 Hz, which is actually a couple hundred cycles higher than many similar two-ways, including Oberons further up the same range, two of which employ larger mid/woofers.)
Visually, the Oberon 1 proved to be a fairly typical small two-way, albeit a particularly nice-looking example. The lighter two (white and light-oak) of four available finishes get very attractive tweedy medium-gray grilles, while black and walnut get black knit ones. Despite their affordable price, the Oberons are well finished, with an unusual textured woodgrain, "floating" baffles, and high-tech- looking tweeter surrounds. Around back you'll find very decent-quality multi-way binding post terminals, the cabinet port, and a tiny serial- number label that somewhat coyly reads, "Designed and Engineered in Denmark. Manufactured in PRC." There's also a keyhole slot for wall- mounting, for which case the brief owner's manual directs you to place the stick-on rubber bumpers on the speaker's rear panel rather than the bottom. Nonetheless, I can't think that having the rear-firing port almost flush against a wall surface will deliver the cabinet-loading (or lack of turbulence noise) that the Oberon engineers had in mind.
The front-ported Oberon Vokal center speaker is of similar design and finish, but with two 5.25-inch woofers in horizontal array. The E-9F subwoofer—not a member of the Oberon family—is a bit different, with a 9-inch aluminum-cone driver in a very compact (roughly one-cubic-foot) enclosure with a down-firing port. A 170-watt switch- mode power-supply class-D amp provides the power. Our sample arrived in understated black-ash woodgrain, though light walnut and white finishes are also available (but not the Oberon's light oak).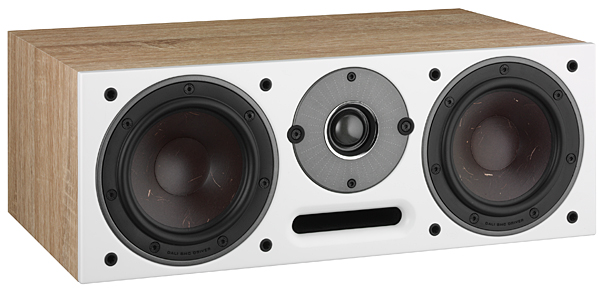 Setup And Listening
After placing the front and center Oberons on stands, the Oberon 1s used as surrounds on high flanking shelves, and the E-9F in my long-established best- subwoofer position (right-front, a few feet from the corner), I left them for a week of casual use to cover any break-in concerns. Returning for serious listening, I began as always with stereo music and the Oberon 1s running full-range and subwoofer-less.
DALI's new, relatively unpre- possessing bookshelf speaker quickly proved able to deliver everything I ask of smaller two-ways. Vocal range? Check: the usual suspects of baritone male voice (Lyle Lovett, James Taylor, et al) produced smooth, uncolored reproduction without a hint of any response discontinuity such as "honk," "cupping," or "hoo," though that's some- thing I've been led to expect of competent designs in this age of well-understood parameters and computer-aided measurement and design. Yet the Oberon 1s proved particularly adept, with a track like "The Way I," from Keb' Mo's latest, Oklahoma, (Qobuz hi-res stream) sounding open, present, and convincing.
Compared with my two long- term references, either of which is four or so times more costly in original suggested retail, the DALIs were just that tiny shade fuller, or warmer, in the middle-vocal region. However, I find this to be true of virtually all loudspeakers that eschew rigorous laboratory "flatness," which in fact sounds just a tiny bit "honkier" or tonally narrower in a direct comparison than what most of us would prefer. (This has been demonstrated by lots of speakers over the years, from the AR LST decades ago, to the long-discontinued but widely admired Energy Veritas line, a model of which serves as one of my refs.) But this is by no means a dig at the Oberon 1. On track after track, I found its vocal reproduction to be highly honest and terrifically detailed while being relaxed and easy to "listen into."