Monitor Audio Silver 300 Speaker System Review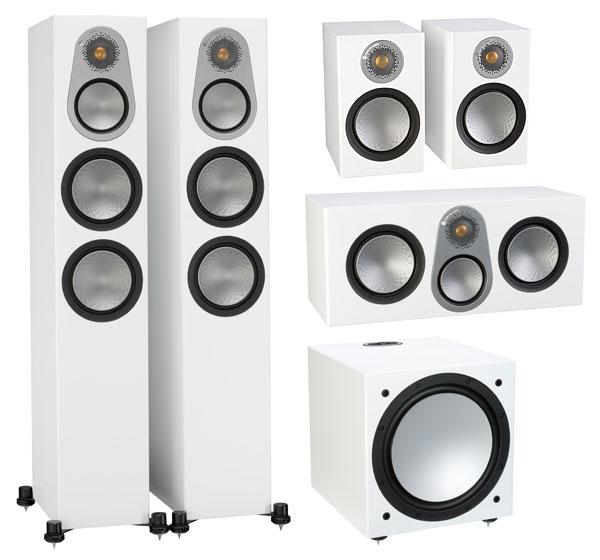 PRICE
$5,975 (as tested)
AT A GLANCE
Plus
Crisp, detailed sound
High-performance center speaker
Subwoofer with room correction
Minus
Subwoofer pricey compared with competition
THE VERDICT
Monitor Audio's revamped mid-range Silver system brings notable improvements with no notable increase in price.
In 2020 many of us will get to witness the summer Olympics in Tokyo, Japan—on TV at least. Why do I mention that in the first line of a speaker review? Because, like the medals handed out to Olympian champs, speaker lines from Monitor Audio tend to come with names like Gold, Silver, and Bronze. To take home an Olympic silver medal, you'd have to be an amazing athlete. Along those same lines, a speaker would need to provide impressive performance to merit a "Silver" moniker, which is why I unpacked this system based around Monitor Audio's Silver 300 tower speakers with great anticipation.
Sound & Vision's Thomas J. Norton reviewed the fifth generation of Monitor Audio's Silver series for the magazine back in 2014. There have been several updates to the line since that time, a key one being the addition of a larger center speaker, the C350, with a vertically aligned tweeter/midrange driver. This configuration in a center channel model allows for a better timbre match with the front left-right speakers, and it also improves off- axis performance to benefit viewers seated at either end of the couch.
According to Monitor Audio, the other changes found in its Gen 6 Silver Series include new drivers throughout the line and a ground- up tweeter redesign where the focus was on dramatically lowering distortion. Crossover networks have also been optimized to make the series compatible with a wider range of amplifiers and receivers (the new line is 8-ohm compatible, compared with the 6-ohm compatibility spec of Gen 5 Silvers).
The 300 ($2,200/pair) is a slim three-way tower that uses dual 6-inch C-CAM RST woofers. Wondering about all those acronyms? C-CAM stands for Ceramic- Coated Aluminium/Magnesium, a driver formulation that uses a lightweight alloy cone anodized with a pure ceramic layer to increase rigidity. The cone's dimpled RST (Rigid Surface Technology) profile further serves to increase rigidity while simultaneously reducing distortion. In the 300, these are paired with a 4-inch C-CAM RST midrange driver and a gold-hued 1-inch C-CAM dome tweeter.
The 300's midrange and tweeter are linked by an ovoid plate on the speaker's front with an array of perforations to cover and protect the tweeter. Grilles that attach magnetically to the speaker's front baffle are provided, though I didn't use them for this review. Each drive unit in the Silver series is fixed by an adjustable bolt that runs from the front to the back of the cabinet and gets tightened with a hex key after installation. Separate tuned ports are provided for both of the 300's woofers, and Monitor Audio includes foam plugs to limit bass output for installations in a small room or up close to a wall.
All Silver series speakers provide two sets of gold-plated multiway connectors with jumpers that can be removed for bi-amping. Outrigger feet located at the bottom of the 300 (another new Gen 6 feature) provide the towers with a stable footing, and both carpet spikes and feet are provided that can be adjusted to level the speaker on an uneven floor. Build quality throughout the Silver series is substantial—these are solid and exceptionally attractive speakers. The system I reviewed came in a Satin White finish, though Black Oak, Walnut, Rosenut, Natural Oak, and High Gloss Black finishes are also available.
The C350 center speaker ($975) features two 6-inch C-CAM RST woofers flanking a 4-inch C-CAM RST midrange driver and 1-inch C-CAM dome tweeter. As mentioned above, the C350's midrange and tweeter are aligned in a vertical array that matches the rest of the system's speakers, while its sealed box design allows for placement inside a cabinet. For surround use Monitor Audio also sent along its Silver 50 ($975/pair) bookshelf speaker, an "ultra-compact" ported model standing around 10 inches high that features a 5.25- inch C-CAM RST woofer and 1-inch C-CAM dome tweeter.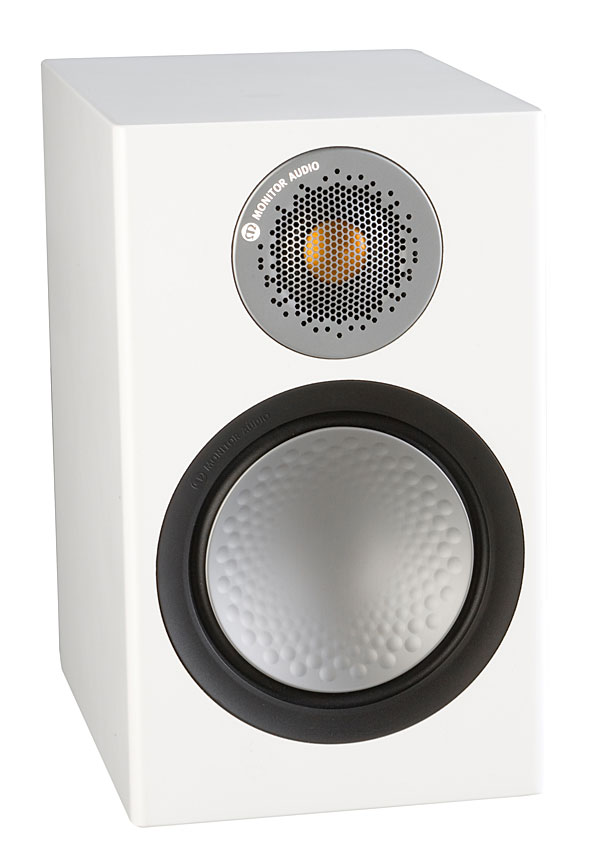 While much of the Silver series has received an overhaul, one carryover from the past is the Silver W-12 Subwoofer ($1,825). This compact model, which we previously reviewed in 2014, uses a 12-inch driver powered by a 500-watt (continuous) class-D amplifier and features plentiful input/output connections along with variable cross- over and 0/180 degrees phase adjustments. It's also available with the same finish options offered for other Silver series models. Notably, the W-12 features Monitor Audio's APC (Automatic Position Correction), an auto-EQ system that uses DSP to create filters that correct for room placement issues. It also has three EQ modes: Movies, Music, and Impact.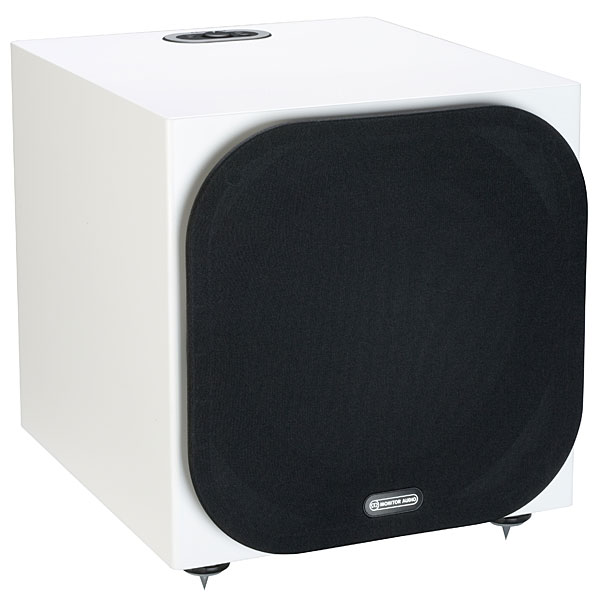 Setup
I started off testing in my living room/listening room, first with the 300 towers alone, and then with the W-12 subwoofer added to the mix. The towers were placed about 9 feet apart and 1.5 feet out from the back wall of the 16 x 20 x 9-foot space and angled in slightly toward the listening position, while the sub sat in the room's front left corner. To carry out the sub's APC room correction, I plugged in the included calibration microphone and set it up on a tripod at the main listening position, pressed a button on the sub's top control panel, and waited as it emitted a series of test tones. Following Monitor Audio's owner's manual, I repeated the process at two additional positions and that was it—calibration complete.