Sonus faber Lumina Surround Speaker System Review Page 2
Another issue in my room is a significant peak just above 100Hz. That's hard to correct without rearranging the room (not possible to any significant extent in my situation, and in any case not always effective), applying a dedicated room EQ such as the Denon AVR's Audyssey MultEQ XT32 feature, or employing some other form of equalization. I chose the latter here. The Denon offers five graphic (fixed frequency) EQ controls for each channel. I used these to tweak the response but used only the 63Hz and 125Hz bands for 2.1 music (and on the center channel as well, but not on the subwoofer or the surrounds for either 2.1- or 5.1-channel listening). These adjustments only impacted the frequency range primarily affected by the room (apart from a barely measurable +/- 1.0 dB setting of the Denon's treble control if needed for a noticeably hot- or dim-sounding source) and were checked by measurements. You may not have these exact same controls, but all competent AVRs now offer some means to correct for room-related bass issues. (For a more exhaustive discussion of this technique, check out my February 2021 A/V Veteran blog post
Taming the Room Monster
.)
All stereo music listening was done with the Denon AVR set as described above. With the Gravis II subwoofer engaged, overall system balance was excellent from top to bottom. Detail retrieval was superb, without any harshness or exaggeration. Imaging and soundstage precision were well-handled, and the bass, thanks to the Gravis II subwoofer, was clean and tight. Years ago, I created a compilation CD featuring a wide range of challenging bass tracks including hard-hitting Japanese Taiko drums, conventional orchestral drums, powerful organ passages, and deep electronic bass. While the Gravis II couldn't quite match the sheer power of the much larger SVS PB-3000 sub ($1,400 each) pair I had been using in my room, I never felt shortchanged, either in quantity or quality, by the single, smaller Sonus faber sub (roughly one quarter of the total volume and around half the price of the SVS pair).
Solo and group vocals from Josefine Cronholm, Holly Cole, Elvis, Willy DeVille, Judy Collins, Toto, Nils Lofgren, The King's Singers, Nancy King, and more sounded almost universally excellent—and I say "almost" only because the Luminas appeared to be telling it like it is. No speakers can do more than reproduce a recording accurately, and I found the Lumina IIIs, supported by the Gravis II, to be rewardingly neutral. Nothing appeared to be overemphasized or underplayed, though as with all loudspeakers personal taste will always factor into how neutrality is judged by any given listener. If I had a mild reservation, it would be that in my listening the Lumina IIIs with the Gravis II lacked a little of the grandeur often attributed to much larger (and pricier) Sonus faber designs. But that was easily remedied when I fired up the full 5.1 system. Read on.
Movies Performance
Ford v Ferrari is a demo-quality Ultra HD Blu-ray, and the first disc that came to mind to evaluate the Lumina system's dynamic range. (I only later noticed the irony of using a film about Ford scrambling to beat the world's most iconic auto company, Italy's Ferrari, at Le Mans '66 to audition a set of Italian speakers!) The roar and growl of engines, the screaming of brakes and tires, the screeching of twisted metal as cars spin out and sometimes shatter—Ford v Ferrari's soundtrack is enough to challenge any audio system, but the Luminas weren't phased by any of it, apart from the Gravis II subwoofer deciding to take a leisurely walk across my floor! (It likely won't move on a thick carpet—while most of my floor is carpeted, the location chosen for the sub was in a hardwood area.)
There was nothing small-scale here, confirming that you don't need big speakers for a big sound even in a big room. The Gravis II subwoofer didn't detract from the experience by dominating the show or shortchanging it, but instead became an integral element of the broader soundscape. The overall sound was exceptionally dynamic, well-balanced, and not overly bright even in the most challenging scenes.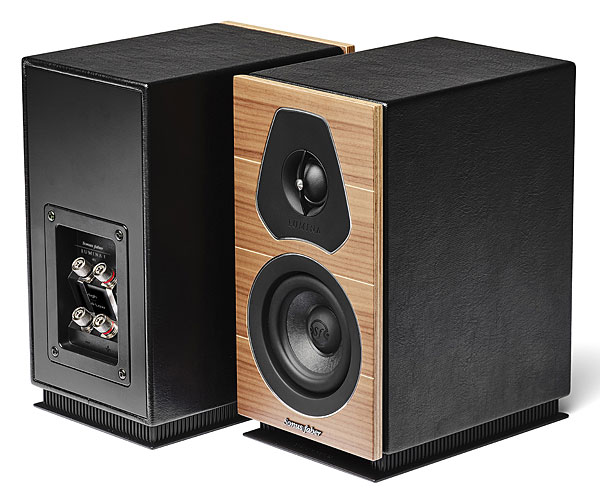 Midway (2019) offered a similar but at the same time very different experience. If anything, it was louder than Ford v Ferrari, this time with the sounds of warships and planes instead of race cars. Bass effects here were even more prominent, and the Gravis II subwoofer easily kept up without obvious distortion. Even at a playback level 3dB below reference (i.e., very loud), the Sonus faber system held it all together. The sounds of battle, with carriers pushing through relentless waves, aircraft launching from their decks (particularly the bombers taking off for Jimmy Doolittle's raid on Tokyo just months after Pearl Harbor—the film covers a lot of ground!), anti-aircraft fire, and dive bombers screeching seaward at an 80-degree-plus angle filled the room. And while here, as above, the Gravis II's bass extension and ability to unclog my sinuses wasn't quite up to the level offered by those two SVS PB-3000 subs, I never gave the difference a thought when watching either film.
Both Ford v Ferrari and Midway offer more than just action. Both films have a superb, and superbly recorded, music score, even if it's often obscured by aggressive action. Midway's moving closing montage in particular provided a warm, rich accompaniment to the brief summaries of the real heroes that were key players in the actual battle, and the Luminas conveyed it perfectly. I also watched the closing credits from beginning to end, not to read the credits themselves but to further immerse myself in the score. It ranged from an imposing orchestral sweep to a fully played and sung performance of the 1940s hit, "All or Nothing at All," which was also heard (though in a shorter form) in the movie itself.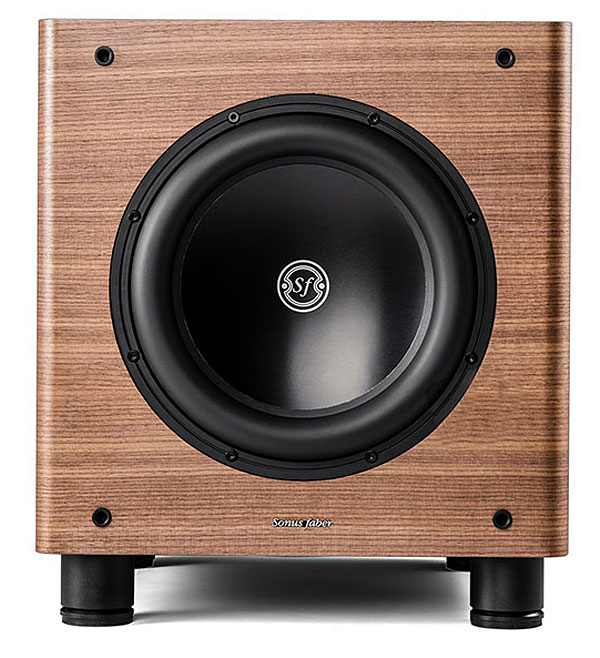 How a speaker system deals with a film's music is often more important to me than how well it supports action and effects. The latter count, of course, but while we know what music should sound like, most of us have no sonic reference for explosions, gunfire, rocket launches, and general chaos. The Luminas did a series of star turns on some of my favorite film scores such as the electronic-based one for Oblivion, the surprisingly lush 2003 miniseries Children of Dune, and Score, a terrific documentary about film music ranging from a brief glimpse of a young Hans Zimmer playing keyboard for the rock band The Buggles to a sonically stunning (but sadly unidentified and all too short) orchestral flourish at the end.
Despite my very positive impression of the Lumina 5.1 system, it does have one significant weakness. The Lumina CI center speaker is a two-way design in a woofer-tweeter-woofer horizontal configuration. I did all of my serious listening from the middle seat on my couch, and from that position it performed very well, with enough power to deliver clear, spit- and sizzle-free dialogue in the most difficult passages. But all such two-way designs I know of suffer from off-center issues and the CI is no exception. It's simple physics: When you move four feet off-center to the left or right, the CI's horizontally arrayed drivers interfere with each other, audibly crunching the midrange. This reduces overall impact and makes the dialogue less natural-sounding and intelligible. The Lumina lineup deserves a three-way center with the midrange and tweeter mounted vertically between the woofers, even though this more advanced and flexible design would increase the system price.
Conclusion
Despite a few minor reservations, I enjoyed every hour I spent with this stylish and great-sounding Sonus Faber Lumina system. There's heavy competition at its $5,296 price point, but the Luminas are nonetheless worth a close look and a serious listen. Together with the Gravis II subwoofer, they handled some of the most difficult source material in my very large room without a whimper, and that's saying a lot.