Winter 2020: Best Affordable Gear Page 2
Soundbars and All-In-One Speaker Systems Cont'd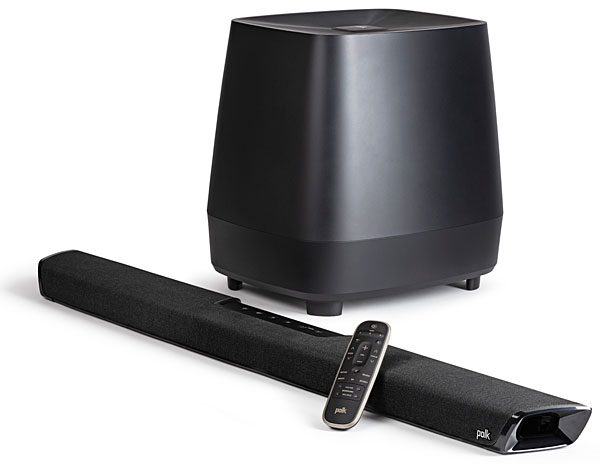 Polk Audio MagniFi 2 Soundbar: $499
Polk engineers made headlines last year when they re-introduced a refined version of the patented SDA (Stereo Dimensional Array) technology Matthew Polk developed 40 years ago in the $6,000/pair
Legend L800 speakers
. That image enhancing technology has just landed in the brand's latest soundbar system, the MagniFi 2, and it does a phenomenal job of expanding the soundstage, especially when used in conjunction with Polk's 3D Mode, which enhances Dolby and DTS soundtracks by adding virtual height and surround effects. As reviewer Leslie Shapiro put it, "The result is not as realistic as what you'd get from a system with dedicated surround and overhead speakers, but it's still impressive." The convenience of having Google's Chromecast platform onboard further bolsters the soundbar by enabling wireless music streaming from Amazon Music HD, Spotify, Tidal, and Qobuz. Soundbars are commonly criticized for not being able to project sound much beyond the edges of the bar itself but the MagniFi 2 delivers a convincing immersive experience. As of this mid-December, the MagniFi 2 is
available on polkaudio.com for $399
.
AT A GLANCE
Plus
Immersive 3D audio mode
Chromecast-built in plus Bluetooth
Stylish, wireless subwoofer
Minus
Imaging can be vague with stereo music
Remote control hard to read
Sonos Arc Soundbar: $799
Is it possible to experience "immersive sound" with a compelling sense of height from a long, slender soundbar? Heck yeah. Sonos accomplishes the trick using 11 drivers strategically placed in a 45-inch Dolby Atmos-enabled TV speaker it calls the Arc. "Height information present in a 5.1.2 Atmos signal was impressively anchored on the ceiling about a third of the way back toward my seating...precisely where it should be," wrote reviewer Rob Sabin, who characterized the bar's overall sound as "exceptionally smooth in the midrange right on up through the highs." In other words, the Arc is a capable performer with music and movies. For a more intense theater experience, you can add a pair of Sonos One SL speakers ($179 each) and boost bass with the stand-alone Sub ($699), as Sabin did with impressive results. But, as he noted, "I'm betting you'll love Arc even without the surrounds." Factor in Sonos' excellent multiroom music platform and the ability to control the system from your smartphone — with voice commands — and you have a soundbar that stands out among all others.
AT A GLANCE
Plus
Outstanding music and movie sound
Impressive rendering of height information
Solid bass for a standalone soundbar
Easy setup
Minus
May require latest eARC HDMI connection for Atmos
No DTS decoding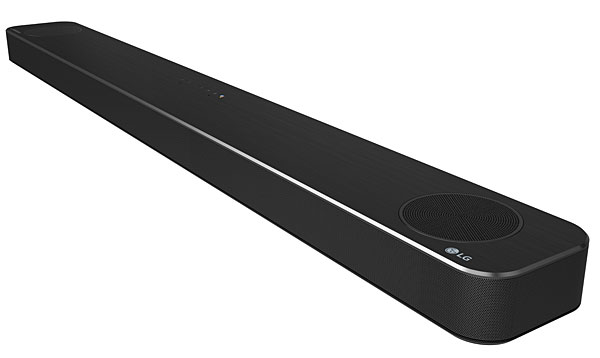 LG SN8YG 3.1.2 Atmos Soundbar, $800
LG has once again drawn on its partnership with Meridian Technologies, putting the U.K. firm's audio prowess to work in its latest upscale soundbar, a super-sleek follow-up to last year's Top Pick-designated
SL8YG
. Like its predecessor, the SN8YG is a two-piece Dolby Atmos-enabled system with up-firing drivers and a standalone subwoofer that brings a handful of new features into the fold: an HDMI output with eARC (enhanced audio return control) for routing uncompressed hi-res and Atmos soundtracks from your TV to the soundbar and two forms of AI (artificial intelligence)-based processing — one that automates room calibration and one that automatically adjusts sound for specific content. Watching
1917
on 4K Blu-ray, reviewer Al Griffin was impressed with the soundbar's overall sound quality, particularly its ability to handle special effects: "When a pair of biplanes flew overhead, the bar did an impressive job of rendering the soundtrack's vertical dimension." If you're looking for a quick and easy way to jump into the Atmos game, the SN8YG deserves a listen. As of mid-December, SN8YG is
available on bestbuy.com for the heavily discounted price of $497
.
AT A GLANCE
Plus
Good sound quality with movies and music
AI-driven automated room calibration
HDMI eARC connectivity
Chromecast built-in and Google Assistant
Minus
Could use an extra HDMI input
JBL Bar 9.1 Soundbar: $999
Designers at the legendary JBL brand have come up with an ingenious way to achieve a truly immersive Dolby Atmos/DTS:X surround sound experience with the new Bar 9.1 system: In addition to the de rigueur wireless subwoofer, they put upfiring drivers in the soundbar and — here's where it gets interesting — included a pair of
battery-powered
rear surround speakers to dramatically expand the sound field. Having compact surrounds that will play for up to 10 hours when fully charged is a game changer. Even better, charging is a simple matter of docking the speakers to the main soundbar where they attach magnetically (and remain operational). Reviewer and former sound designer Leslie Shapiro was impressed with how well the system handled the Atmos soundtrack of the animated short film
Dolby Presents: Escape
. "With its dedicated wireless rear surrounds, upfiring speakers…and powerful 10-inch subwoofer, the Bar 9.1 system is like a home-theater-in-a-box on steroids. When it comes to getting realistic, immersive audio from a soundbar priced at under a grand, it can't be beat." As of mid-December, the Bar 9.1 system is
available on jbl.com for $900
.
AT A GLANCE
Plus
Rechargeable, fully wireless surrounds
Upfiring speakers for overhead effects
Easy to use auto-calibration
HDMI with eARC and Dolby Vision pass-through
Minus
Smart Mode processing difficult to switch on/off
TVs and Video Projection
Hisense 65H8G Quantum LCD Ultra HDTV: $800
TV technology has advanced to the point where it's now possible to get a nice big screen and great 4K picture quality along with Dolby Vision high dynamic range (HDR), native streaming capability, and a host of useful picture controls (adjustable gamma anyone?) for less than a thousand bucks. Case in point: The 65H8G, a 65-inch LCD set from China's Hisense that draws on quantum dot illumination and full-array local dimming with 90 zones to deliver image quality you'd expect to see from a set costing much more. "In the live action
The Call of the Wild
, a subtle range of hues, not to mention the detail in the stunning scenic vistas of the Great White North, were impossible to criticize," observed veteran TV reviewer Tom Norton. HDR performance was equally impressive on the 4K Blu-ray versions of
A Quiet Place
and
1917
. Awarding the Top Value designation to this TV was a no-brainer. Making a great deal even better, the 65H8G is
available on bestbuy.com for $750
.
AT A GLANCE
Plus
Effective local dimming
Precise HDR tracking
Low price
Minus
Poor off-center viewing
Minor banding artifacts