LG SL8YG 3.1.2 Atmos Soundbar Review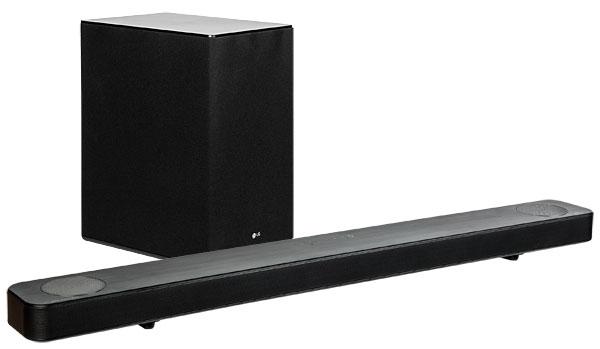 PRICE
$600
AT A GLANCE
Plus
Good sound quality with movies and music
3.1.2 Atmos playback
Chromecast built-in for music streaming
Minus
Wireless surround speakers not included
Center channel lacks some clarity on dynamic scenes
THE VERDICT
LG's 3.1.2 soundbar offers a solid, relatively affordable option for those seeking a dose of immersion minus the heavy hardware investment.
LG has been in the soundbar game for many years, churning out mainly lower-priced bars designed to mate with the company's TVs. The focus on affordable product has likely been a strategic one for LG—the average consumer reeling from the sticker-shock of an OLED TV purchase isn't likely to shell out another grand for a soundbar system, no matter how good it performs. For 2019, however, LG opted to go high-end, releasing a feature-packed trio of soundbars with commensurate price tags.
At $800 list (and $600 on numerous websites at the time I'm writing this) the SL8YG reviewed here is the least expensive soundbar in the new LG lineup. A 3.1.2 model that can be expanded for 5.1.2 playback by adding LG's optional SPK8 wireless surround speakers ($180/pair), it supports both Dolby Atmos and DTS:X, along with Dolby True HD and DTS-HD Master Audio. It features Bluetooth and Chromecast built-in for wireless audio streaming and can play up to 24-bit/192kHz high-res audio files from a drive attached to its USB port. Google Assistant is also onboard to facilitate requests like "volume up" or "pause playback" without having to reach for your phone or the included remote control.

Most soundbars aren't much in the looks department, but the SL8YG, with its rounded corners and modest 2.2-inch height, cut a relatively sleek figure splayed out across my TV stand. The soundbar, which is designed to mate with 46-inch and up TV screens, links wirelessly to a slim ported subwoofer featuring a 7-inch driver concealed by a black mesh wraparound grille. A line of capacitive touch controls is located on the soundbar's top panel and a large alphanumeric LED display is up front to indicate input selection, volume, and sound mode or EQ changes.
Connections are located within an inset panel on the back and include HDMI and optical digital inputs, the aforementioned USB port, and an HDMI output with ARC. That level of connectivity should be sufficient for setups with an ARC-compatible TV (where the set can be relied on to switch multiple HDMI sources). I was unhappy to note that my TV wouldn't pass streamed Atmos soundtracks to the soundbar via an HDMI connection, but that's a limitation of the current version of HDMI ARC. It did successfully pass Dolby Vision HDR to a connected TV via its HDMI input/output, however.
LG's small but solid remote control doesn't have backlit keys, but the buttons on its face are large and labeled with bold white text and symbols. I had no issue using it even in a dark room, though I was initially thrown off by the input button, which is oddly labeled "F" (for Function). Dedicated buttons are provided to adjust EQ, activate Google Assistant, and toggle through the Sound Effect options, which include Standard, Movies, Music, ASC (Adaptive Sound Control), and Bass Blast (yeah, baby).
LG's Wi-Fi speaker control app handles most of the same functions on the handheld remote but adds options to activate dynamic range control for nighttime viewing, auto volume control, and A/V synchronization. If can also be used to adjust the subwoofer, center speaker, and overhead, and rear (provided you have them) speaker levels.

Performance
LG teamed with England's Meridian Technologies for its 2019 soundbar lineup, with Meridian contributing to component and algorithm design and acoustic tuning. The SL8YG also features Meridian's UpMixer processing to expand stereo sources for three-channel play- back when its Music mode is selected. Streaming a few reference music tracks from Tidal via Chromecast built-in, I could easily hear the benefits of the collaboration: acoustic instruments like guitar and piano had a mostly natural presentation and voices also sounded clear and reasonably full. Surprisingly, the same impression held when I switched over to listening in Movie mode, which uses the bar's upfiring drivers to expand the width and height of the stereo image and does so without affecting the timbre of voices and instruments.
Such qualities were evident on "Thomas County Law" by Iron & Wine, with Sam Beam's vocals emanating solidly from the center and the resonant hand slaps on the body of his acoustic guitar filling the front of the room in a realistic manner. An electronic music track, Aphex Twin's "Produk 29 [101]", also sounded impressively spacious and full, but the slightly crisp tone of the track's snare drum and hi-hat samples caused me to knock back the SL8YG's treble control to the -1 position. The song's powerful bass came through with good definition—this is clearly not your typical one-note soundbar sub. I did occasion- ally hear some leanness in the system's upper bass range, but the blend was acceptable for the most part.
Performance with Atmos movies was also impressive, though I did feel the need to sit within a 10-foot distance from the soundbar and to boost the level of the overhead speakers to maximize Atmos effects in my room, which has a 9-foot-high flat ceiling. Watching Spider-Man: Into the Spider-Verse, I experienced a decent sense of immersion, along with room- shaking bass effects, in a scene where Spider-Man battles the Green Goblin. I did miss the presence of discrete surround speakers in this scene, which I expect would have extended the immersive effect beyond the front of my head.
Watching Mother!, another movie with a solid Atmos soundtrack, the SL8YG clearly sorted out various sonic elements, including the hum of cicadas through windows, footsteps on creaky wooden floorboards, and dripping water in a gloomy basement. Javier Bardem's bass-heavy voice came across as natural in the film's dialogue-driven scenes, though I also sensed that dialogue became a bit recessed in sequences where the soundtrack became more dynamic and complicated, such as the film's crazed party scenes.
Conclusion
LG's attempt to go higher-end with its soundbars has paid off—this is the best-sounding model I've yet heard from the company. It also represents a good value, especially if one manages to snag it at that $600 price. If you're seeking extended dynamics and thorough immersion from a soundbar, you may want to look elsewhere (the $2,500 Sennheiser Ambeo, for example). But if your expectations—and budget—are more limited, this upscale new offering from LG is well worth consideration.