Midyear Review: Best Gear of 2021 Page 5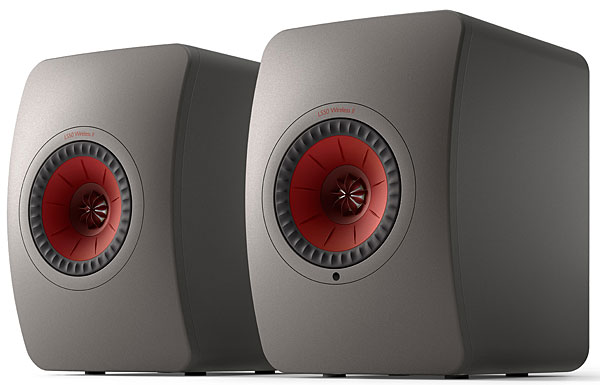 KEF LS50 Wireless II Powered Speakers: $2,500/pair
Wireless speakers with integrated virtual assistants and onboard streaming are everywhere these days but how many of them deliver an all-in-one streaming solution
and
true audiophile sound? Not many. Which is why you might want to check out KEF's LS50 Wireless II, an update of the LS50 Wireless speaker the venerable British brand introduced a few years ago. Though the new version looks almost identical to its predecessor, it features several innovations designed to incrementally improve sound quality, including the use of a newly developed "disc" that absorbs unwanted "backwave" sound from KEF's signature Uni-Q concentric driver, which in this case positions a 1-inch tweeter in the throat of a 5.25-inch woofer (where the dustcap is in a conventional woofer). The arrangement, now in its 12th generation, is designed to promote the smooth, controlled directivity and even off-axis response.
In a nutshell, the LS50 Wireless II is a Roon Ready hi-res wireless streaming system that plays MQA music files and supports streaming via Chromecast, Apple's AirPlay 2 platform, and KEF's intuitive Connect app, which puts Qobuz, Tidal, Spotify, Amazon Music, and a half dozen other streaming services at your fingertips. All this from two compact speakers that provide a full complement of digital and analog hardwire connections along with onboard digital processing and amplification (100 watts of Class AB power for each tweeter and 280 watts of Class D power each woofer).
Getting back to that audiophile sound, reviewer Dan Kumin was blown away by the sonic capabilities of these little speakers — especially their ability to produce respectable bass and faithfully reproduce an intimate Chandos recording of a string quartet performing the works of 19th-century composer Anton Fesca as streamed via Qobuz. Singling out cellist Yves Sandoz, he wrote, "I've heard a lot of top-shelf cello in real life, and this, via the KEFs, is quite simply what it sounds like." The veteran audio reviewer remained impressed as he expanded his listening to other musical genres: "Tonally, the LS50 Wireless IIs nailed my ideals of coloration-free, timbrally honest reproduction, with impressive spatial and dynamic qualities even in my 3,000-cubic-foot studio."
AT A GLANCE
Plus
Serious all-in-one streaming solution
Remarkable tonal and dynamic range
Excellent ergonomics and app
Roon Ready certified
Minus
High volume level slightly reduces resolution
Full Review Here (posted 5/12/21)
Subwoofers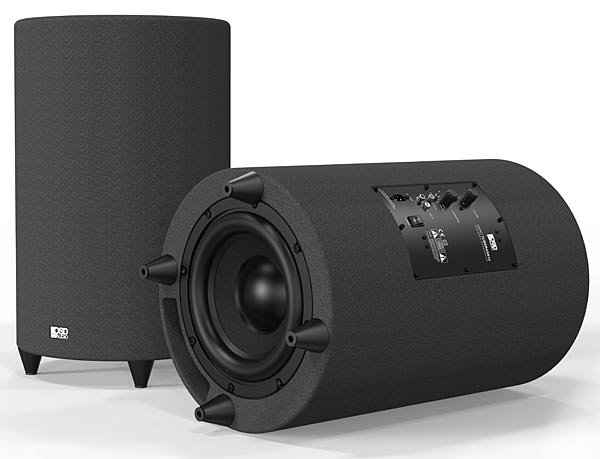 OSD Audio Nero TubeBass 10 Subwoofer: $179 (as tested)
I don't know about you, but my first thought was "too good to be true" when I saw how much OSD is asking for its Nero TubeBass 10 subwoofer. Turns out, the little canister is a brute that offers ridiculous value for $179, while trading the usual black-box form factor for a 19 x 13-inch cylinder that packs a down-firing 10-inch driver and 400-watt amplifier. This is a subwoofer that won't dominate the room. But given the low price, it's also a no-frills design that (unavoidably) lacks wireless connectivity, app control, EQ presets, and DSP/automated room correction. Instead, you get the old-school basics: a volume control, a rotary dial for selecting a crossover point between 30 and 120 Hz, a phase switch, line-level RCA and LFE inputs, and a black-mesh-fabric-covered tube with rubber feet that provide stability and clearance for that down-firing woofer. That's it.
For his evaluation, Al Griffin set up the TubeBass 10 in the corner of his 12 x 16-foot home theater and hitched it to a Rotel RSP-1576MKII surround processor feeding Elac Uni-Fi 2.0 speakers and set the Rotel's low-pass crossover to 100 Hz. Then he ran some test tones and confirmed usable output down to 30Hz before firing up some music. Comparing Bill Frisell's "Blues Dream" from the CD With Dave Holland and Elvin Jones, Griffin was surprised with "how much bass OSD Audio's cylinder sub was actually generating in my room" and marveled with how tight and impactful the bass guitar and kick drum sounded on Roxy Music's "The Space Between" from Avalon on multichannel SACD. The little subwoofer also did an impressive job with movies, adding fullness and punch (sans infrasonic rumbling) to the mayhem in Pacific Rim without audible distortion. What more can you ask from a sub that costs less than 200 bucks?
AT A GLANCE
Plus
Inexpensive
Compact form factor
Good extension and output
Minus
Limited features
No wireless option
Full Review Here (posted 4/14/21)
SVS SB-1000 Pro and PB-1000 Pro Subwoofers: $500, $600
It's really no surprise that two of the latest subwoofers from the bass specialists at SVS deliver impressive performance at budget-friendly prices. What many will find surprising is that the new, super-compact SB-1000 sealed sub and its ported big brother, the PB-1000 Pro, come equipped with the company's best-in-class app, which makes it super easy to set up and fine-tune the performance of either sub, each of which mates a 12-inch woofer with a 325-watt RMS Class D amplifier. Instead of having to get down on your knees and crawl around to the back of the subwoofer, you can simply grab your phone (and a sound meter) and use the app to adjust a surprising range of parameters from your easy chair.
In addition to controlling volume and setting crossover points or correcting polarity, the app lets you adjust phase, select room gain compensation (to tame bloated bass in smaller rooms) and puts a highly flexible parametric equalizer with frequency and bandwidth (Q) controls at your fingertips. The app also provides three presets and a port tuning mode on the PB-1000 Pro with customized "Standard" and "Sealed" frequency response curves for maximizing low-frequency extension or output.
Switching out his regular SVS SB-3000 subwoofer (our 2019 Top Pick of the Year in subwoofers) for the new models in a 1,200 cubic-foot room, S&V's resident bass guru David Vaughn was impressed by what he heard and felt while watching The Haunting, which features a reference-quality Dolby TrueHD 5.1 soundtrack known for its deep bass. In the scene where protagonist Nell flees for her life while being attacked by the evil spirit, the SB-1000 held its own but the "PB-1000's ability to go a bit deeper and play louder definitely enhanced the experience with bass that displayed more prominence and heft." Conversely, while both subs also performed well with music, the SB-1000 Pro had the edge, rendering bass in the tight, punchy manner you'd expect from a sealed design. If you're looking to get good bass on a budget, you really can't go wrong with either of these subwoofers.
AT A GLANCE
Plus
Deep bass from a small box
Best-in-class control app
45-day in-home trial period
Minus
No auto-calibration/room correction
Best suited for smaller rooms
Full Review Here (posted 5/19/21)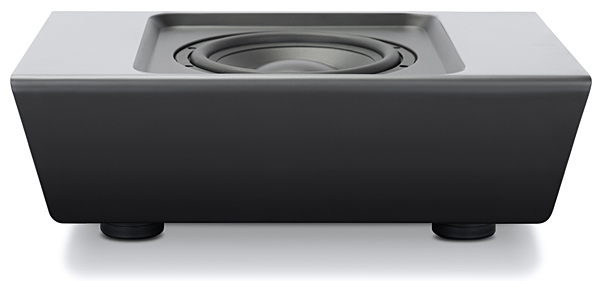 Bluesound Pulse Sub+ Subwoofer: $749
With its new Pulse Sub+, Bluesound offers a bigger and better take on the
Pulse Sub we reviewed in 2017
. For starters, it doesn't look like a subwoofer — a trait sure to please décor-conscious system builders. Its trapezoid-shaped cabinet is slim enough to slide under a sofa or end table or you can stand it on end (as shown below) using a second set of rubber feet that attach magnetically and provide vibration relief. If you want to get really fancy, you can even mount the Pulse Sub+ on the wall using the supplied bracket. The sub is available in black or white and operates wirelessly when used with Bluesound products such as the Pulse Soundbar or Powernode 2i streaming amplifier; otherwise, it has a line-level input for integration with any system. Like many new subwoofers, there's no remote — setup and control are handled via the BluOS Controller app, which makes it easy to adjust volume, phase, delay, crossover frequency, and more.
Regardless of where you put the Sub+, this very unsubwoofer-like bass module will rock your world with a 150-watt smart amp/digital processor and 8-inch driver combo rated to rumble down to 22 Hz (±2 dB). Testing its might with the spectacular Amazon Olympics opening scene from Wonder Woman 1984, reviewer Al Griffin reveled in the sound of driving drums, thundering horse hooves, and the pounding bass in Hans Zimmer's score. Turning to music, he was equally impressed with how the Sub+ "deftly handled the relentless deep bass, synth patches, and exaggerated kick drum" in 1984's "Welcome to the Pleasuredome" by Frankie Goes to Hollywood. "Its 150-watt amplifier and 8-inch driver provided substantial amounts of bass, and its DSP kept the sound precise and controlled."
AT A GLANCE
Plus
Impressive kick from a slim, elegant cabinet
Refined sound
Extensive control via smartphone app
Minus
No remote control
No auto-calibration/room EQ feature
Full Review Here (posted 2/10/21)