Midyear Review: Best Gear of 2021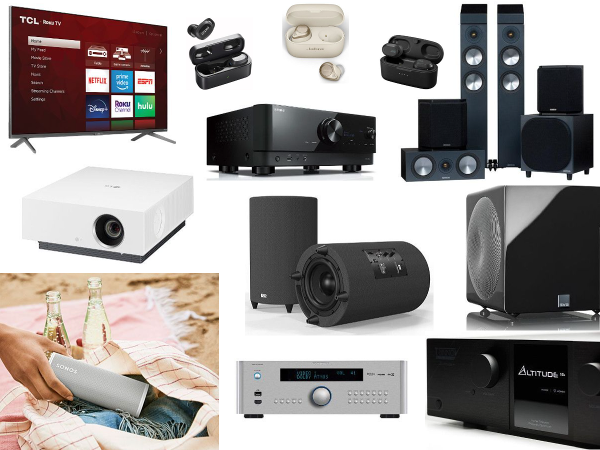 With a little over six months under our belts — and COVID now thankfully behind us — now is the perfect time to review our Top Picks for the first half of the year. In all, we've highlighted more than two dozen products that have made the cut, including wireless earbuds in four price categories, the first ceiling-mount smart projector, an amazing $600 AV receiver, and a diverse selection of speaker systems, ranging from an awesome outdoor speaker that can be had for well under $200 to a $6,000 set of svelte home theater speakers that mount on the wall. As always, there's a little something for everyone.
TVs & Projectors
TCL 6-Series 65R635 Roku LCD Ultra HDTV: $1,300
With its latest LCD TV, TCL embraces the popular Roku streaming platform while demonstrating the benefits of using Mini-LEDs to deliver more uniform backlighting at a price most of us can afford — hence, the well-deserved Top Value designation. The 65R635 boasts an impressive 160 zones of local dimming for its 65-inch screen, which translates into a highly satisfying viewing experience whether you're watching in 4K or plain old high-definition. The set also brings quantum-dot technology into the fold for expanded color performance, supports three flavors of high dynamic range (HDR) — Dolby Vision, HDR10, and HLG — and offers a low-lag THX Certified Game Mode to meet the challenges of fast-paced gaming. It even offers a unique feature called iPQ Mobile Calibration that uses the camera in an iPhone or Google Pixel phone to capture onscreen images and calibrate the color (though its capabilities are limited).
Putting the set to the test with Guardians of the Galaxy Vol.2 and other challenging material on 4K Blu-ray, the video perfectionist in reviewer Tom Norton described what he saw as "eye-catching" with the ability to convey subtle detail and rich, though not overdone, color. He was also impressed with how cleanly the set handled the "wickedly challenging" horses-grazing-in-snow demo segment from the Spears & Munsil UHD HDR Benchmark test disc and praised the TCL set for its ability to produce impressive looking Dolby Vision HDR images when properly adjusted. Though its suggested retail price has crept up $300 since we posted our full review in February, the TCL 65R635 can still be had for $1,081 on Amazon.com.
AT A GLANCE
Plus
Effective, 160-zone local-dimming
App-based color calibration
Affordable price
Minus
Image quality reduced at off-center seats
Some green push with HDR content
Full Review Here (posted 2/17/21)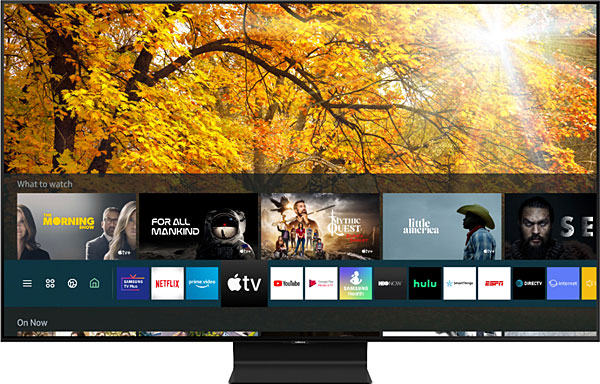 Samsung QN65Q90T LCD Ultra HDTV: $2,000
Samsung significantly lowered the price of its flagship 4K LCD TVs when it introduced the 65-inch QN65Q90T in 2020. With a list price that's $1,500 less than 2019's outstanding
QN65Q90R
, the Q90T is aggressively priced, though it is actually derived from the
Q80R series
, which means it's missing a few refinements found on the Q90R. The external One-Connect box housing the TV's inputs, outputs, and power connections is gone and the number of local dimming zones has been reduced from 400 to 98, which takes black-level performance down a notch. The Q90T also happens to be $800 less than the Q80R.
Otherwise, the TV is loaded with features — including an excellent Movie mode with grayscale controls — and supports a 60-Hz frame rate, P3/4:2:2 10-bit color, and three of the four high dynamic range formats (Dolby Vision is the odd man out). More to the point, the Q90T delivers impressive out-of-box performance with strong off-axis viewing and, in the words of reviewer Tom Norton, the ability to produce "brilliant HDR images" and "excellent shadow detail" with vivid color and crisp detail on 4K material.
AT A GLANCE
Plus
High peak brightness for HDR
Wide viewing angle for an LCD TV
Extended color
Minus
No Dolby Vision support
Some visible "blooming"
Full Review Here (posted 12/16/20)
LG HU810PW 4K Laser DLP Projector: $2,999
LG's HU810PW breaks ground as the first ceiling-mount projector to offer the sort of smart features we've come to expect from today's TVs. The laser-lit DLP projector uses pixel shifting technology to deliver 4K resolution and provides ready access to Amazon Prime Video, Disney+, Peacock, YouTube, and other streaming apps via a wired or Wi-Fi connection, courtesy of the same webOS 5.0 interface found in LG's flat-panel TVs. The projector also comes with LG's Magic Remote, which lets you control the projector using voice commands or by pointing at (and clicking on) a cursor on the screen. Smart TV tricks aside, the projector is equipped with an eARC-enabled HDMI 2.1 port for routing audio (including Dolby Atmos) from the projector to an outboard receiver or processor and is spec'd to cover 97% of the DCI-P3 color space in addition to supporting the HDR10 and Hybrid Log Gamma high-dynamic-range (HDR) formats. It also features a Dynamic Tone Mapping mode that adjusts HDR images on a frame-by-frame basis and offers a series of white-balance adjustments you don't usually find on a projector.
No question, this is probably the most feature-laden ceiling mount projector in existence but it also puts up a great picture. Reviewer Al Griffin was particularly impressed with the detail and contrast conveyed in the opening scenes of the sci-fi classic 2001: A Space Odyssey on Ultra HD Blu-ray, the rich color in the Amazon Prime series ZeroZeroZero, and the projector's HDR prowess in the 2018 Chinese film Shadow: There was a "wide range of creamy gray tones in scenes that take place in the king of Pei's court, and I didn't note any color tinting that wasn't originally part of the movie's post-production special effects. Blacks looked consistently solid and image highlights had a satisfying level of punch." In the final analysis, LG's HU810PW offers impressive all-around performance and a bevy of unique features at a reasonable price.
AT A GLANCE
Plus
Ample brightness and good contrast
Flexible zoom and lens shift range
Built-in streaming apps
Minus
Requires calibration for best performance
Smart features may be overkill for some
Full Review Here (posted 5/26/21)
AV Electronics
Yamaha RX-V6A 7.2-channel A/V Receiver: $600
Yamaha's RX-V6A, one of three affordable receivers we reviewed at the tail end of last year, delivers cutting-edge features at an unprecedented price so even budget-minded enthusiasts can partake in the spoils of the latest audio technology. The V6A conveys impressive sound quality with movies and music and supports streaming through Yamaha's MusicCast platform and Apple AirPlay2 as well as 4K at 60 fps (frames per second), 4:4:4 chroma subsampling at 18Gbps, and Dolby Vision high dynamic range (HDR). The receiver is also equipped with Yamaha's YPAO automated setup program and ready to receive future firmware updates that will bring
HDMI 2.1
compatibility to three of its seven HDMI inputs along with support for HDR10+ and Dolby Atmos Height Virtualization, which enables you to experience the sensation of height from an ordinary speaker setup.
With seven 100-watt channels of onboard amplification, you can power a traditional 7.1 surround system or a 5.1.2 Dolby Atmos setup with height channels. Of course, to reach this level of technical sophistication in a $600 receiver, there is a tradeoff: Except for the de rigueur analog phono inputs, all connections are digital — so if you want to hook up a retro gaming console you're out of luck unless you have an analog-to-HDMI converter. Bottom line: The V6A is a thoughtful, forward looking AVR that delivers much of the latest audio and video technology at a reasonable price. As reviewer Michael Trei put it, "Yamaha's latest mid-price receiver adds up to an excellent foundation on which to build a great multichannel system."
AT A GLANCE
Plus
HDMI 2.1-ready (via firmware update)
Versatile speaker switching
Built-in phono preamp
Minus
Small front panel and onscreen displays
Lacks analog video connections
Full Review Here (posted 12/30/20)